On The Road In Search of Warblers
The birding hotspot that peaked my interest is called Good Harbor Bay Trail off M-22 in the Sleeping Bear Dune National Preserve. It's a 2.8 mile trek just a short distance from the Lake Michigan shoreline, 20 miles north of Empire, MI. The trail was described as being fairly flat, very wooded, with planks placed strategically along the route to help hikers traverse through swamp areas.
When we got to the trail, it was warm and fairly windy with a storm brewing over the lake. Warblers on migration often come down to rest before and/or during a storm. Dark clouds produced a dull pall over the scene, making details in the woods indistinct. I was prepared for low light photography.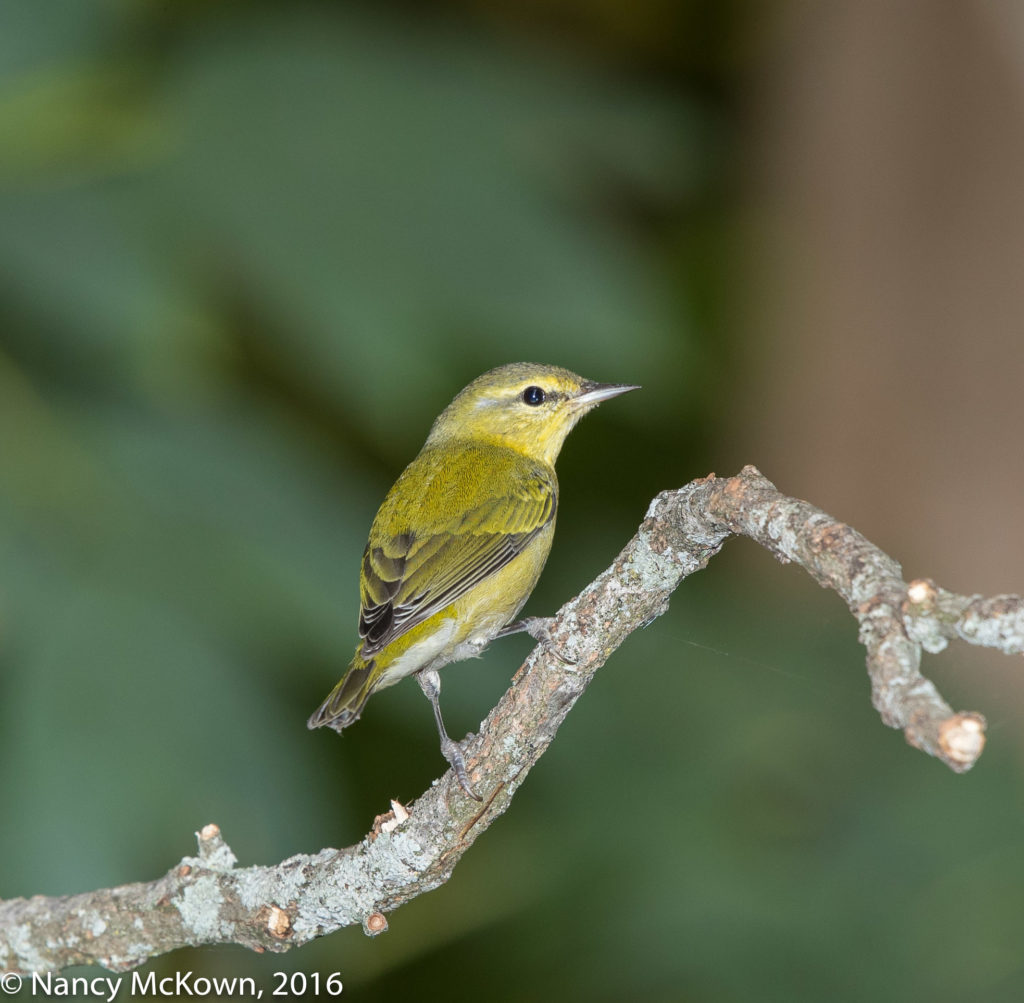 Traveling With Camera Equipment
Prepping for the uneven terrain, we packed the camera equipment onto the cart and headed out to search for migrating Prairie Warblers and Pine Warblers. Car travel allows me to pack (overpack?) any and all equipment we might need. I was sure this was going to be an active bird photography day, so I made sure I was ready. Here's an itemized listing of the load:
ECKLA Beach Rolly Cart to haul gear on the trails, beaches, docks, boardwalks, or any rugged terrain we might encounter. (NOTE: To negotiate the wetland part of the trail that consisted of single board planks, the two of us lifted the front and back ends and then carried the Eckla cart over.)
A padded Tamrac super telephoto lens backpack* to transport and protect the Canon 500mm lens.
Plastic 15 Qt rectangular container to store 1.4 and 2.0 telephoto extenders, Canon 580 EX Flash, Better Beamer Flash extender, bracket to lift flash above camera, cabling, bungee cords, CF Memory cards, extra battery pack for camera, compact battery pack for flash, extra AA batteries, and rain gear.
*The Tamrac backpack is big enough to accommodate the assembled DSLR camera, 1.4 Canon extender and 500 mm lens. Before heading on the trail, we secured all equipment to the cart with bungee cord. (NOTE: The last time we used the Eckla cart, one of the wheels fell off because its cotter pin was not secure and dropped off. Can't move a full load with only one wheel. We spent several frustrating hours retracing our steps looking for the pin.)
Learning Through Experience
For short treks, it is convenient to have as much of the gear assembled before placing it (zipper forward) in the backpack and then in the cart. For long distance car/plane/train travel (moving around in airports, in and out of taxis and hotel rooms, etc), I pack the various components separately.
I learned the hard way. On one of our long distance birding adventures, my assembled camera, lens and extender were carefully padded and stowed in the Tamrac backpack. In one of the airport terminals, the pack rolled a little too fast off of my husband's back and landed with a sickening thud. Apparently upon impact, the camera body swung one way and the 1.4 extender and long lens went in different directions. This torquing was too much for the mounts to endure and they all twisted apart. Separate unconnected components would have endured the impact within that heavily padded backpack.
The Canon authorized service center inspected the damage and concluded that all mounts had to be replaced. In addition, the autofocus mechanism on the lens was damaged, so it had to be taken apart, repaired and reassembled. Our insurance paid the $700.00 repair bill, but we were left without a camera for more than a week.
On the Trail…..
We heard a few distant warblings coming from high in the trees, but we only actually saw a chickadee and a mourning dove. It was certainly not the first time (nor will it be the last) when extensive prep and high hopes came to nothing.
Serious bird photographers are often let down. You learn that disappointment is a waste of energy – especially considering that you have no control over nature's forces. It's best to include in your birding adventures other avenues of peace and pleasure. We had a very pleasant walk in beautiful country, sans mosquitoes, and the packed Eckla cart made our trail travels effortless.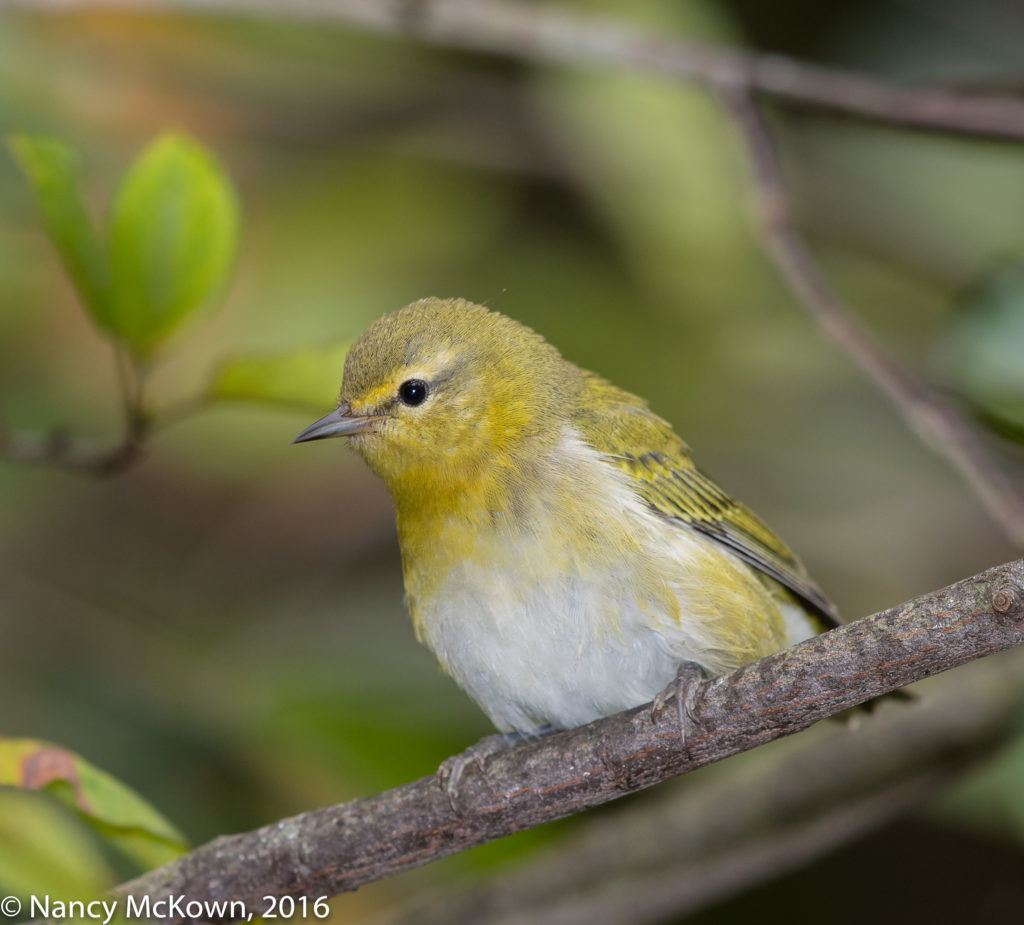 Photographing the Tennessee Warbler at Home
Lovely trip, but no birds. When I'm on the road, I spend much of my time moving, looking, hoping to stumble upon birds that other birders have seen in the same location. I've come to learn that setting up the equipment in one or two places and having the patience to wait until the birds come to you is often a better plan than walking with gear on a long trail.
These photos of the Tennessee Warbler were taken in our yard after we got home. It took a little under 10 minutes to unpack and assemble the gear.