Tripod Head Upgrades
When I upgraded to my current 300mm, 2.8 lens, I just assumed that my current tripod head was sufficient to sturdily hold my lens and camera on my tripod. It wasn't until I attached my camera, new 300 mm lens, and 2x extender onto my tripod and joystick head that I realized that my camera perch was too wobbly for comfort.
These days, photographers do not mount their DSLR's directly onto a tripod. The tripod serves to make the camera stable, but the tripod head and plate are what allow the secure hold of the equipment, quick attach and release capability and the smooth panning movement photographers must have when photographing birds out in the field.
The original tripod head that was not up to the task of managing my new long lens was called a "joystick" head. I had always been pleased with this head because it allowed me to safely swivel the camera and lens in a 180 degree circle. The joystick head still works fine when the camera is attached to a medium or short focal length lens. It is just not designed to securely hold my heavy 300mm lens.
Photographers' Equipment – Weight Considerations
Load capacity for my joystick head is rated at 5.5 pounds. A little quick arithmetic.
4.5 pounds -Canon DSLR camera without lens
5.2 pounds -300 mm 2.8 lens
Clearly, it was time to purchase something more suitable to support the weight of my bird photography camera and lens on my tripod.
Gimbal Heads For Photographing Wildlife
After much research, I finally decided that a "Gimbal" head would be the best tool to hold my camera securely and allow for quick and easy maneuvering of heavy lenses.
What I like about my new Gimbal tripod head:
Allows for tracking birds fast – both vertically and horizontally.
Quick release capability
Stays put when I'm not moving it – amazingly agile for cumbersome camera/lens equipment.
Holds up to 11 pounds… 15 lbs if necessary.
Getting Out of the Car to Photograph
Birds are easier to photograph when the photographer is in a car. Not only is it more comfortable for the photographer, but many birds are acclimated to vehicles and consequently less fearful of what's going on inside the vehicle.
In order to test out this the new tripod head, I had to get out of the car, choose a good location, and setup the equipment. The Gimbal head has different tightening knobs for horizontal and vertical movement and it takes some practice to be able to turn the right knob as needed to track birds quickly.
While I'm clumsily setting up and getting use to the new Gimbal, I can see that the birds are not comfortable with all the commotion I'm making and are either flying away or thinking about flying away.
Tracking Red Tailed Hawks in Flight
Over several days, I tracked these red tailed hawks with the new Gimbal tripod head attached to my tripod. Below is a photo of a red tailed hawk watching me haul the equipment out of the car and setup the camera on the tripod. He is definitely looking kind of worried- so I tried to hurry, knowing he was about to take off.
And there he goes…..
Wind Hovering Hawk
On another day, in another location, I saw another Red Tailed Hawk facing into the wind and hovering without flapping over the Lake Michigan dune. He is clearly looking for a meal below in the dune brush. This hawk remained relatively stationary in very high winds, long enough for me to set up the equipment and practice with the Gimbal head.
Below is a photo of a different hawk (presumably- altho maybe not), on a different day, different location, but with that same wary look. This time he can't resist looking at me as I pan his flight with the Gimbal tripod head.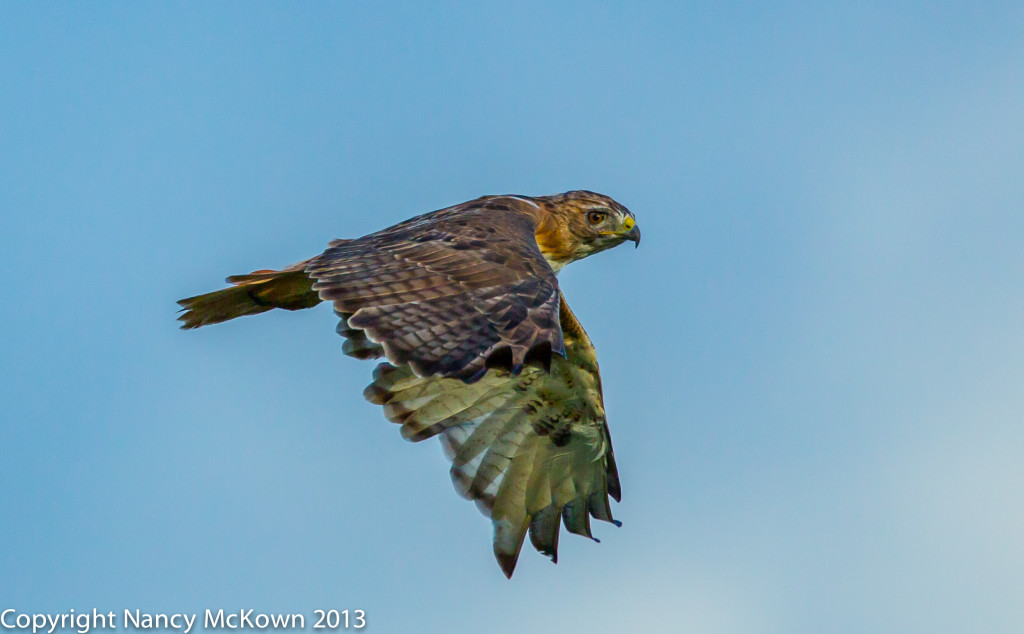 First Impressions of the Gimbal Head
I found it a little disappointing that the Gimbal head will not track precisely at an angle, so if a bird is rising in the sky or coming down, the tracking is not as easy as the joystick head. I also haven't been able to position the camera in portrait mode on this Gimbal head… at least not so far.
I finally figured out that I can position the vertical and horizontal knobs on the Gimbal so there's just a little tension in each. This allows me to quickly swivel the camera up, down, left or right because the tension is tight enough so the camera doesn't move without me directing it, but is still loose enough for me to track movement without additional knob adjustment.
Overall, I think this new Gimbal will be a valuable tool once I get use to it. The camera and lens feel much sturdier, and I'm less worried that my equipment will come crashing down due to too much weight.