Photographing An Unexpected Yellow Warbler
It's was a rainy July day in late morning when this dewy, unspoiled Yellow Warbler appeared in front of my lens. I took a few through-the-window shots to confirm ID…. and then noisily cranked opened the library window. I was surprised to find him sitting in our Magnolia tree. Generally, we see Yellow Warblers (sometimes just a blur) in our yard only during the fall migration cycle. He looked young….so perhaps he ventured out of his familiar territory to explore. Why ever he came within view, I was very pleased to see and photograph him.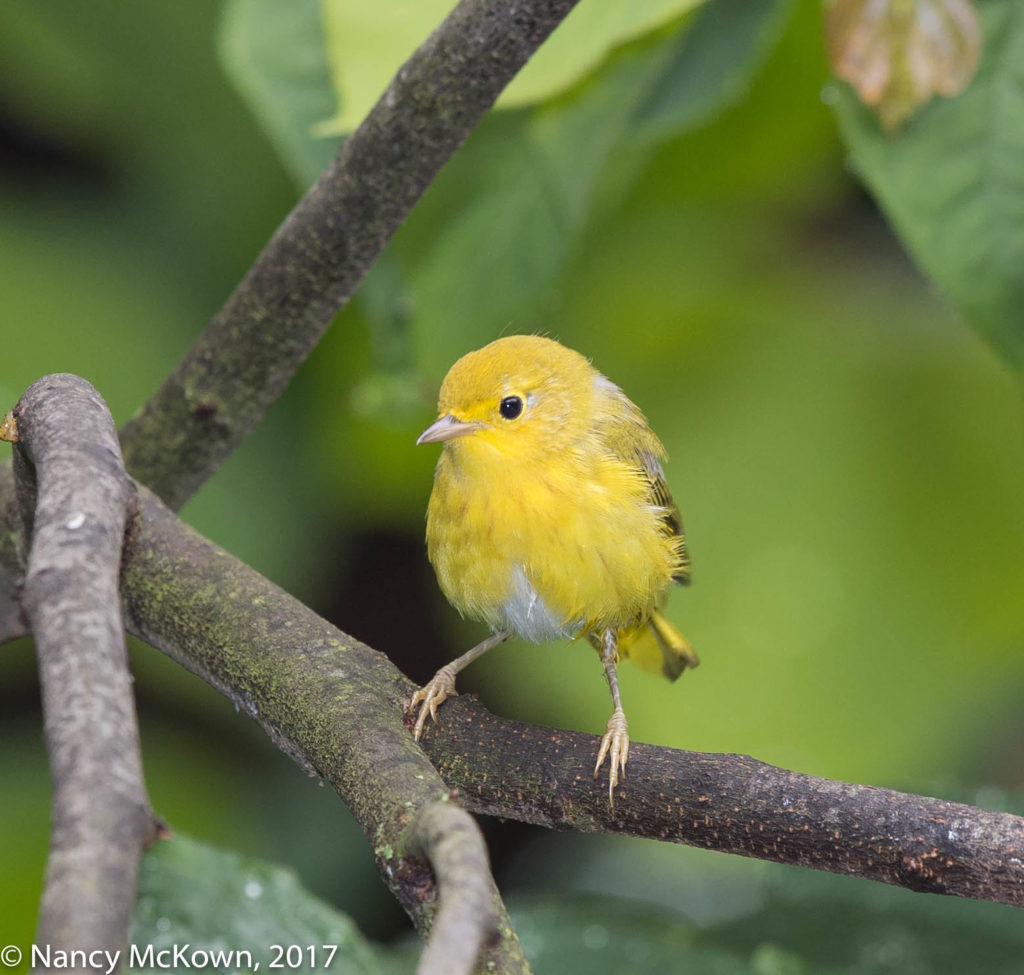 Take Cover and Freeze
We do not live in an open habitat, so there are plenty of places for a bird to hide from the camera and from predators. When I notice a warbler who is not obsessively flitting about searching for food, driving off the competition, or singing his heart out to attract a mate, it gives me pause. Something is wrong.
Birds alter their behavior when there's a risk of a predator attack. Most fly off fast and erratically, searching for distant cover. This Yellow Warbler was utilizing the crouch-and-stay-put strategy that is so prevalent with Downy Woodpeckers. He was quiet, hunkered down, immobile mostly, and looking up to the sky. He most certainly saw me, but had more to worry about than the camera.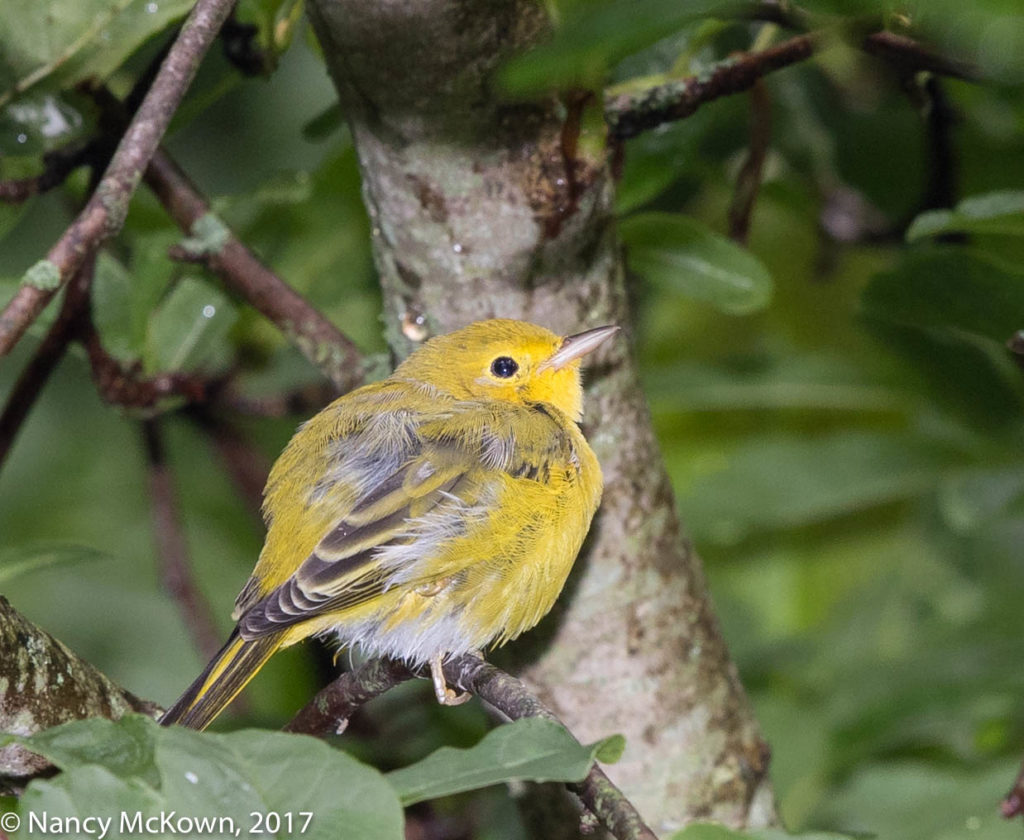 Tele Flash Considerations
The ISO was reading 5000+, compelling me to attach and connect all of the flash gear. It was much easier to manage the flash blast in the first photo because the background was free of nearby distractions. In the second and third photos, the warbler was hiding from his predator within the branches near the truck of the tree… so he was right up against his background. The Magnolia tree is 20+ feet away and the tele flash extender did a good job of lenghtening the light beam to effectively spotlight the bird.
Looking back on this photo, I think I should have reduced the e-TTL II determined flash blast somewhat. I could have pushed up the ISO, enlarged the aperture to let in more ambient light, or adjusted the Flash Exposure Compensation (FEC) by -1 stop or so. NOTE: There are lots of ways to tone down the light in order to minimize the sharpness of the shadows.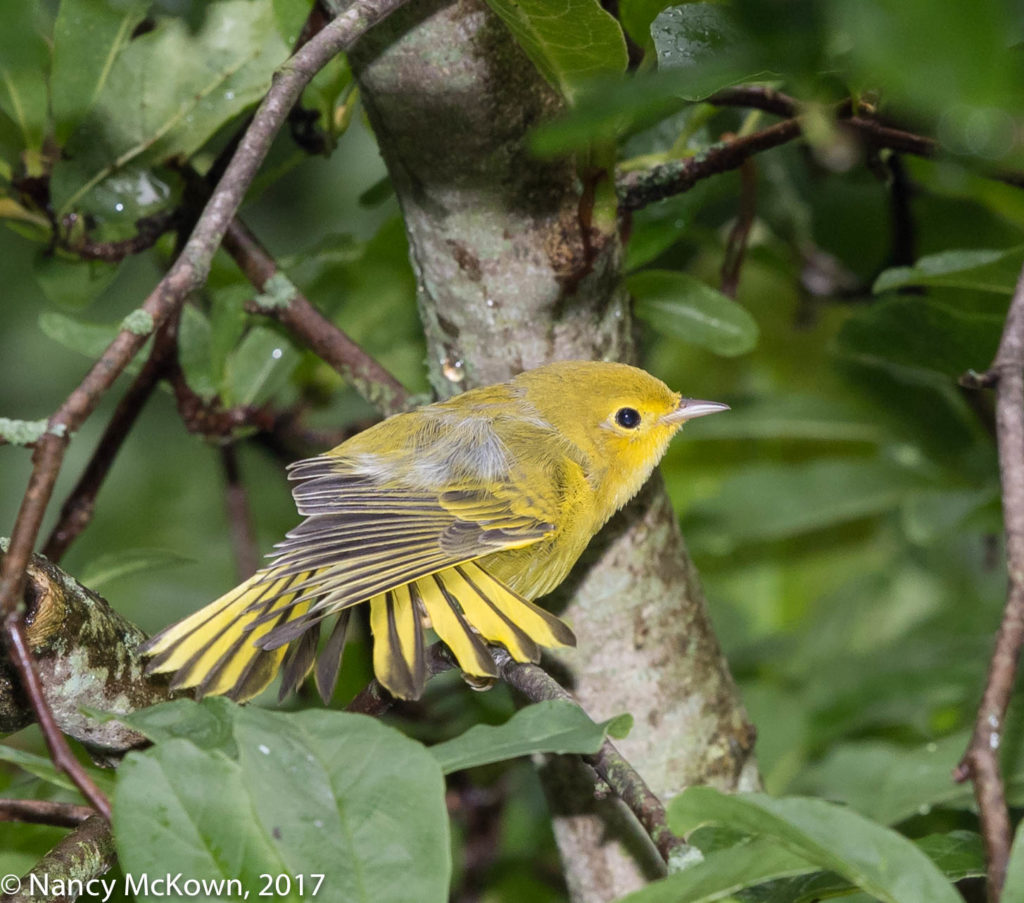 On His Way
This warbler stayed hidden from the angel of death long after other avian dare devils were comfortable enough to try some quick feeder in-and-out maneuvers. Eventually he felt safe enough to fan his tail feathers and stretch his wings; and then he was gone.