A Heartwarming Christmas Surprise
It's been a dreary and snowless Christmas here in southwest Michigan, with very little bird activity. I was busy trying to compensate by decorating the house in cheerful adornment when I spotted a tiny hawk perched on our platform feeder. My tripod and camera were set up and ready to go in the library (rather optimistically, I might add, considering the miles and miles of heavy clouds over head). Hoping the hawk would not notice me, I gingerly ducked and tiptoed toward the camera.
He most certainly did notice me and flew from the platform to a tree branch close by. I positioned the lens, adjusted the shutter speed as low as I dared to offset the poor lighting, focused, and started photographing the hawk through the window glass.
Sharp-shinned Hawk
A Sharp-shinned Hawk was not a bird I had photographed before. He was tiny, as woodland hawks go, with a smallish head, dark gray back, copper breast, bright red eyes, wide shoulders, short wings and a very long tail. These hawks are easily confused with Cooper's hawks, both Accipiters known for maneuvering fast in forested habitats and feeding at bird feeders. "Sharpies" winter and breed in Southwest Michigan.
Through the Window Photography
I was photographing this hawk through the window glass because I was operating under the assumption that no bird would tolerate the creaky noise of a non-compliant window opening, let alone a person standing so near.
But the clarity and color of the photographs would be so much better with that window out of the way, especially on such a gray day. I took a dozen or so more photos through the window glass and then slowly began the rather loud procedure of unlocking and cranking open the window.
Song Bird Reaction to Hawk
For some reason, I expected it to be deathly still outside when I opened the window.  Instead I heard a cacophony of complaining titmice, chickadees and juncos, warning other birds about the intruding hawk and miffed about the interruption in their feeding activity.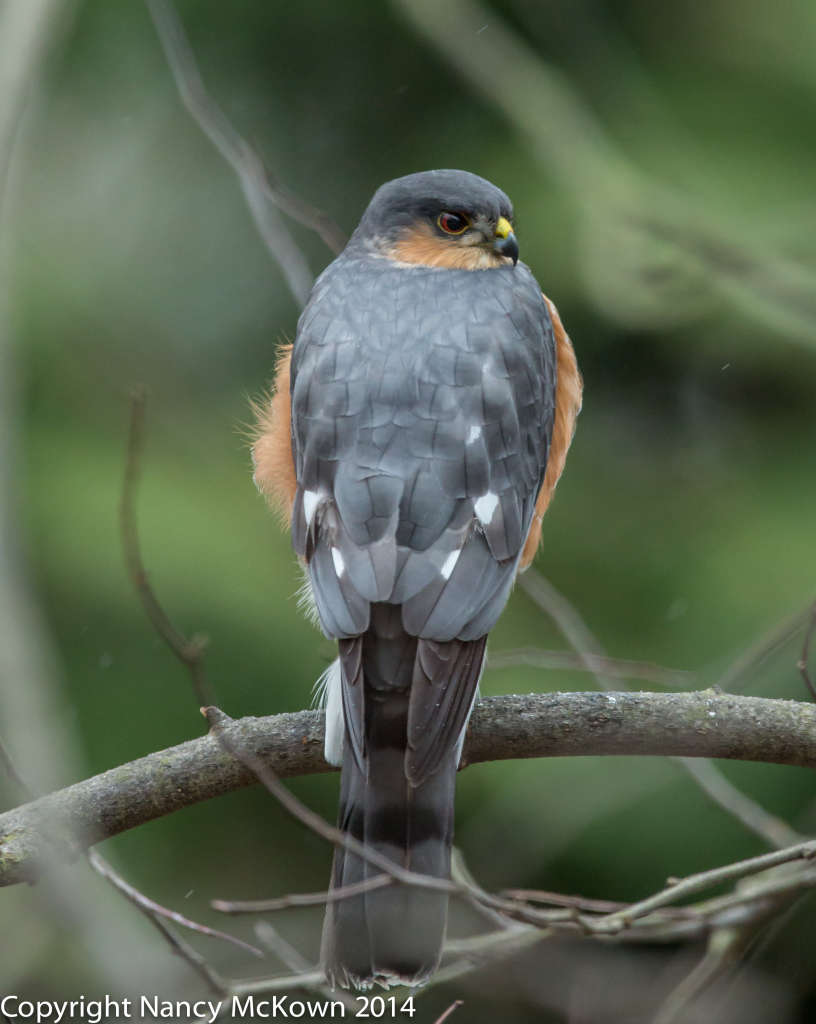 Through the
Open

Window Photography

Amazingly, the Sharpie did not fly off, despite the racket I made opening the library window. He stayed perched on that branch with his back facing the camera for a good 40 minutes. He flinched every time the windblown metal squirrel guard banged against the post, but other than that, he acted unperturbed and vigilant.

Most of the song birds stayed hidden from this angel of death. Eventually a few dare devils did some quick feeder in-and-out maneuvers. The hawk just watched. No attacks.
Don't Leave Before the Bird Does
I rarely leave a photo opportunity before the bird does. My furnace kicked on shortly after I opened the window, and it stayed on. I was shivering and stiff, but I was not prepared to walk away from my camera for fear I would miss some exciting behavior.
I watched and photographed him preening, stretching, and almost fully rotating his head in both directions. I was hoping that he would reposition himself on his perch so I could photograph a frontal view, but no luck. In the end, he flew off quickly, away from the camera and toward the woods.
Enjoy the Birds This Holiday Season
Photographing this Sharp-shinned Hawk was a very unexpected and heartwarming Christmas surprise. I hope you all were able to take some time and enjoy the birds this holiday season.
(See this Post about a Cooper's Hawk hunting at the Feeder.)
(See this Post about "Through the Glass Photography".)