Photographing Hermit Thrushes
Around evening's twilight, four or five Hermit Thrushes would quietly congregate at the fountain after all the other bird species had left. At first, just a bold and curious few came. They did not scatter or even flinch when the flash went off. I could see a few more of their wary companions hiding in the dimness beyond the fountain.
Out of all the thrushes, Hermit Thrushes are short term migrators….the only thrushes to winter in the United States. They migrate through early in the Spring and depart late in the fall.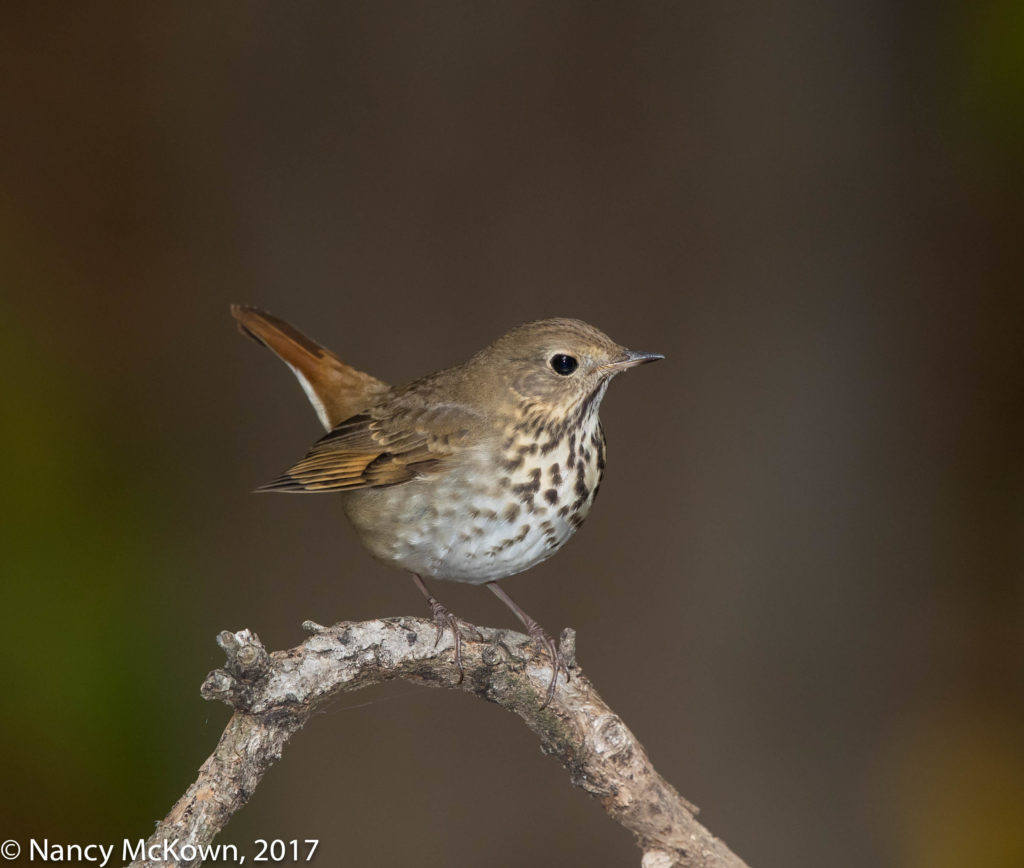 Hermit Thrush
ISO 800; f/8; 1/250 Second
Combining Ambient Light with Flash
When I took these photos, the camera's ISO registered at ISO 12000, so I used the telephoto flash. It was simply too late in the day to rely only on the diminishing ambient light.
Combining ambient light and telephoto flash can cause color temperature imbalances and throw off white balance. It's an easy enough fix if you shoot in RAW and train yourself to be attentive to it in post processing.
Realistic Color Rendition
Once in a while, I go through my images in Lightroom to review, organize, delete and otherwise cleanup my stash of digital photos. One of the most common post processing mistakes I find are those related to white balance. Time after time, I unconsciously skip over or ignore an unnatural color portrayal in my images, even if it is clearly not a realistic rendition of the color at the scene. I think this is not an uncommon oversight for photographers, despite how fast and easy it is to test for and fix white balance problems in camera and in post processing.
Consider:
Programmed "presets" (auto, incandescent, fluorescent, flash, cloudy, open shade, sunny) are white balance correction processes that are built into the camera and do a precise job of rectifying white balance for most lighting situations.
White balance fixing algorithms built into post processing software are, for the most part, amazingly accurate. If tonality of an image seems "off", correction is wide open in post because all color data has been retained (assuming you shoot in RAW).
Information about balancing light is probably one of the most published photographic fixes on the web.
The Live View function on your DSLR camera can give you a real time comparison of the impact that white balance will have on your images. With the camera set to Live View, you can flip through the various light balance settings (auto, incandescent, fluorescent, flash, cloudy, open shade, sunny) and observe in real time how the different color casts will look before you take the shot.
Quick Tutorial in Correcting White Balance
To achieve proper white balance is to remove unrealistic color. Your goal is to "fix" the color temperature of the light source and thereby correct warming and cooling color tones that don't belong.
Most post processing programs have a white balance correction tool. Lightroom provides an icon that looks likes an tiny eye-dropper.
Make sure the white balance is set to AS SHOT– so all previous attempts to correct WB are erased.
Find a neutral color that you know to be true… a light gray or white component in your photo. This is your sample of realistic color upon which all color correction will be based.
Activate the eye dropper (white balance selector tool) by clicking it on. Use this tool to hover over that neutral gray/white space in your photo, and watch the live preview of the white balance adjustments in the Navigator Panel. Once you touch down the eye dropper onto the image, temperature and tint functions automatically adjust the rest of the color in the photo.
A Problem of Perception
Color Realism should be the "first things first" job in post. It's essentially a problem of perception – one that (at times) needs more than the naked eye to see.