Photographing An Anna's Hummer Bathing
It was early in the morning in San Diego with the sun (my only illuminate) rising fast in the sky. We came upon a small house decorated with a bubbling stone bird bath pushed up close to a creamy stucco wall. A dozen or so palm fronds leaned against the wall, their green and brown shoots mingling with the creamy wall and creating distracting shadows on my background. Two bathing Anna's Hummingbirds darted in and out of the gushing water. My presence did not disrupt their activities, so I positioned myself so the sun was slightly to my left. White balance on my camera was set to "Cloudy" (as usual), to bring out the warm tones that I prefer.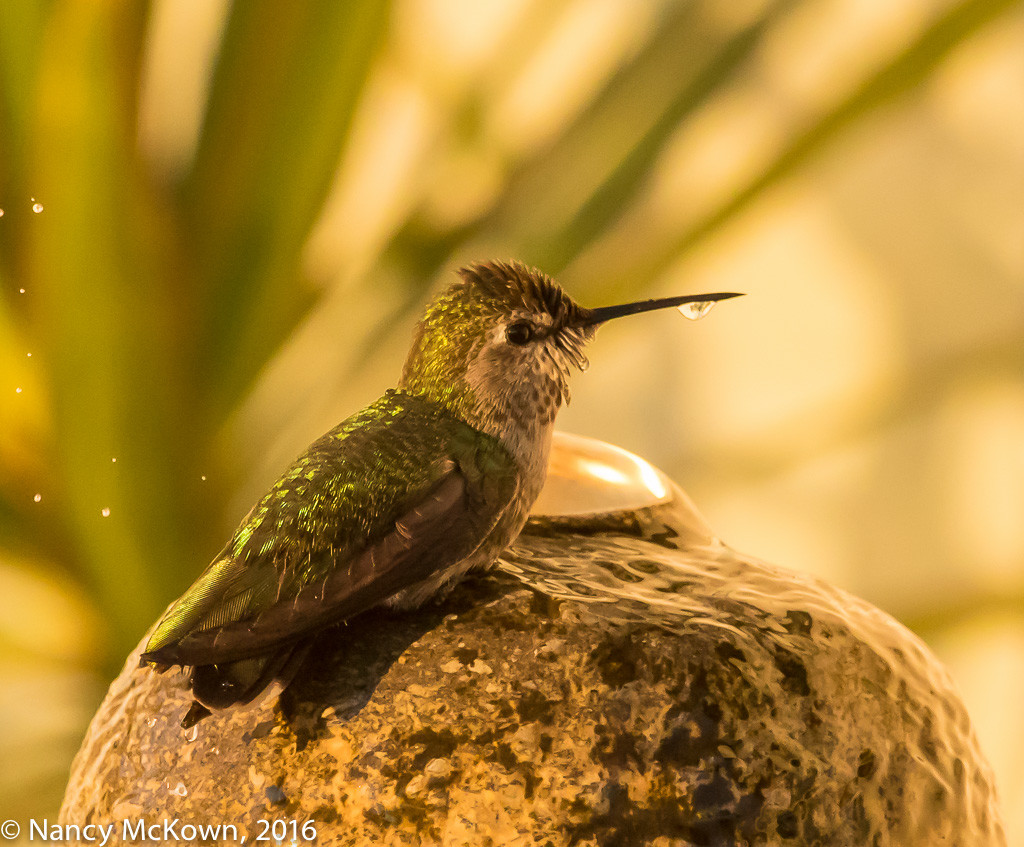 "As Shot" White Balance Setting In Lightroom
In post processing, I try not so much to accurately reproduce the color temperature, but to create a pleasing balance between warm and cool tones. The first image (above) illustrates how the camera interpreted the "Cloudy" white balance setting. (NOTE: To bring out the detail, I had to heavily adjust the highlights and shadows sliders in Lightroom.)
I generally like the golden tones I get from the "Cloudy" setting, but the color cast in these photos looked very unnatural to me-a gaudy and unpleasant yellow.
In Lightroom, I corrected these brassy colors by changing the "As Shot" white balance setting to "Auto".  As you can see in the second image below, "Auto" rather drastically neutralized the color temperature to a cooler and, to my eye, a more natural and pleasing tone. 
NOTE:  Sadly, no matter what white balance color hue I chose, the bird's chin and breast area closely matched its stone perch, making the subject rather indistinct from its surroundings.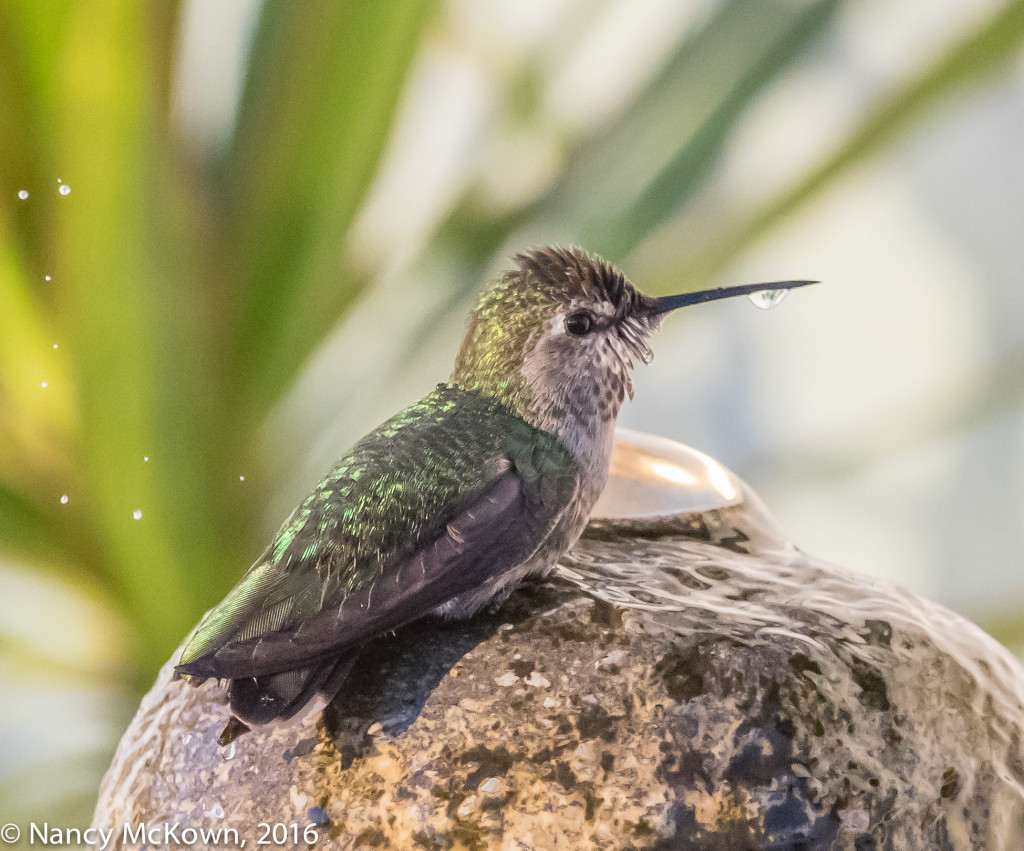 Color Tint and Temperature
White Balance allows you to choose how the camera sees the color temperature. (Almost all cameras have an "auto" white balance setting, allowing the camera to guess at the color of light appropriate for the scene.) The "goal" of setting the white balance is to customize color tint and temperature to get an image with a specific color tone. It can be warm, neutral or cool; as true-to-life or as unorthodox as you want it. White balance settings allow you to paint with the hue of light you prefer and cast the mood appropriate to the image.
Trust Your Creative Judgment
Assuming you shoot in RAW and are photographing birds using only sun light (not a mix of natural and artificial light) Lightroom's AUTO white balance setting generates reliably good results. If you want to experiment further, Lightroom and most other post processing software offer the resources to fine tune from a wide variance of color temperature and tints, no matter how white balance was set on the camera.
When reviewing your bird photographs, take the time to become more discerning about how temperature and tint of light affect your images. Most of all, trust your creative judgment.