Where Do Bird Names Come From?
This bird naming game is perplexing and curious.
It is my observation that accuracy, consistency, logic and convention do not appear to matter when naming birds. Many bird namers seem to stumble upon the common bird name by haphazardly identifying the bird with its behavior, shape, plumage, colors, appearance, characteristic, eating habits, songs, geographic location, type of surroundings, or perhaps even a beloved long lost relative. Birds names have also come from literary, folklore, mythology, and biblical references.
The most helpful of bird names precisely identifies some distinguishing attribute that birders everywhere can quickly and clearly see or hear for ID purposes. The honor of assigning the common name to a bird typically goes to the discoverer of the species. Sadly, most of the fun details as to when, why, and how most birds were given their common names are lost to history.
Ornithological Classification
Luckily, imprecise common names are not used to definitely ID birds. The more useful terms in bird identification are the scientific names, or ornithological classifications.  This consists of a two word name, the first word describing the genus and the second word describing the unique species.
Photographing Grasshopper Sparrows
I found this grasshopper sparrow (Ammodramus savanna rum) in the fields at the Allegan SGA. It is a rather inconspicuous sparrow, not common in SW Michigan. The aptly named grasshopper sparrow not only eats grasshoppers (among other insects) but also sounds like a grasshopper. Listen to its song here. This little guy unknowingly posed for my camera while it perched on stalks in the fields. I think its most definitive physical characteristics are its round stocky body and rather flat head. (Hard to get a strong common name out of those characteristics, I guess.)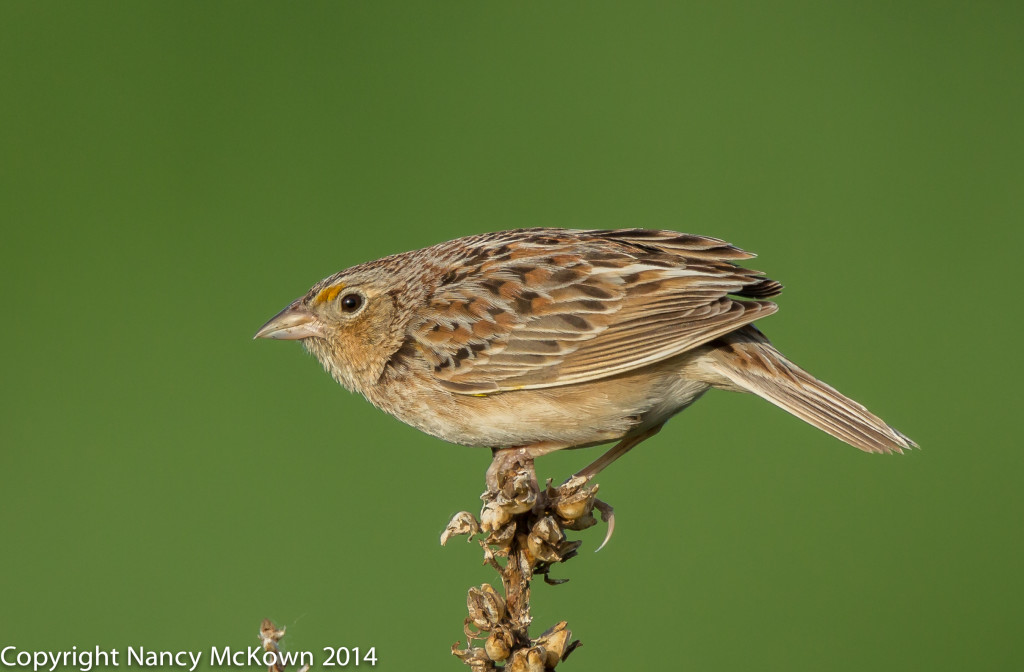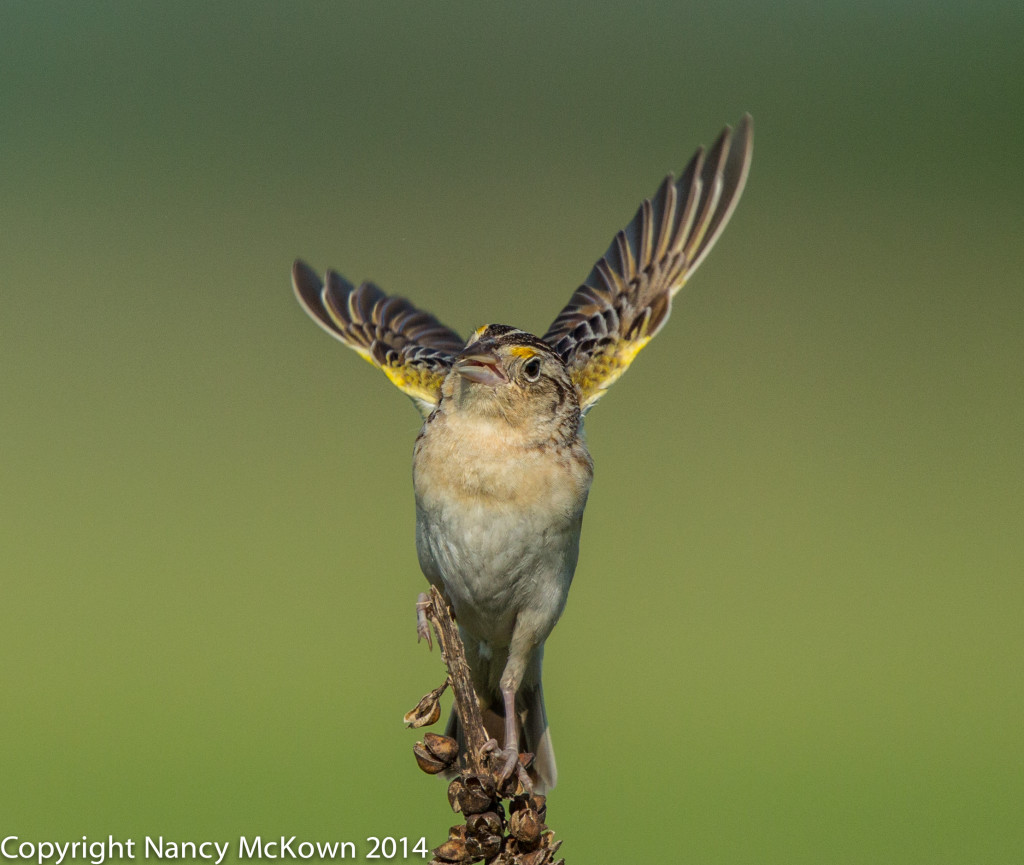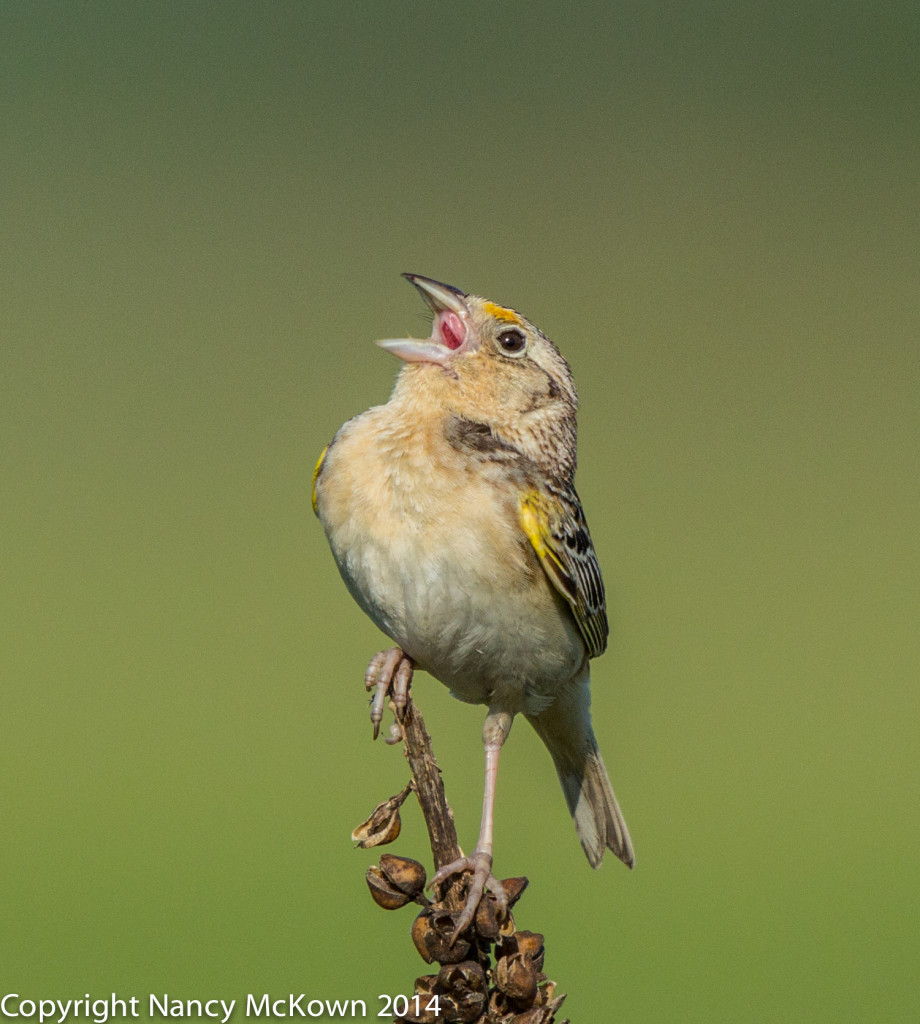 Photographing Clay Colored Sparrows
Another field dweller, this wary clay colored sparrow mostly hid from my camera in the dense grass cover. Occasionally he would perch on the mullein flower stalks at eye level with my lens. Clay Colored Sparrows (Spizella pallid) do have some clay colored feathers under the beak and on the breast. However, I would not immediately associate that clay color with this little sparrow because it has other lovely shades of yellows, browns and tans as well. A more precise and definitive label for this rather indistinct looking bird would to describe its song. It's a strong  buzz…very insect like and distinctive. Listen to its song here.  (So was Buzz Sparrow already taken?)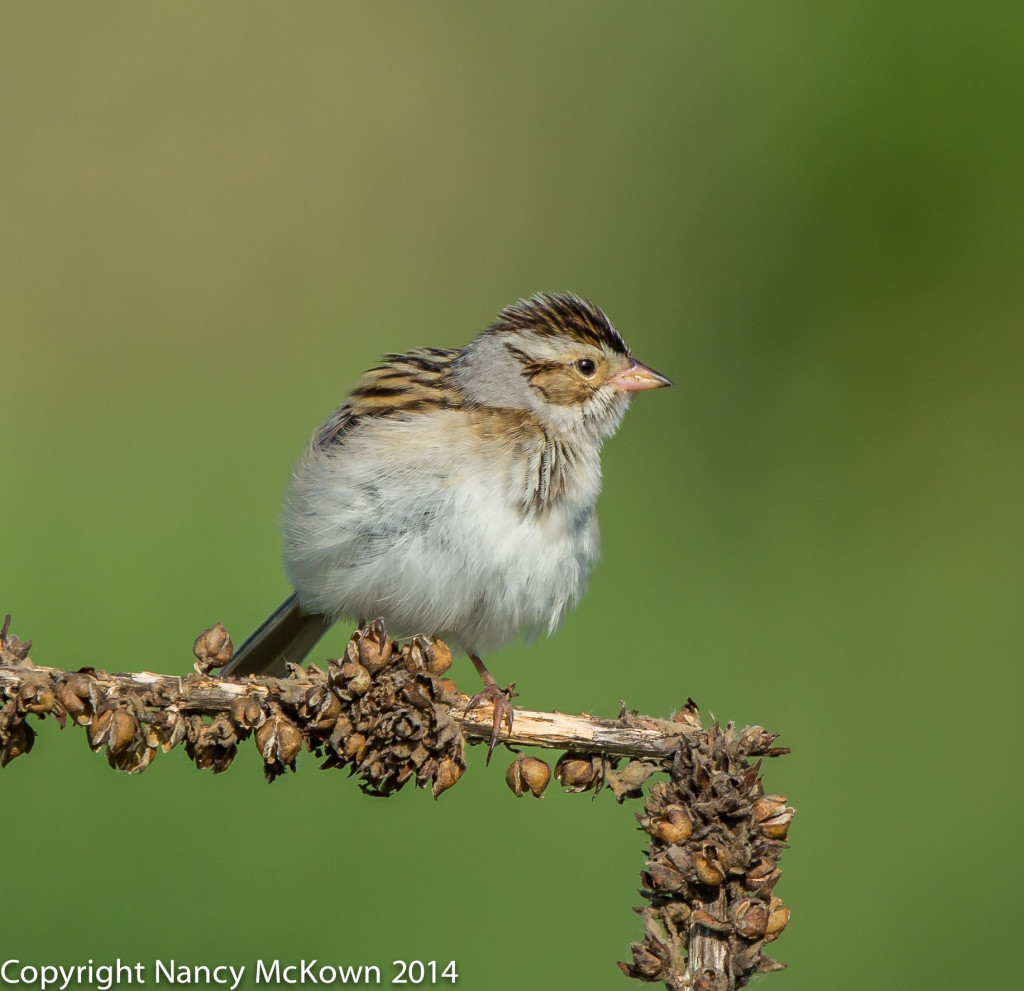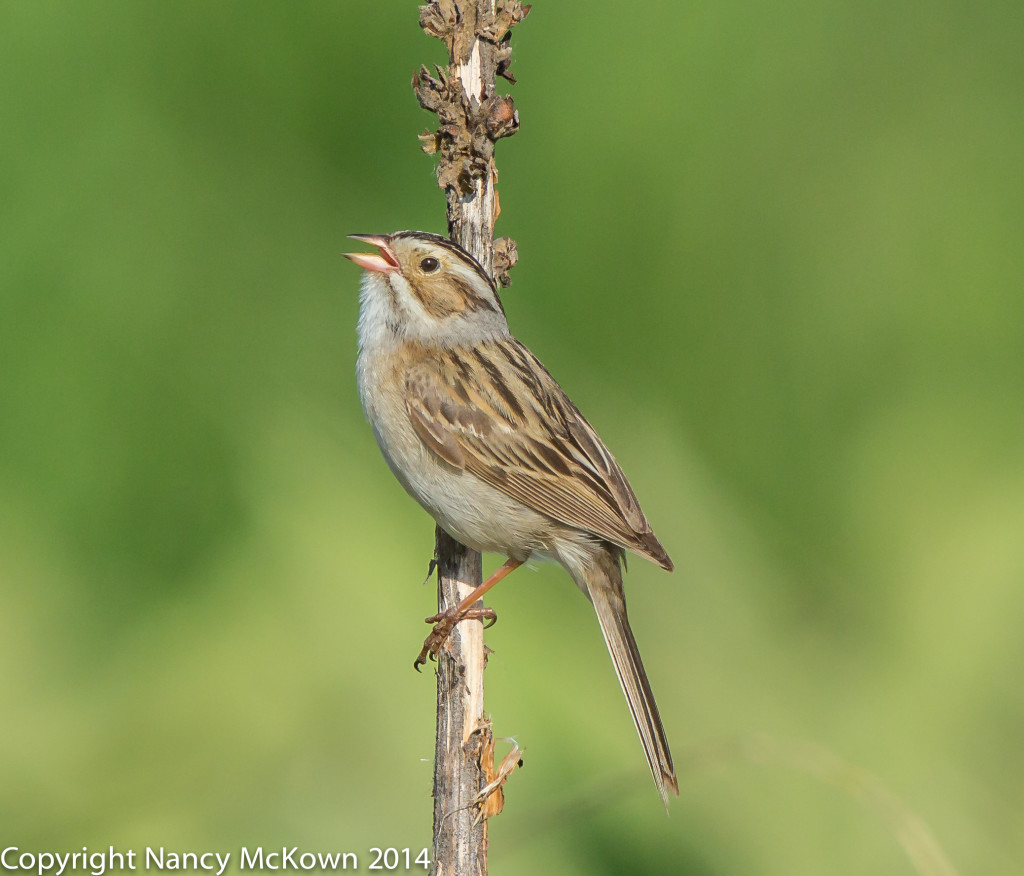 The Power of a Name
Once a bird is named, millions of birders will forever know and designate that bird with that name. Consequently, naming birds is more than a chore. It's a gift laden with the responsibility to assign a common name that aptly describes that species for present and future ornithologists and birdwatchers.
If you are interested in taking a look at some really silly bird names, this link will lead you to wikipedia's list of recognized birds species (9,721!!) labeled by their common names.
For photos of more uncommonly beautiful (and poorly named) sparrows, please visit the following blog links: