Photographing a Female Hooded Warbler
This female Hooded Warbler alighted on a branch near the camera for less than a minute. Right before dusk, she perched 3 or 4 feet above eye level on a Sassafras tree very near the camera. Instead of staying put, she took off like a shot…a yellow blur flying directly at the camera and then swooping up 10 feet or so to avoid crashing into the window. She must have decided that with me there, it was too risky to attempt a drink at the fountain.
There is very little to recommend this image file. The detail is good and the blurred background is OK. However, harsh shadows (created by the flash blast) outline the underside of the warbler's profile and make the overall image look very unattractive. I was able to minimally correct the darkness of the shadowy outline with Lightroom's Shadow slider. If only there had been some distance between the tree trunk and the branch on which she perched, the dark shadow outlining the bottom of the bird's profile would not have been so noticeable.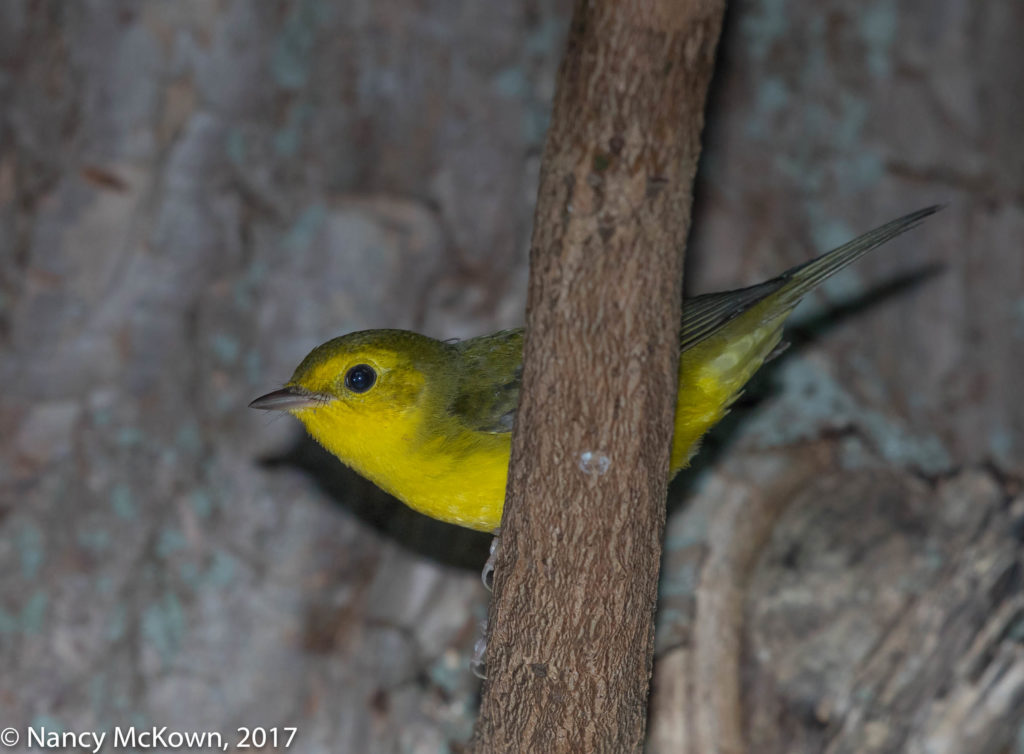 (NOTE: The shadow so prevalent on this image is not the kind of shadow that would be highlighted in the camera's clipping indicators. It is just a background shadow created by the flash and made a little less black by pushing Lightroom's shadow slider all the way to the right.)
Photo Editing
I do not own Photoshop, but maybe I should. The thought makes me weary because I think of post processing as a hateful but necessary chore. Time consuming as Lightroom is, I can not master image editing by using it. I can only minimally fix issues with the shadow slider and adjustment brushes and make minor adjustments with cropping, exposure, contrast, clarity, and sharpening.
Photoshop (and the hundreds of fancy plug-ins designed to enhance this software) would  have helped improve this image. First and foremost, it would give me the tools to separate the subject (Bird Layer) from its tree (Background Layer) and then replace the background completely. There's also image magic to be had with the Masking, Brushing, Adjusting, Cloning, Layering, Blending, Liquifying, and Transforming tools.
Keep it Simple; Keep it Real
Bottom line: Learning Photoshop is not something I want to do to. When I first go through a day's shoot, I'm looking for promise and potential – something pleasing that will draw the eye. If I don't see this, the image is just not worth the time and effort it takes to fix.