The Joy of Bathing
Birds bathe to maintain optimal feather health, but they also appear to savor their time in the water -and seem reinvigorated afterwards.
This little female American Redstart Warbler clearly relishes her evening baths in our little oasis off the deck. She first checks her surroundings then takes a quick drink. She then wades into the water wholeheartedly, immerses her head and saturates her little body, then jiggles and shivers to release the heavy droplets. Up she rises to the branch above the fountain to continue shaking out excess water on her feathers and to preen. Once is often not enough….she goes back and does it all again. All part of her nightly spa ritual before heading off to roost for the night.
Definitely fun to watch and photograph.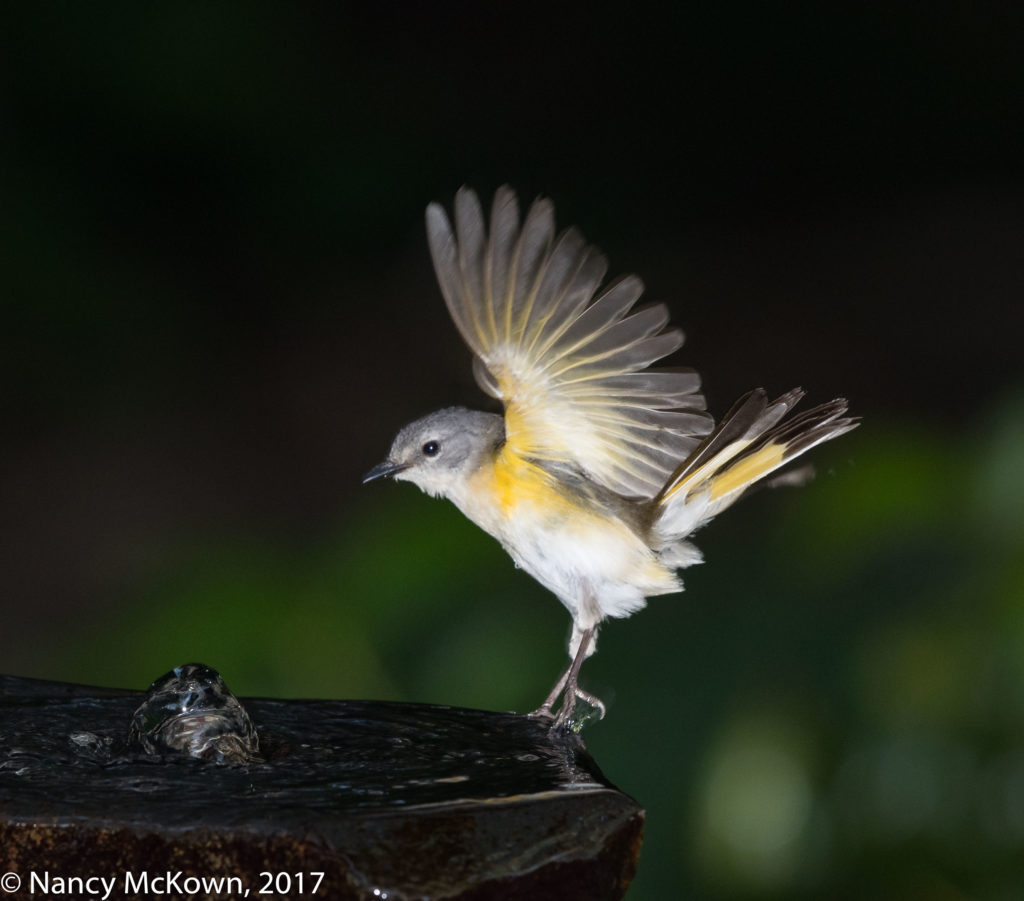 Thoughts About Birding Hotspots
I've been a bird photographer long enough to know the rush and the rewards of good bird photo opportunity.
The best Spring and Fall Migration birding hotspots are widely publicized and photographers flock to secure the prime locations at the best times. No doubt fabulous photographs are to be had by those who put in the time and effort to pack up their gear and travel to these places.
This Spring, I had planned to travel to Magee Marsh on the southern shore of Lake Erie (3+ hours away) to watch and photograph the Warbler migration. Unexpected and sad circumstances intervened. I am not unhappy about missing the event, even though I no doubt missed photographing some new colorful warblers who would never venture into my part of the woods.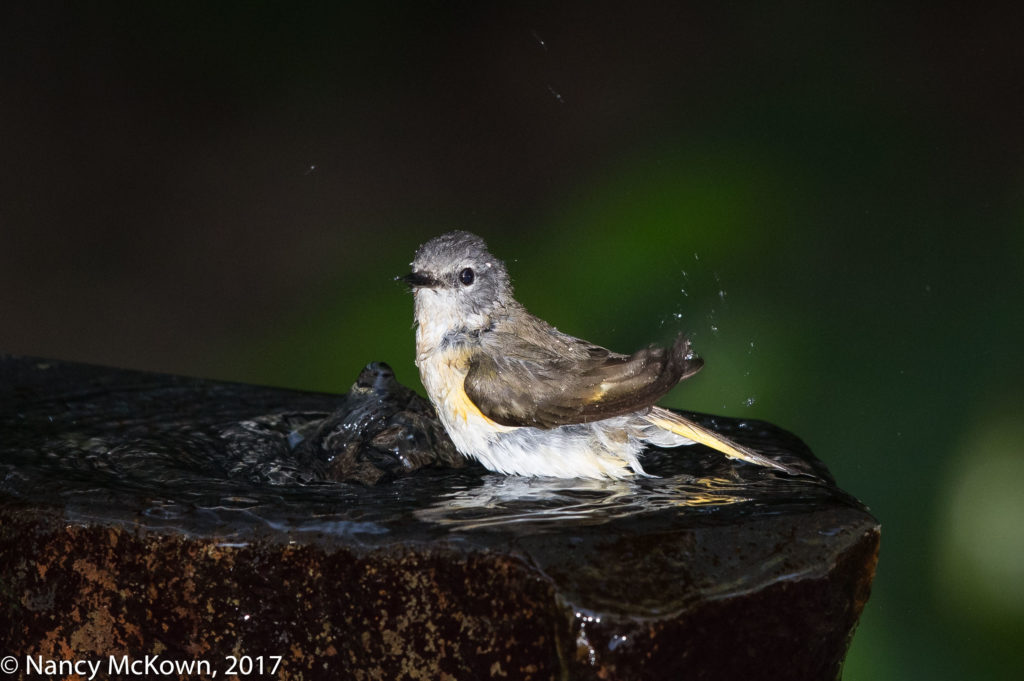 A Paparazzi After Birds
This year, I was just not ready to squeeze in onto some bridge or public path early in the morning with dozens of other nature photographers positioning their camera gear, lawn chairs, bug spray and coolers. At times, bird festivals become nothing short of a high energy spectacle. A gaggle of photographers clusters onto one spot in an effort to capture the best birds in the best light. It is impossible to practice stealth in these settings.
Generally, these birding festivals/events bring out the worst in me. Impatience, envy, and frustration…all in the name of getting a lucky shot of a new and/or uncommon bird. I'll admit that most participants do their best not to get in the way of other photographers, but sometimes limited space just does not allow for comfortable distances. This provokes bad behavior in the form of rude glaring, annoying comparisons about equipment, and unsubstantiated judgments about skills and abilities. (NOTE: Some of these people have never had an unexpressed thought.)
Impact on Birds
Birds may appear acclimated to human behavior, but that does not mean that they are unaffected by it. The competition in the air gets in the way of concern or respect for birds. It also stresses wildlife and complicates bird routines. At times behaviors are so intrusive that they breach ethical practices.
Should I Stay Or Should I Go
So ultimately, each Spring, I've got to decide…. should I stay or should I go. No doubt lots of good shots to be had, but I'm spoiled here in my private bird space even though I saw very few migrators this Spring.
Bottom line: As a bird photographer, I'm not going to be continually challenged and rewarded with anticipatory delight unless I get myself out there. So I will go.