Low Light Bird Photography
Sometimes a bird photographer has no choice but to make the most of shooting in low light, rainy conditions. If you're lucky, soft backlit raindrops can tickle the leaves just enough to make them shimmer and glow appealingly and cast dreamy light onto your subject. Sadly, this day had no such light.
Haze and moderately heavy rain dominated the scene when I noticed this Black and White Warbler perched in the Serviceberry tree right next to my library window. (So happy to have a roof over my head.)  My camera was set up and ready to go, just a little further back than usual to avoid the splash of the water cascading off the roof.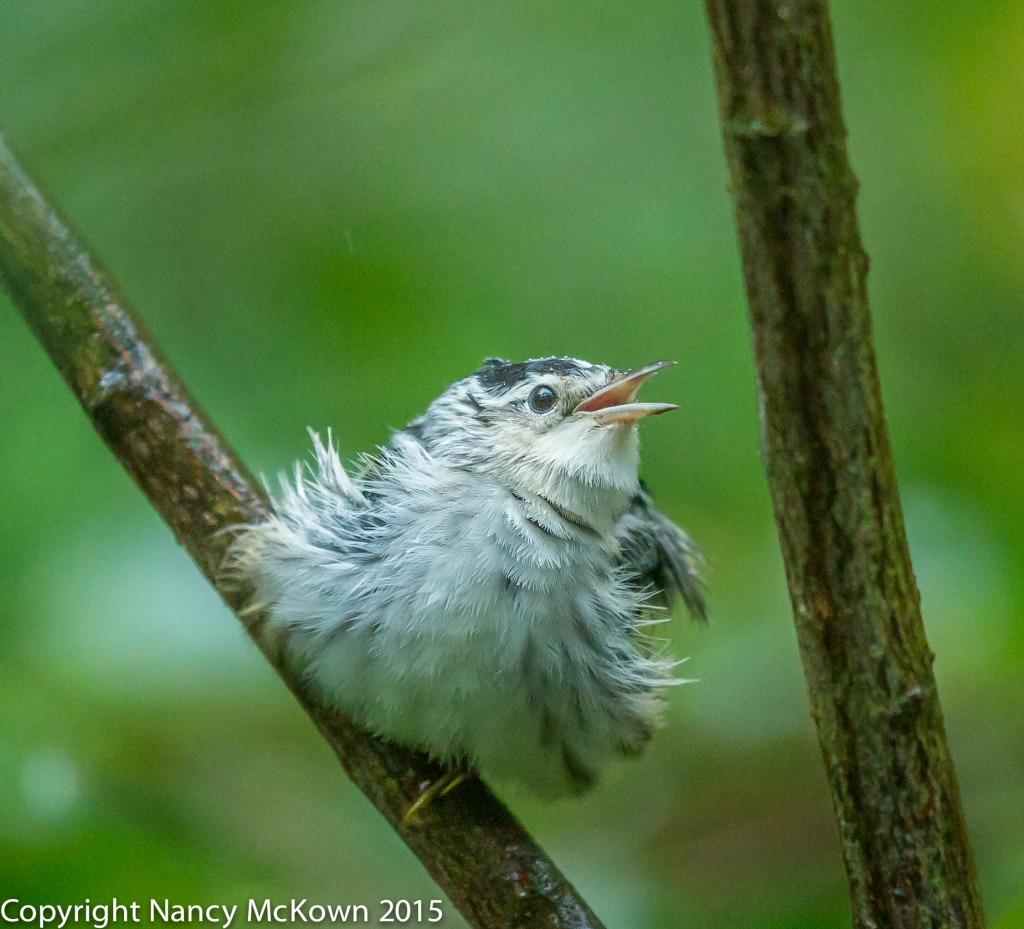 Photographing Bathing Warblers
The Serviceberry offered this little warbler some protection from the rain, but its small leaves were not as densely packed as some of the more protective evergreens and redbuds near the library. The heavily packed leaves would have blocked more light – taking the already soaring ISO levels unacceptably higher. NOTE: In these photos, the falling raindrops are barely visible because of the slower shutter speed and lack of backlighting.
By the looks of this Black and White Warbler, he found the perfect breezy perch on which to bathe his boldly striped black and white feathers. He seemed invigorated, even joyful, despite the lack of privacy in his outdoor shower. While splaying his wing feathers and allowing the warm rain to soak the skin, he often opened his mouth for a drink.
I often see birds preening, but not bathing. A good soaking no doubt washes away the dirt and other particles that can't be cleaned with the bird's beak. The transients that visit our yard appear to enjoy a short drenching rain over the bird bath. This little one looks like he is singing in the rain, though there were no vocalizations.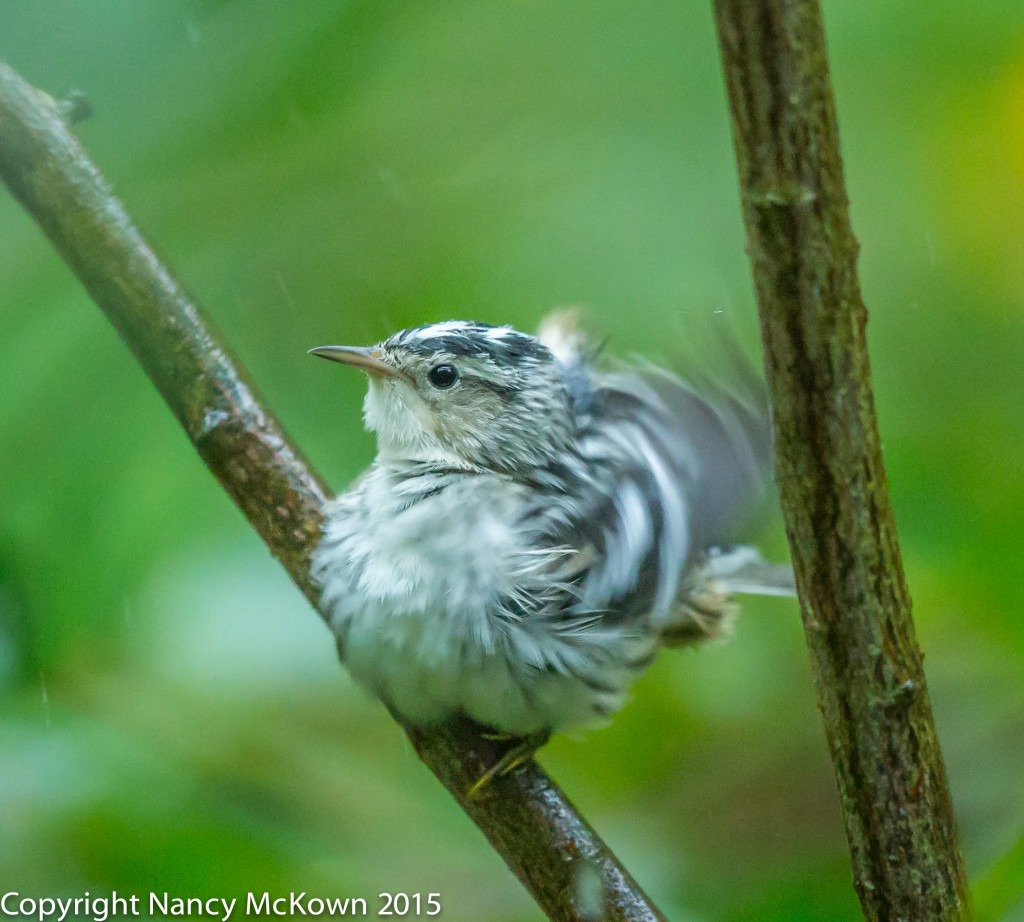 September's Fall Bird Migration Traffic
Migration traffic in our yard has been slow (compared with last year). Looking back on my Fall, 2014 Flickr album, (Fall 2014 Flickr) a lot of the vireos, kinglets, thrushes and warblers arrived last year in late August. It's still early though, and I'm hopeful that some newbies (birds I haven't photographed before) will stop to rest and replenish in our yard. According to the migrating maps and charts put out by e-Bird, September is a big month. Almost every species of migrating birds are on the move–globally.
I haven't seen this little Black and White Warbler since I photographed him. No doubt he's on the wing again, continuing on his long and perilous journey south. Most of the avian transients are fair weather, nighttime flyers. My photos from last Fall confirm that when winds and rains come, the migrating birds descend, and I'm more likely to see and photograph some new visitors. I welcome the opportunity, and will photograph them in any usable light, despite high ISOs.
To read about the migrating birds who visited our yard last Fall, press this link and this link.