Photographing A Blue Gray Gnatcatcher
When I first saw this tiny songbird through the lens, he was looking back at me with an inquisitive look on his face. (Birds usually take flight at the sight of the camera, especially when it's so close.)  I kept my wits, aimed the camera and set off a burst of continuous shots. Seconds later he lost interest in me and hopped to a different branch. Initially, I confused this diminutive wonder for a warbler because of his thin straight bill and flitting behavior while foraging for food. But once I was able to see a profile of his body, especially those swishing long tail feathers, I knew he was a gnatcatcher.
My camera was set to continuous shooting drive mode paired with Al Servo focusing. Without that pairing, I simply would not have been able to capture multiple shots in sharp focus of this fast moving little bird.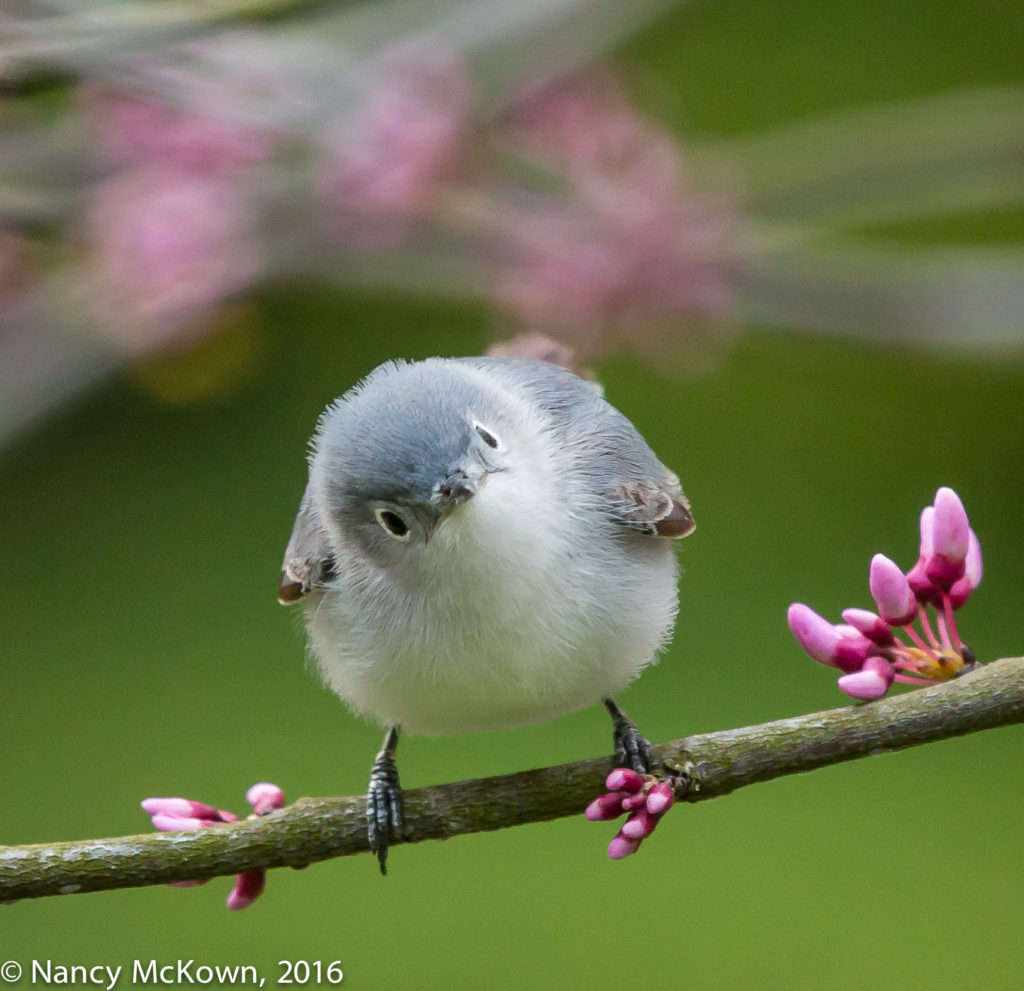 Don't Confuse Shooting Mode with Focus Mode
Lots of photographers confuse shooting modes with focusing modes. They are very separate functions, even though they work hand-in-hand.
Shooting Modes simply control how the shutter release operates- including self timers. There are seven shooting modes available on modern Canon DSLR cameras:
Single shooting mode
High Speed Continuous shooting mode
Low Speed Continuous shooting mode
Silent Single shooting mode
Silent Continuous shooting mode
Self Timer 10 sec remote
Self Timer 2 sec remote
Focus Modes kick in immediately after the shutter is depressed (autofocus only) and determine how the camera will achieve focus. Modern DSLR Canon cameras have 4 focusing modes:
Manual Focus (no autofocus)
One Shot Autofocus (will initiate focus once)
Al Servo Priority Autofocus (continually tracks and updates focus)
AI Focus (automatically alternates between One Shot and Al Servo modes, depending on the situation)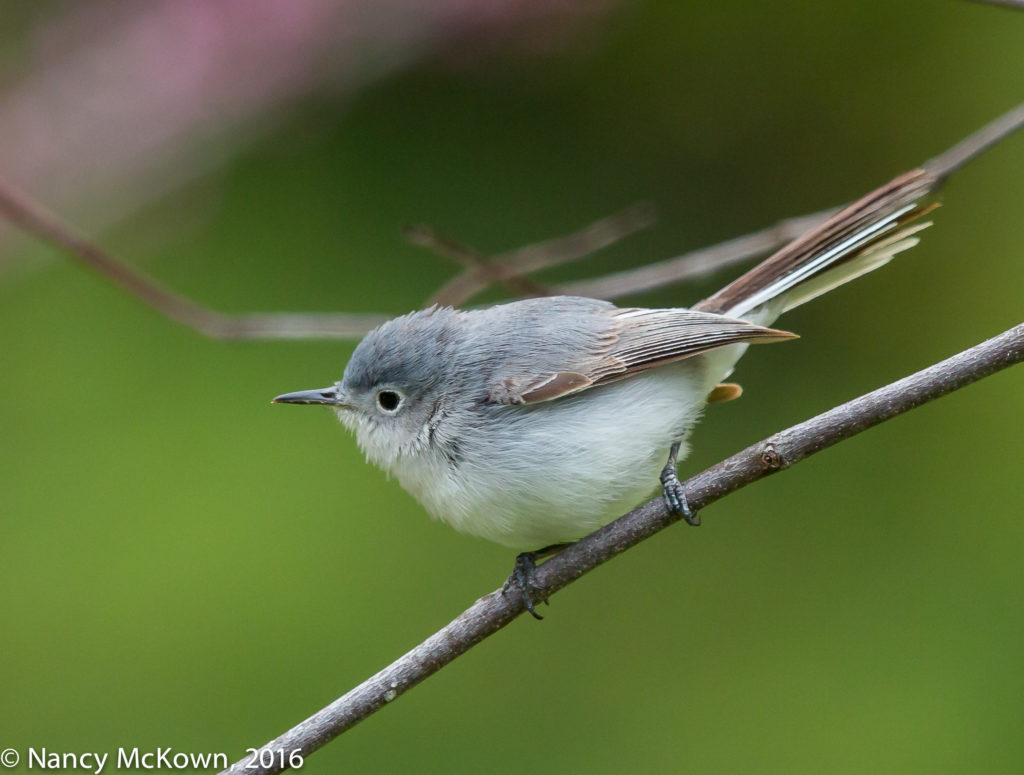 Shooting Mode Paired with Focusing Mode
Once you choose a shooting mode, it's critical to understand and decide how the camera will focus in this shooting mode.
If Single Shot Shooting (1 or 4 above) mode is paired with One Shot Focusing mode, the camera will lock down focus once (and ding if it is set to ding) every time you press the shutter. (NOTE: If the camera can not lock down focus, the shutter will not fire, no matter how much you push it.)
If Single Shot Shooting (1 or 4 above) mode is paired with Al Servo Continuous Focusing mode, the shutter will burst in quick succession (cache and memory card size allowing) as long as you hold down the shutter button, but auto focus will not continually adjust focus after that first shot. All shots taken after the first shot will be based on how the camera focused the first shot. (No good in fast moving and chaotic bird photography.)
If Continuous Shooting (2, 3, or 5 above) mode is paired with Manual Autofocus mode, you can burst away all you want, but the lens will not focus unless you do it manually. (Read more about Manual focus here.)
If Continuous Shooting (2,3, or 5 above) mode is paired with Al Servo Continuous Focusing mode, the camera will initiate and manage focusing operations after that first shot, as long as you continually hold down the shutter. (The photographer must accurately track the subject for this pairing to be worthwhile.)  
Al Servo Paired with Continuous Shooting
I almost always pair a continuous shooting drive mode with Al Servo Priority Autofocus mode for bird photography. With this pairing, Al Servo Autofocus can "predict" and keep focusing the lens during the continuous shooting burst —as long as I make sure that the focus points (whether all of them or just one) can find the target.
How Fast is Al Servo Paired with Continuous Shooting?
When you pair a continuous shooting drive mode with Al Servo Priority Autofocus mode, how fast your camera is able to "burst" during continuous shooting depends on the following:
The size of your camera's buffer (especially if you are shooting RAW)
Inherent limitations of the camera and lens
The size and speed of memory card
The Al Servo priority autofocus settings.   (Huh?)
More Settings for Al Servo Priority
NOTE: This is an example of when menu complexity in a DSLR camera can be daunting. It's no wonder that a lot of photographers prefer to use their camera's default settings; or perhaps just fiddle with one or two plain vanilla automatic functions and use those forever, no matter the shooting environment.
One more thing must be customized in the menu after you have paired Continuous Shooting Drive Mode with Al Servo Priority focusing mode. You must also choose how you want the camera to prioritize focusing. 
The following settings are available:
Prioritize burst speed,
Prioritize focus accuracy; or
Prioritize a balance between the two.
My Choice: Maximize Sharp Focus
Prioritize focus accuracy is an easy choice for me. In bird photography, I always, always want tack sharp photos, so I am willing to sacrifice frame-per-second (FPS) burst rate speed. When I choose focus accuracy over burst speed, my keeper rate is higher. The continuous burst may be slower, more interrupted -especially in low light-causing me to miss some of the action. That's OK with me.
I will do whatever it takes not to compromise sharpness.
More information on the Al Servo Mode Autofocus Tracking is available at this link.