Photographing the Rough Legged Hawk
It has been my experience that Rough Legged Hawks are fiercely elusive. It's very difficult for a photographer to position herself close enough to these birds for a decent shot. I usually find myself looking up through the viewfinder of my full sensor DSLR camera and seeing only far off tail feathers. Having the extra reach afforded when using a DSLR camera with a cropped sensor combined with a long lens and a telephoto extender can be quite an advantage when photographing this raptor.
7D Mark II, 500mm lens and 1.4 Extender
After stalking a pair of Rough Legged Hawks in the Allegan State Game Area and photographing them with the 7D Mark II camera, 500mm lens and 1.4x III telephoto extender, I find myself very pleased with the reach and the image sharpness. The magnification was great enough that very little zooming was needed in post processing.
To better understand how much more focal length is attainable, let's do the math:
Crop sensor on 7D Mark II with 500mm f/4L lens puts the camera's magnification at 800 mm (1.6 x 500).
Add to that 500mm lens a Canon 1.4x III telephoto extender and the magnification is now 1120mm (800 x 1.4).
For the first photo, taken in January, 2015, I had the 7D Mark II, 500 mm lens and 1.4 telephoto extender propped on the door window ledge as I drove. The Roughie would perch, take a look at me, then fly away, each time going farther and higher into the distance. I was lucky to photograph him looking back at me – right before he launched.  (See photo below)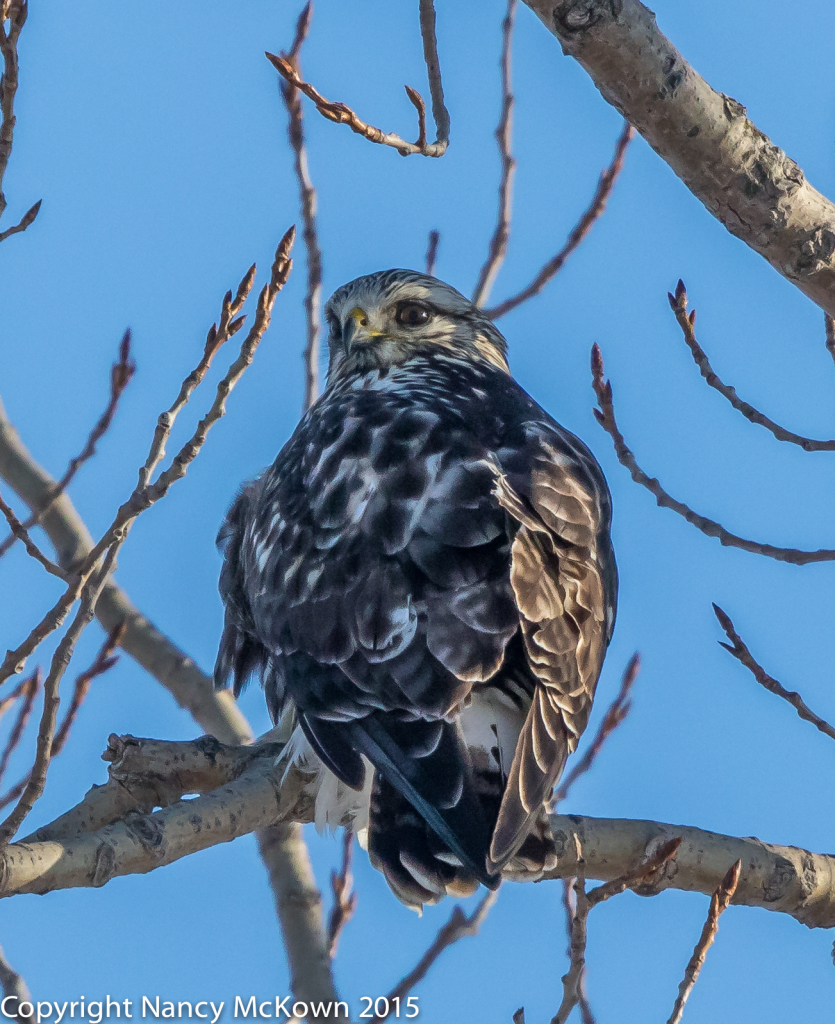 The photo below was also taken with the 7D Mark II, 500mm lens and 1.4 extender, but on a different day. The clarity is good and the focal length was perfect – not too close to crop the edges off those expansive wings while still including the Red Winged Blackbird pursuing the hawk.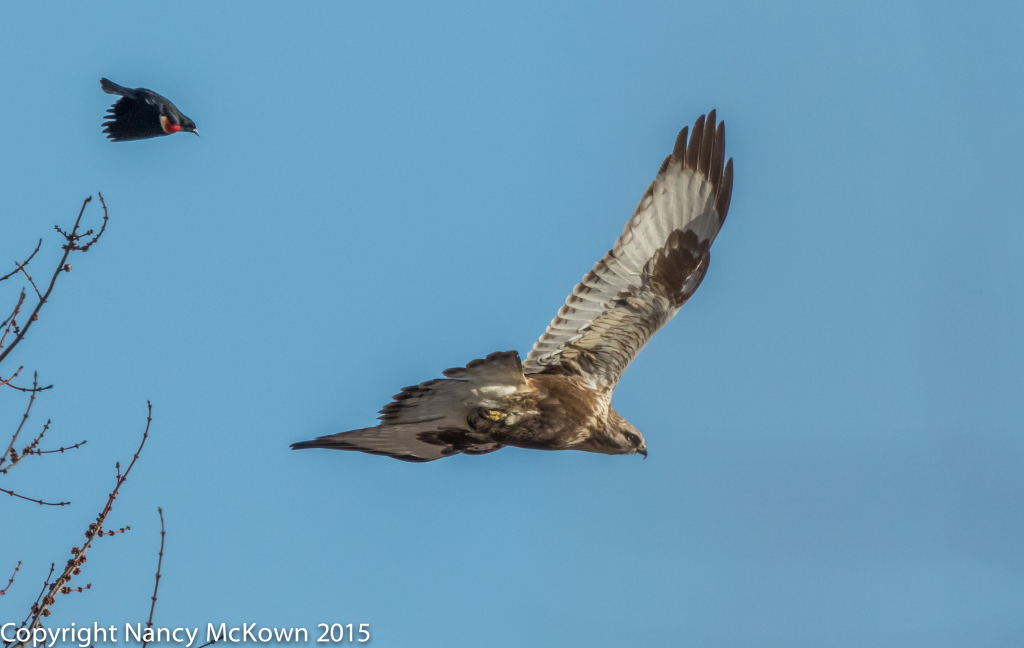 7D Mark II, 500mm lens and 2.0 Extender
The third photo (shown below) was taken mid March, 2015 with my 7D Mark II, 500mm lens and a 2.0x III telephoto extender.
Crop sensor on 7D Mark II with 500mm lens puts the camera's magnification at 800 mm (1.6 x 500).
Add to that 500 mm lens a Canon 2.0x III telephoto extender and the magnification is now 1600mm (800 x 2.0).
A 1600mm focal length opens a lot of doors for bird photographers. For this shot, I was sitting in the front passenger side of my car, with the lens resting on the car door, pointing up. The Roughie was quite a distance away, perched at the top of a tree. It wasn't a straight shot, and I worked to dodge excessive branch clutter between the bird's perch and my camera lens. Eventually, I had no choice but to quickly and quietly open my car door, stand up (in the icy mud; yuck) and then rest the weight of the lens on the top of the door. I slid the lens back and forth on the door until I found a sightline where the branch clutter did not throw off my auto focus. He watched me for 3 minutes or so – then bolted.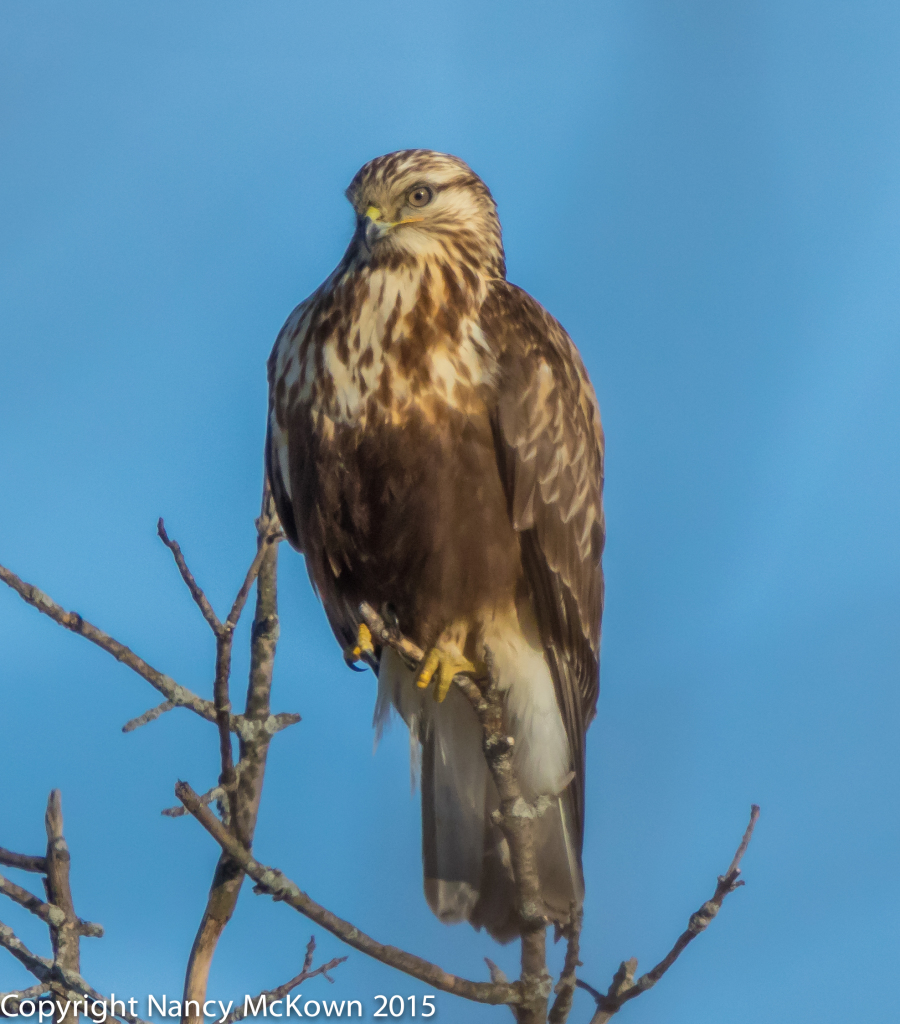 Impact of 2x Telephoto Extender
In the photo above, the focus seems rather soft compared with the first two photos, especially since the light was very good and he was close enough that very little post processing zooming was needed.  In addition, the shutter speed was set very high to offset lens movement. I loved having the extra reach afforded by the 2x telephoto extender on the 7D Mark II DSLR camera, but am not happy with the sharpness it delivers.
Disadvantages of Using Telephoto Extenders
High end telephoto extenders attached to quality lenses are reputed to have excellent optical quality; however:
Telephoto extenders do reduce the image sharpness of a any lens, the 2.x more so than the 1.4 x.
The auto focus on the lens will be noticeably slower when an extender is attached.
In exchange for higher magnification, you sacrifice light: 1 aperture stop for the 1.4x extender and 2 stops for the 2.x extender
Any movement is greatly magnified with long lenses- even more so with extenders attached. Image stabilization does help compensate, but not completely. Tripods are almost a necessity.
Impact of Camera Sensor Size
Theoretically, when comparing Canon's modern, high quality DSLR camera sensors of different sizes, and using similar lighting and distance parameters and similar megapixel counts, the full frame sensor  (because it is twice the size of the cropped sensor and brings in more light) will likely deliver a broader dynamic range and better quality low light resolution (less noise) than the cropped sensor will.
I believe the difference in quality between Canon's high end full sized sensor and cropped sensor to be pretty small when the subject is well within range of the telephoto lens.
Distance Matters
If the subject is too far away, to the point where you can not mostly fill the frame with the bird and its surroundings and you are forced to zoom in dramatically during post processing, image detail and quality will suffer. Digital images consists of pixels/dots. You enlarge the dots when you zoom in because you are zooming in to a relatively small component of the photo. The more you zoom, the more image degradation.  A larger sensor – more pixels and dots -will probably have less image degradation, but not enough to save the photo.
Tack Sharp Images
Experimenting with magnification was fun and a good reminder that, for tack sharp images, there's no substitution for getting as close as possible to your subject – so close that you don't need to attach a telephoto extender to your lens nor zoom in during post processing.
Visit this link for more information on the disadvantages of zooming in on a photo.
For more information about photographing Rough Legged Hawks in flight, visit this link.