More Light- Fewer Leaves
The sun filtering through the trees was bright… no doubt because the canopy of deciduous  trees above my house is full of holes left from fallen leaves. The migrating birds can not hide as well on the branches closest to my house, but a few tired and hungry ones still come to rest and replenish.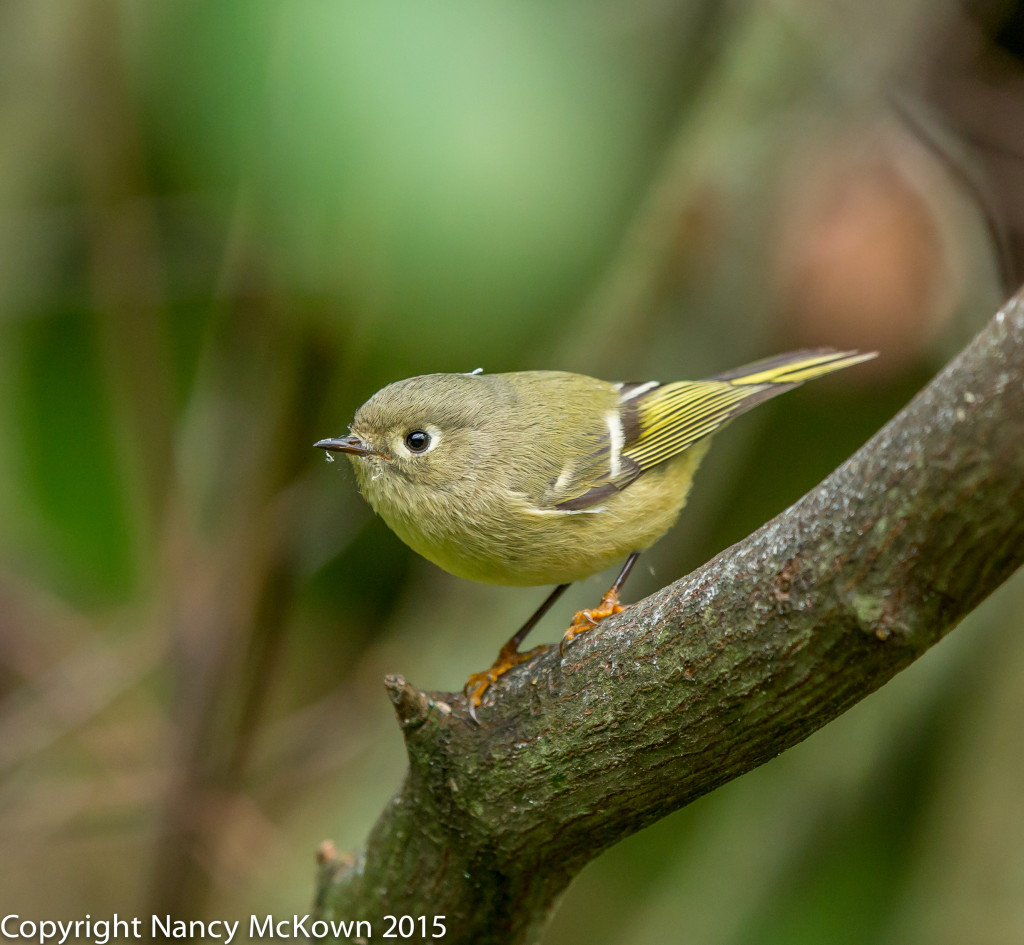 The Photographer as Wallflower
On windy days, it's interesting to watch and wait for migrating birds to descend (seemingly out of nowhere) upon the trees nearest to my library windows. Whenever a cluster of clamorous titmice or chickadees come together to hop about on the Serviceberry or Redbud, I crouch behind my camera and wait for the vagrants to join the frenzy and alight on the same tree. Most of the time one or two come to see what all the fuss is about. (Safety in numbers?) Then, quiet as a wallflower, I point my long lens at the partygoers and join in on the fun.
Up-Close Detail with Telephoto Lenses
You don't need a dedicated macro lens to capture fine detail in your images. Telephoto lenses allow you to magnify the details while not invading the comfort zone of your bird subjects. My Canon 500mm II f/4 L lens has a remarkably close minimum focusing distance  (12.4′ or 145.7″). Combine that with the narrow field of view that comes with amplification and you've got superior image quality.
Too Close for AutoFocus
This Ruby Crowned Kinglet came in so close to the camera that autofocus was not quite capable of achieving focus. Assuming the kinglet would stay close, I had to make a quick choice…. either physically pick up the camera and tripod and back it up a couple inches or turn on Manual focus and hope that the minimal focusing distance would decrease just a touch and allow me to manually nail focus. The light and contrast on the scene were very good and would allow auto focus to work optimally. I went with picking up the tripod and moving back – and then letting the autofocus do its job.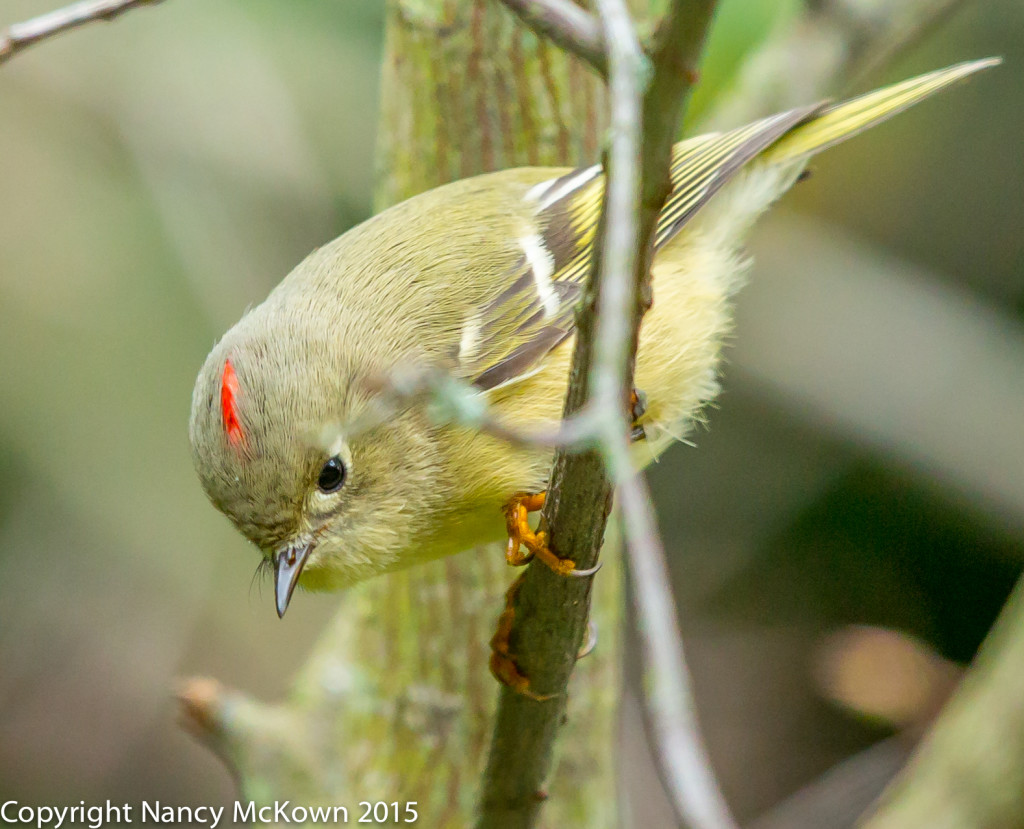 Does Manual Focus Decrease Minimal Focusing Distance?
There are lots of sites on the web touting the advantages of using manual focus over auto focus. One such benefit is giving the photographer a slight close-focusing edge by reducing the len's minimal focusing distance. Later I did a quick (and unscientific) experiment to determine if switching to manual focus would reduce the minimal focusing distance of the Canon 500 L f/4 II lens. I fixed the lens on a bird perch spot right on the edge of where I knew auto focus could not achieve focus because it was a 1/2 inch or so too close to the lens. With the lens locked in place on the tripod, I turned off autofocus and tried to manually achieve focus on that spot. No luck. Manual focus didn't seem to give me any advantage in the shorter distance category.
Just as well. I depend on fast auto focusing technology almost every day.
To read more about fast focusing technology, press this link.
To read more about close-up photography with telephoto lenses, press this link.