Photographing the Northern Parula Warbler
This migrating Northern Parula Warbler posed for me for only a minute… but it was long enough capture the details of his striking array of pattern and color. Ample fill light from the flash accented his delicate profile, white eye crescents and the sunshine on his breast. An enticing bokeh complemented his beauty.
I am enchanted by his shape, colors and form, features I did not notice when I photographed this species in the Fall of 2015.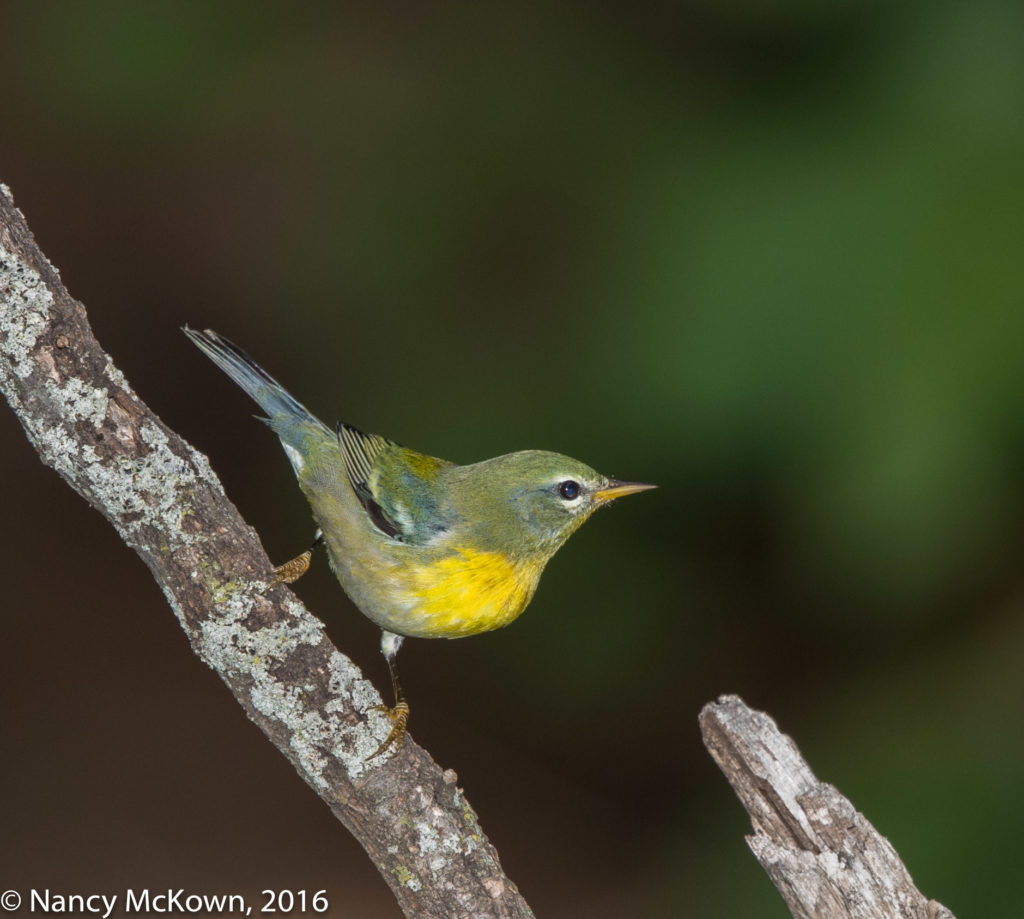 I attribute the stellar quality of these images to a very cooperative bird, the wrap around fill light provided by telephoto flash extender, an isolated perch with no foliage distractions, and my new camera; the Canon 1 D X Mark II.
The Canon 1DX Mark II DSLR Camera
I am still giddy about owning the Canon 1 D X Mark II. I've had it for close to 6 months now and I find myself wanting to use it for bird photography almost exclusively. I read everything I can find about this new camera (much of it covering features that are too technical for me to understand) and spend a lot of time putting this fabulous camera through its paces.
A few thoughts and observations.  (NOTE: All comparisons made are based on my 5D Mark III or my 7D Mark II. I have never owned a Canon Flagship DSLR camera before.)
Time spent downloading and managing RAW files into Lightroom is about the same. The file sizes are slightly smaller on this new camera (20.2) compared with my 5D Mark III (22.3) with full size sensor and the same size as my 7D Mark II (20.2) with 1.6 cropped sensor. This megapixel size does not overload my 4 year old computer's processor and hard drive.
The image quality right out of the camera is better. Once the images are in Lightroom, my post processing work flow is less time consuming and tedious. There is less need to use the Lightroom sliders that impact sharpening, clarity, vibrance, highlighting, saturation, shadows, and noise reduction. Light metering seems more on target compared with my other cameras, and consequently, I spend less post process time with exposure, brightening and contrasts sliders.
New/Improved CMOS Sensor.  Birds are (for the most part) unapproachable and as a result, I often depend on luck to get a close-up shot. The majority of my (warbler size) bird shots (with 500 mm lens and 1.4 extender) are taken at a not-so-close distance of 20-25 feet. My 5D Mark III and the 7D Mark II cameras deliver exceptional image quality at low ISOs if I'm lucky enough to be 13-16 feet away from my subject. As you would expect, the more I have to zoom in on the image, the more the overall quality diminishes. (These are not monster megapixel cameras.) I've spent time comparing images from the old and the new cameras. The improved image sensor technologies incorporated into the Canon 1 D X Mark II (20.2) deliver expanded dynamic range, more defined texture, richer colors and more clarity in the details– all of which are noticeable even after extensive zooming. This is especially true when light is sufficient to shoot at lower ISO values (ISO 100-800).
Low Light-High ISO quality is very good on the Canon 1 D X Mark II.  I am much impressed with image clarity in the 6000-7000 ISO range- especially when I look back and compare it to the high ISO image softness I got from my previous cameras.

NOTE I: To get the best low light results, Canon recommends using one shot auto focus mode with only the center auto focus point activated. Good to know, but not much help when photographing birds on the move.
NOTE II: For the last 5 months or so, I have relied on telephoto flash in low light bird photography because I prefer to have more flexibility in my exposure choices and, most importantly, the low ISO clarity this camera delivers is outstanding.
Focusing is more accurate and less hesitant especially when tracking birds. This improvement is most noticeable when I attach a 1.4 or 2.0 tele-extender to track fast moving birds. (All 61 focus points are usable even when the camera is at f/8 max aperture.)  In addition, the auto focus coverage area is slightly larger (24%), so auto focus works even when subjects are close to the edges of the focusing screen.
The high speed continuous bursting is faster and quite a bit louder. The speedy image transfer rate (thanks in part to the new CFast 2.0 memory card and the unlimited buffer) is highly desirable for capturing (in focus) a rapid sequence of moving birds. NOTE: The duo memory slots have one CFast card and 1 UDMA 7 Compact Flash Card. I would have preferred if Canon had decided to install two CFast cards instead.)
Other Camera Choices:  I have researched and seriously considered purchasing the Canon 5 DS or the Canon 5 DS R DSLR camera. In both of these monster megapixel cameras, the sensor's light gathering potential is sacrificed to bump up the megapixel count. Since I am confronted with many low light scenarios in my bird photography, these cameras are not for me. (I have not researched Canon's new 5D Mark IV camera.)
Ease of use and overall ergonomics: The 1DX Mark II is a heavy and bulky camera that is not easily maneuverable off tripod. (NOTE: I am so excited to be an owner of one that its bulk is only noticeable when I pick up my comparatively light Canon 7D Mark II.) Once you get past the bulk, the function controls are laid out in a predictable "Canon" manner and feel comfortable to use.
LCD screen is much clearer – especially when zooming in on detail. Makes me feel more confident about deleting images right from the camera.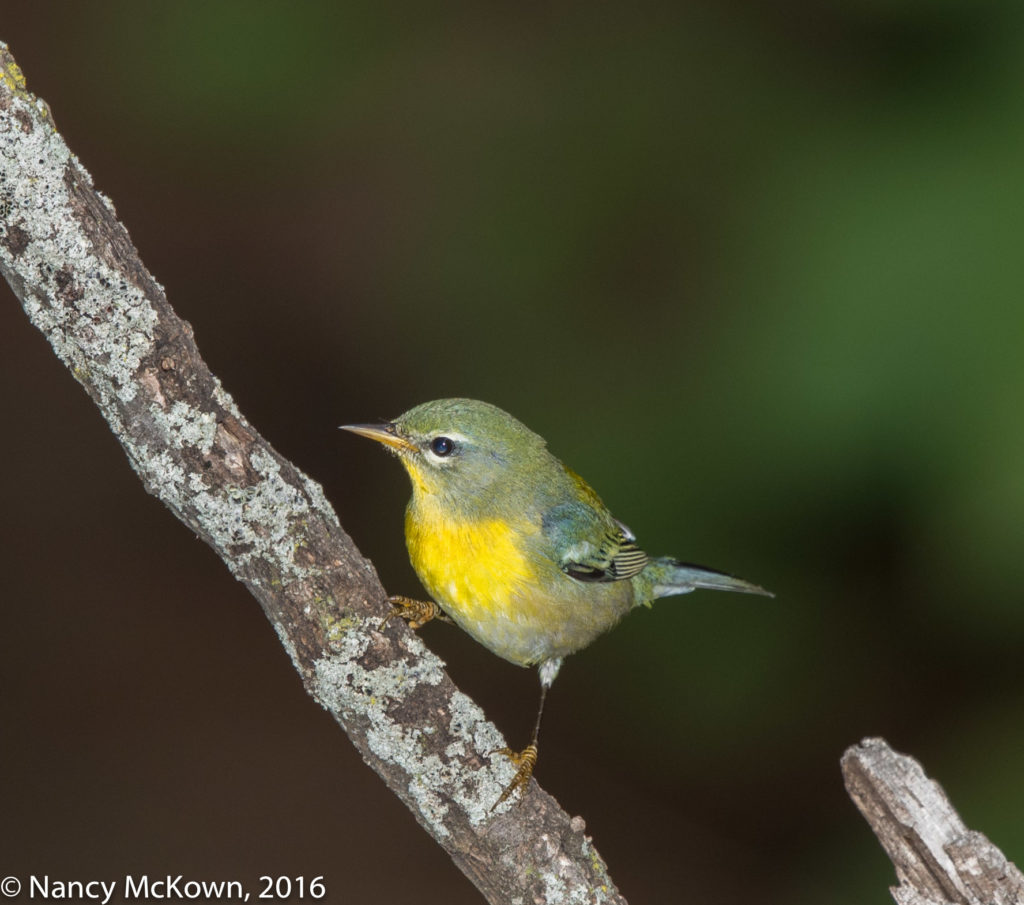 A More Discriminating Photographer
Anybody who spends a lot of time reviewing images and looking for image quality detail and sharpness is bound to (over time) develop a more discriminating eye. Finances permitting, this may lead some photographers to invest in equipment that will have a better chance of getting them to where they want to go in future photographic adventures.
It is important to note that these detail quality improvements will likely not knock-the-socks-off the typical fan of bird photography. In fact, I have learned NOT to expect people who are not photographers to notice or care.
Challenges, Frustrations and Rewards
Overall, I like the comfortable way this new camera feels and behaves when I use it. As with most new technology, my understanding is incomplete. At times, instead of referring to the manual, I make assumptions that may or may not be valid. There are challenges and frustrations, and sometimes when I'm weary, I think that it's just easier to let this ultra complex computerized expensive camera do all the thinking.
Slowly but surely, I am figuring it out… and finding joy in the results.