Photographing Purple Finches
While I watch for birds to photograph around our home, I often see a fox, thin and young, with a shaggy tail and reddish coat blotchy with mud. I think of foxes as being wiley….clever, stealthy, patient and quick, but this one just comes ambling through the backyard in broad daylight, looking around for an easy opportunity (perhaps a sleeping squirrel?) as she passes through. She does manage to displace some of the birds – though they don't look especially worried about her presence.
The Purple Finches photographed here were watchful of the fox, but did not scatter as she came trotting through the area where we keep our feeders. I did not expect any threatening encounters as the finches rarely hop down to forage at ground level, nor can that fox climb trees.
A Different Approach
Early one morning I watched this fox gingerly carry her small, helpless baby kit in her jaws. That started me thinking about workable camera/tripod layouts for a different sort of photo.
The camera setup (as it is situated in my library) offers an eye-level view of birds in the nearby understory trees. It is targeted to capture up-close shots of song birds; on this day, Purple Finches. The minimum lens focusing distance of a Canon f/4 L II 500mm lens = 12′ 14″. The feeders are closer to the library window than that, but the tree branches nearest to the feeders upon which birds alight are between 13 and 18 feet from the windows. Lots of interfering branches and leaves near this foliage and in the immediate background, but with the camera and long lens positioned so close, it's not hard to isolate the subject.
As comfy and convenient as my indoor set up is, it would not work for my new imaginary scenario. I would have relocate outside at ground level within my heavily wooded yard and close to where the fox regularly visits.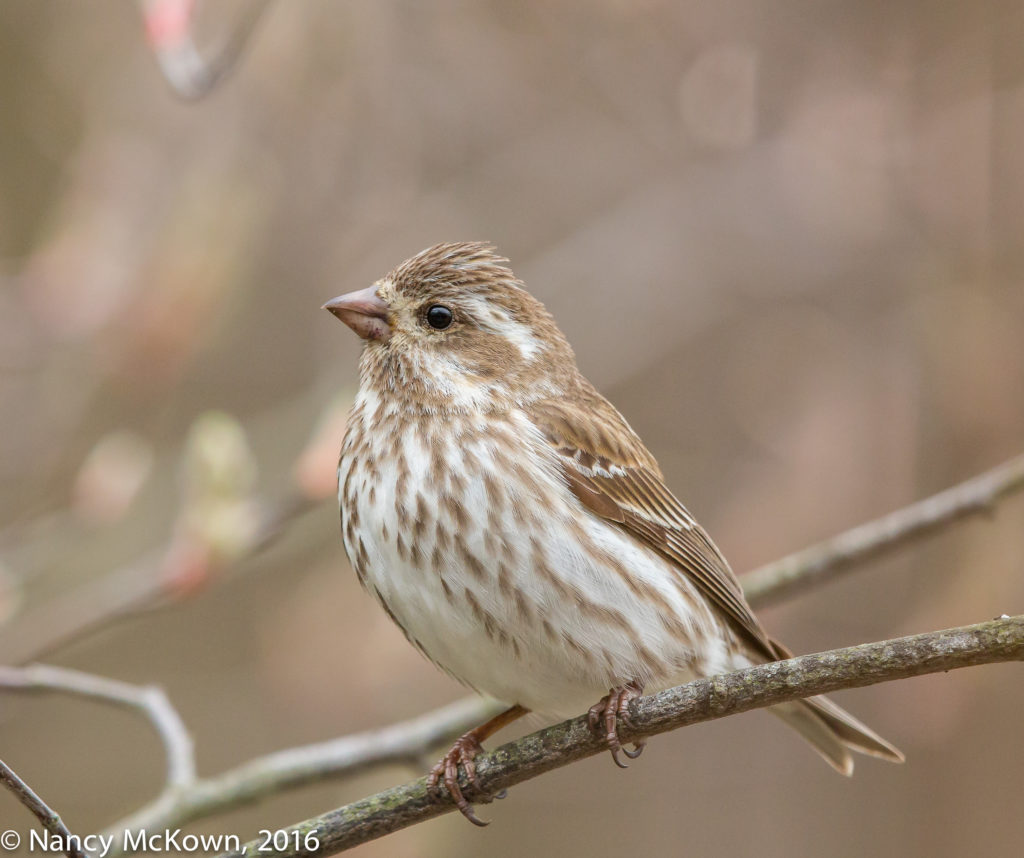 Steps to Actualize Dreams
Fabulous bird photos don't just land in front of your camera lens. Once you become inspired, well thought out plans and actions are required.
Setup must not interfere with my bird friendly environment.
Setup arrangement would have to have enough clearance for the lens to successfully track moving subjects, at least minimally.
Stealth is necessary. Must determine the best spot to set up blind, taking into consideration background, light, time of day, telephoto lens (see field of vision post), wind and weather.
Within the blind, I must adjust the tripod legs so they are as low to the ground as possible – 12″. (Tripod center columns removed.)
I will be in the blind for long periods, so I insert my campy chair. (The Crazy Creek Chair, light weight nylon, adjustable, light, padded, low to the ground, with back support.)
Watch attentively, wait and hope.
Preparation Does Not Always Lead to Opportunity
It took a couple days, but I successfully re-created this dream scenario into an actionable setup. I have watched and waited for many hours in that blind. So far, lots of resident song birds, squirrels, chipmunks, mice and deer roaming about, but no fox; at least none that I saw within the confines of my blind.
Perhaps this fox is more deft than I thought.
Resilience and Tenacity
Watching the birds interacting with their environment and visualizing possible scenarios to photograph constitute a lot of what nature photographers do. Then comes the strategizing and setting up to actualize those dreams. Often nothing comes of it, but there's always a chance that you will be in the right place at the right time with the right equipment.. and you get the shot.
If something serendipitous happens while you're out there, all the better.