Capturing Autumn Foliage
I recently received a beautiful bird feeder from a dear friend, just in time for me to work on incorporating this year's stunning Autumn foliage as a background in my bird photographs.
We feed the birds. The feeders we have in our yard are mostly squirrel proof, table top feeders with aluminum baffles intended to keep the squirrels off. We also put out squirrel-proof hanging feeders, made of plastic and aluminum, that hold tons of birdseed and are weight adjustable for small song birds. They are also chew proof, dishwasher safe, and warranteed forever. Both types are useful, stand up to the weather, and do a modest job of keeping away the squirrels and raccoons.
Why not photograph birds from these feeders?  Because, despite all of their attributes, these feeders are devoid of charm and consequently add nothing to the art of bird photography. With this gift, I now have a bird feeder that adds something special to a bird photograph.
Photographing Birds That Frequent Feeders
For this shoot, I decided to focus my camera on the white breasted nuthatch and the red breasted nuthatch.
Feeder birds reliably come to the feeders. They are fearless in that they really don't care if a camera, tripod and photographer are near the feeder, as long as they are provided with plenty of food. I was able to set up the scene by hanging a beautiful bird feeder in a place that guaranteed:  1) optimal light, 2) close proximity,  3) a vibrant Autumn-colored backdrop, and 4) my comfort.      😎
Managing Bokeh
The vibrant fall colors were stunning in our front yard this year. I set up my tripod fairly close to my new feeder. The sun was at my back and the new feeder and the best color in our yard was in front of me. I strategically placed the feeder a good distance from the back drop so I could better manage the bokeh. In addition, I broke off most of the little, pointy twigs that I saw through my viewfinder and removed any debris on the trees that would detract from the scene I was trying to create. I could see that the bokeh was going to be beautiful even before I took the first shot. See this post for more on camera settings for optimal backgrounds.
The Birds Will Come
It was just minutes before the usual feeder birds (nuthatches, chickadees, and titmice) got use to me sitting on my stool behind my camera and came to the feeder. The birds that frequent our feeders know me for the most part, but are still watchful, especially when it comes time to refill the feeders.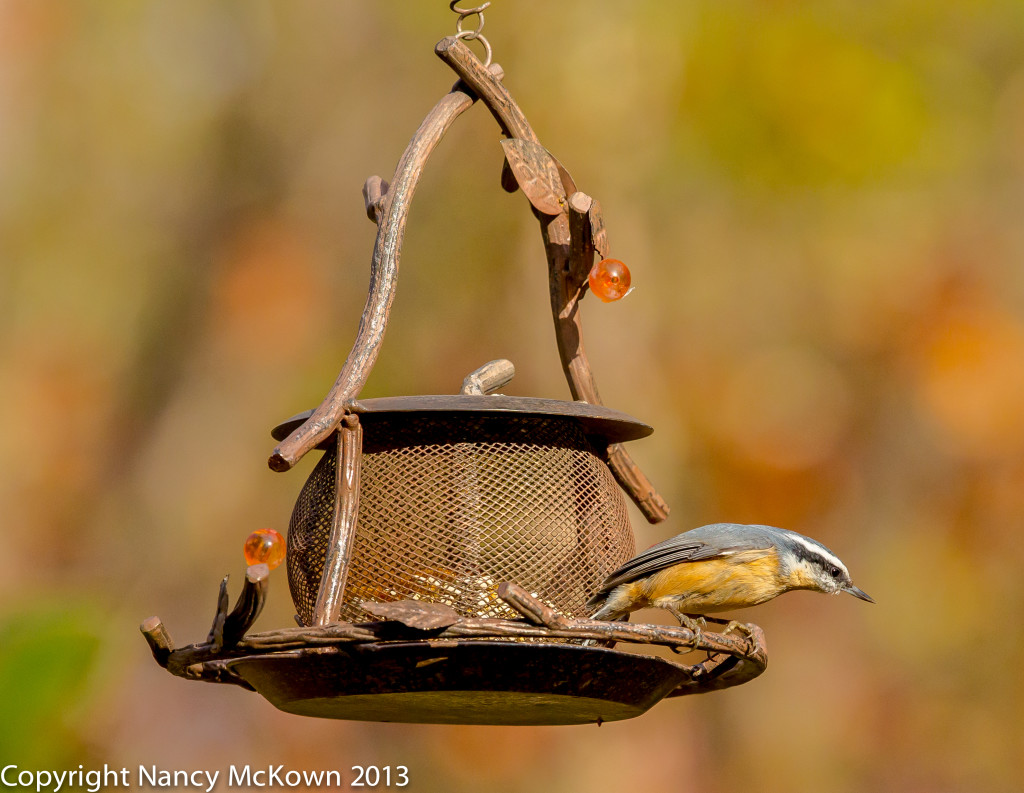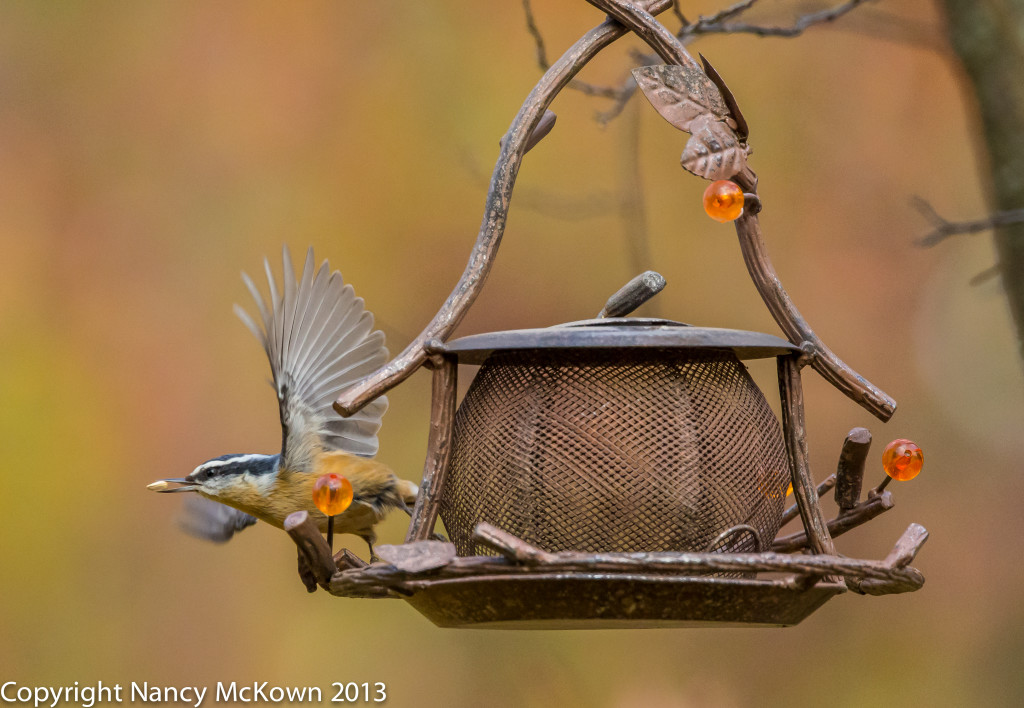 Two Kinds of Nuthatches
Before this photo shoot, I had not noticed that two kinds of nuthatches visit our feeders – the red breasted nuthatch and the white breasted nuthatch. The red-breasted is smaller with a chestnut colored breast and a black line of feathers running through both eyes and stretching to the bird's shoulders. We see fewer of these nuthatches at the feeders during the winter months because they often migrate. The white breasted nuthatch is a larger bird with a black strip on top of his head. White breasted nuthatches can be seen all winter long.
Both types of nuthatches move fast and furious. They are interesting to observe because, when they are feeding and otherwise flitting about, they don't seem to care which end is up.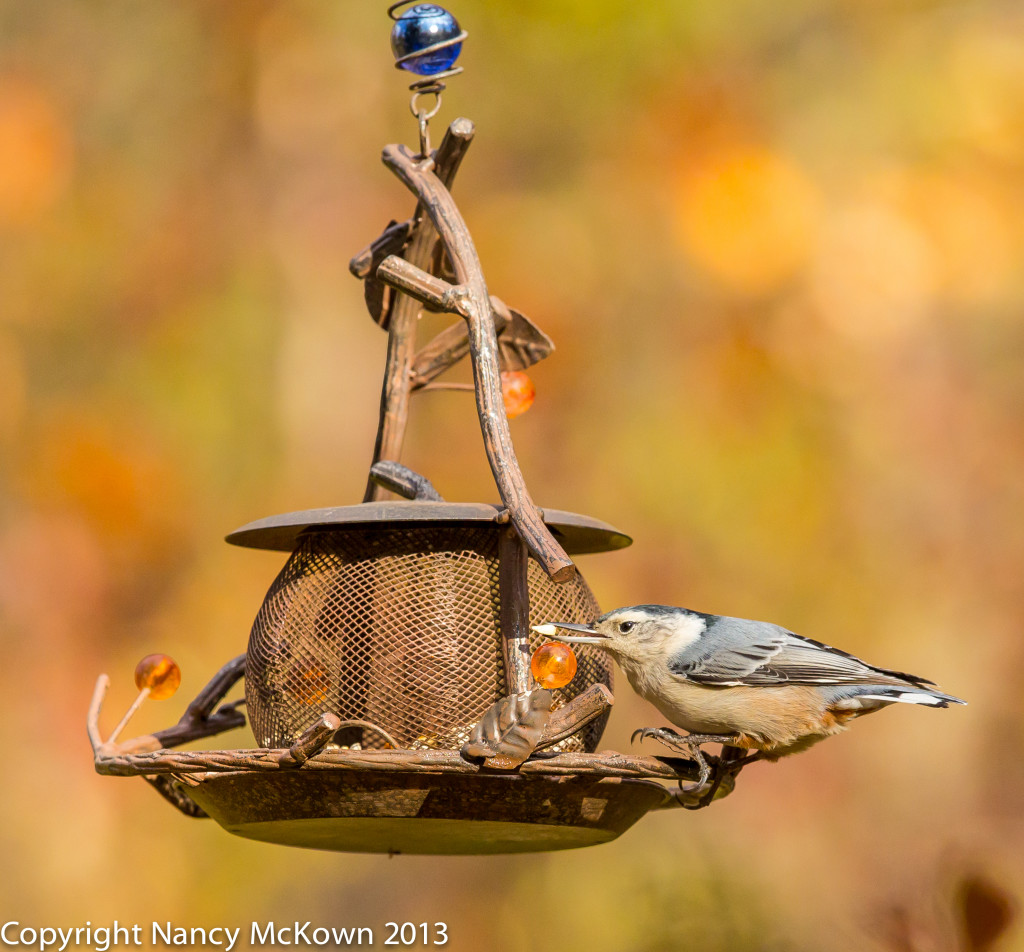 The beautiful autumn colors are glorious and really dominate the photos. The birds' feathers are quite muted or molted this time of year.
Below, I've included a photo of the white breasted nuthatch with its spring plumage.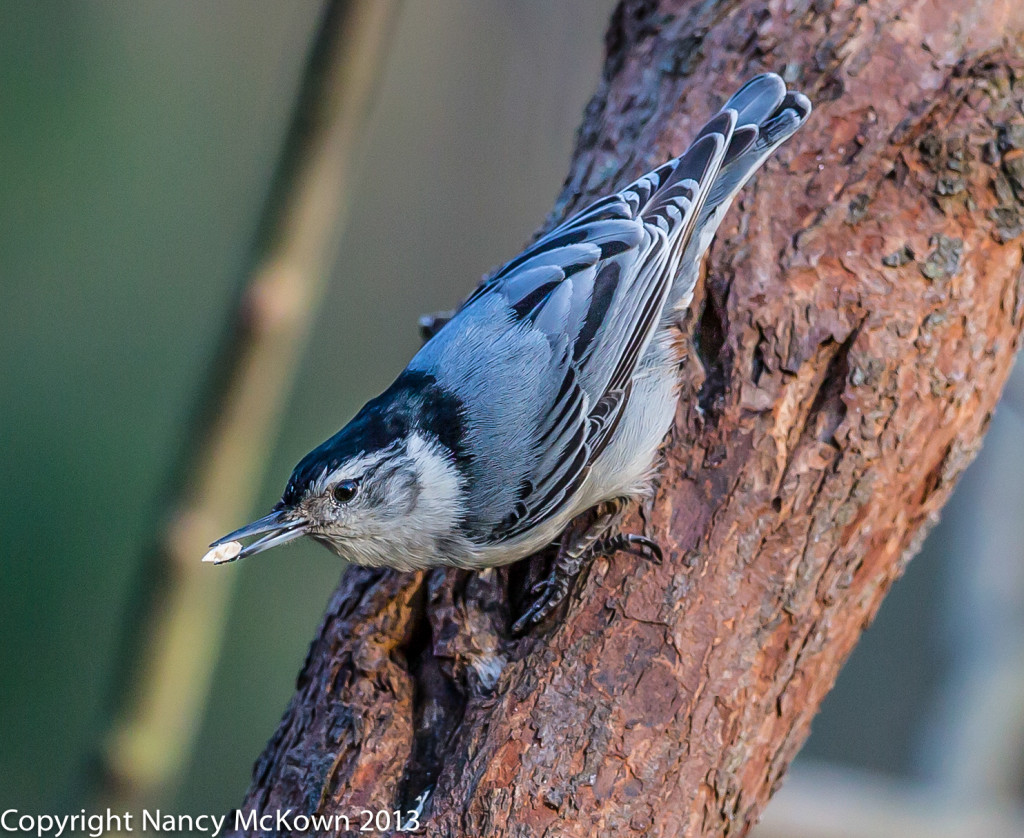 Thank you, Margi!
The nuthatches and I are very grateful for this beautiful outdoor bird feeder.  I plan to keep it full of seed all winter long.