Photographing the Male Ring Necked Pheasant
Male Ring Necked Pheasants are ground dwelling game birds – one of the most adorned and colorful birds around. Imported to America from China in the mid 1800s, they have survived and thrived in Michigan year round.
The male Ring Neck Pheasants' plumage, with its red face wattles, green head and shiny copper breast, is spectacular. The males are so conspicuous in the spring that it is relatively easy to find and photograph them foraging for plant materials in agricultural fields, pastures and woodlands.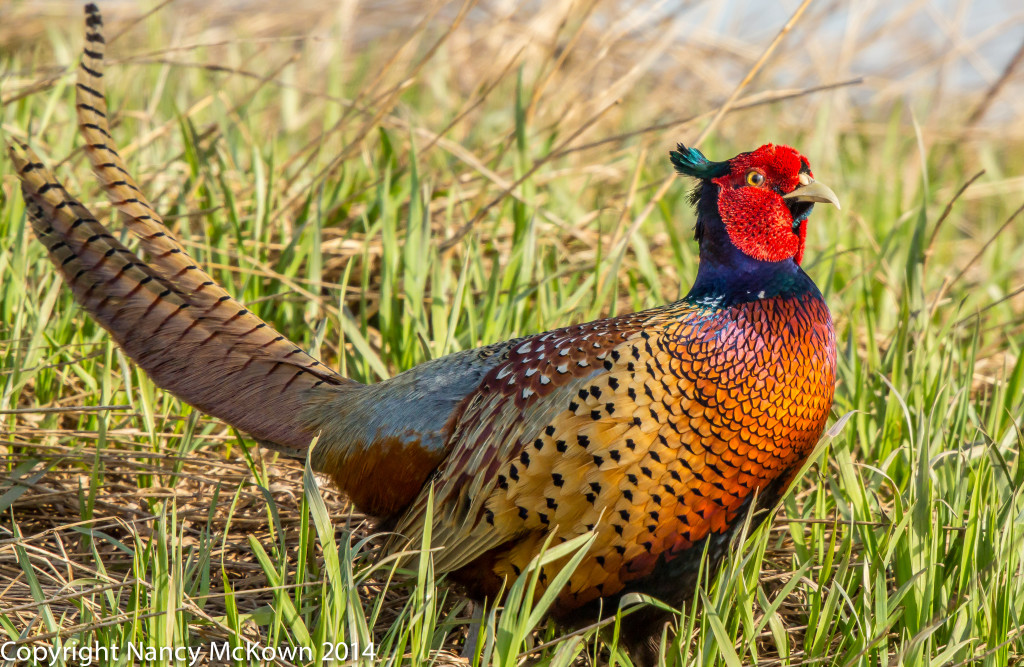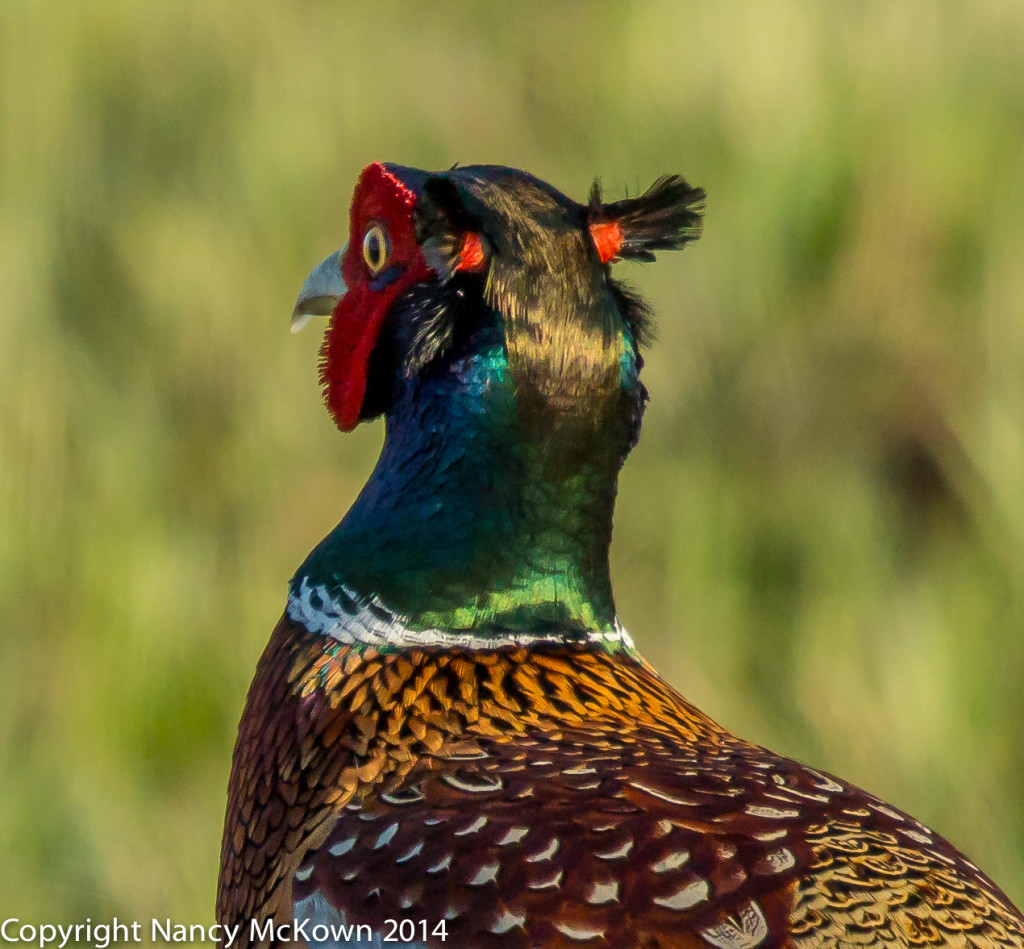 Know How Your Camera Locks Down Focus
The male pheasant I encountered was quite close to my car when he finally noticed me. He quickly started his evasive maneuvers, weaving in and out of the tall grasses, moving fast and erratically away from me. My camera was set to focus on one single, center point. As I tracked his erratic movements through the grasses, the lens kept losing its focus lock. I quickly expanded the auto focus area mode so the lens would track 8 focus points clustered around the central point as well as the center point. This way, if the central focus point lost track of focus, the secondary surrounding focus points would quickly pick it up.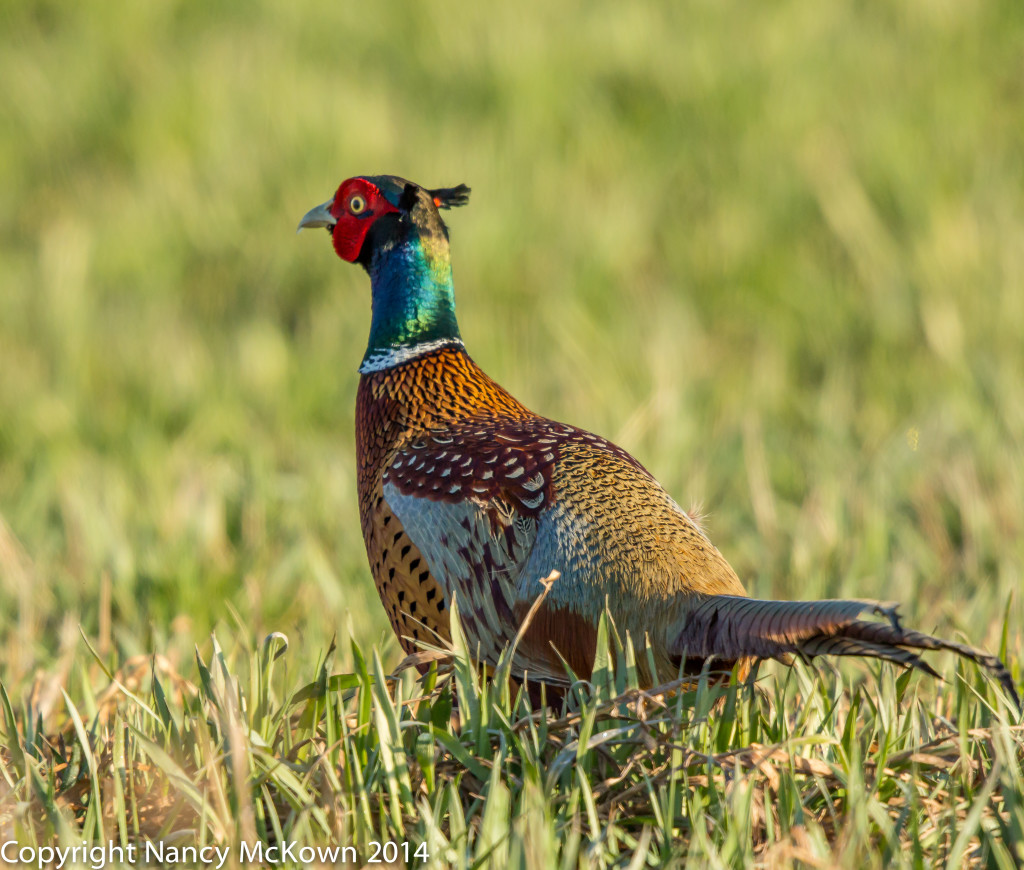 Canon DSLR Focus Points
Sophisticated DSLR auto focus technology is designed to keep up with the action. There are 61 focus points on my Canon 5D Mark III DSLR camera. Each one can operate individually or in conjunction with secondary expanded auto focus points to quickly track and lock focus. The secondary focus points are programmed to be on "stand by".  If focus can not be locked with the primary focus point (because the foreground or background lacks detail, texture, or contrast) the secondary focus points are automatically activated to get a lock on focus.
Let the Camera Do the Focusing
An advanced auto focusing system offers significant advantages for bird photographers. I can set my camera to focus with one or more focus points anywhere within a range of available focus points or let the camera use all 61 focus points to determine the best focus. Out in the field, when the action is fast and furious, autofocus is the fastest and most reliable way to get a clear shot.
See this post about my experience photographing two immature Ring Necked Pheasants last Autumn.
For more information about automatic focus on DSLR cameras, see this post.
To read about the frustrations of manual focus on DSLR cameras, visit this post.