Bird Photos Are Not Always Enough
Last week, while roaming in the Allegan State Game Area, I photographed what I knew to be some species of flycatcher. To get a more precise ID, I uploaded the photo to WhatBird.com. The responses I got back from the experts at What Bird helped me understand how complex the identification for empidonax flycatchers can be. Clear photographs just aren't enough for every ID.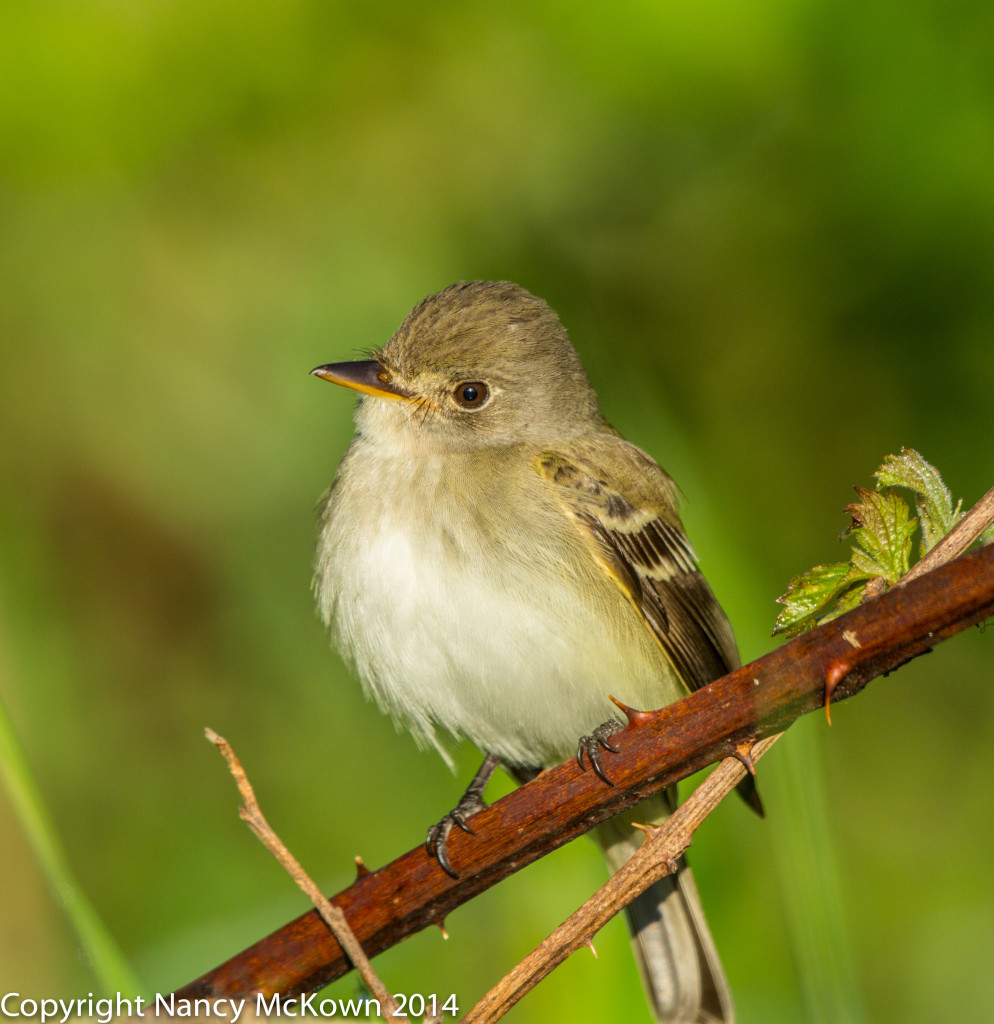 ID Quandary on This Flycatcher
A little background: Back in the 70's, the Alder flycatcher and the Willow flycatcher (once considered to be the same species of bird and named the Traills Flycatcher) were determined by researchers to be two separate species. One of the most definitive characteristic that separated them was the width of their eye ring. The Willow shows a less defined eye ring compared with the Alder's more distinctive eye ring. To complicate matters, other Empid flycatchers, like the Least flycatcher, have similar ID characteristics to the Willow/Adler Flycatcher.
Even with the bird-in-hand, the experts agreed that empidonax flycatchers are very difficult to tell apart. The discussion on the WhatBird site was that this bird I photographed was either a Least Flycatcher or a Willow/Adler or Traills Flycatcher (Traills=the former name before they were pronounced 2 different species.)  Eventually, the consensus was that it was not a Least (due to the rather faint eye ring).
Pyle Guide
The bird ID discussion on this little flycatcher included a reference to "Pyle". A quick web search identified Pyle as a technical birding ID guide, often used when precise reference information about plumage, age, sex, wing, tail, bill measurements, etc. of birds is needed. The Pyle guide (Identification Guide to North American Birds by author Peter Pyle)  is the authoritative source on Bird ID for researchers, bird banders, and bird ID experts. So much detail is included in Pyles that it is mostly useful when you have the bird-in-hand.
Not a Birding Field Guide
The purpose of the Pyle guide is to document complete, accurate and uniform ID criteria for ornithologists and other people engaged in bird research. After all, there has to be an authoritative reference guide for bird banders to use. Bird banding based on best guesses of well meaning birders would not have scientific value. This rather intimidating, over-the-top resource is certainly not targeted for bird photographers like me, nor is it a useful guide to take in the field with your binoculars.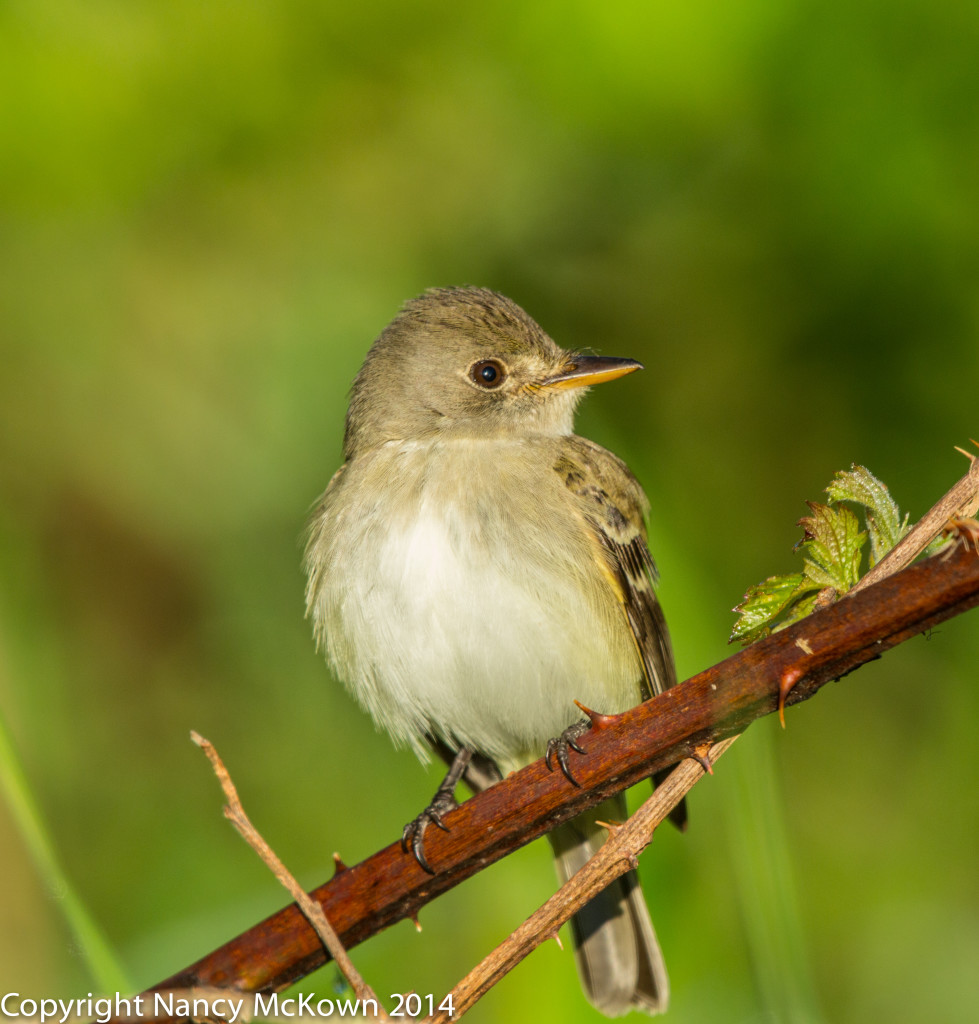 Final Word on This ID
Birding expert Steve Tucker helped finalize this bird ID for me.  He wrote:
"With all the power vested in me by the Global Birder Ranking System, I pronounce your bird to be a Willow or Alder Flycatcher (in other words, Traill's). Empids can certainly be variable, but I have never seen a Least with such a thin eyering."
Steve's excellent blog posting about hard to ID flycatchers, The Truth of Empidonax can be found at this link.
Will I Ever Get Better at Bird ID?
And…. just when I thought I was making progress with my bird ID skills, I discovered that what I thought was a flycatcher (who knows what kind) was, in fact, a Warbling Vireo. See Photo Below. WhatBird experts explained that the eyebrow plumage (known as the supercilium) starting at the beak and ending near the rear of the head is not a characteristic of flycatchers. In addition, the wing bars are different and the bill on the Warbling Vireo is not as broad across the base as the bill of a flycatcher.
It's all about paying attention to the details.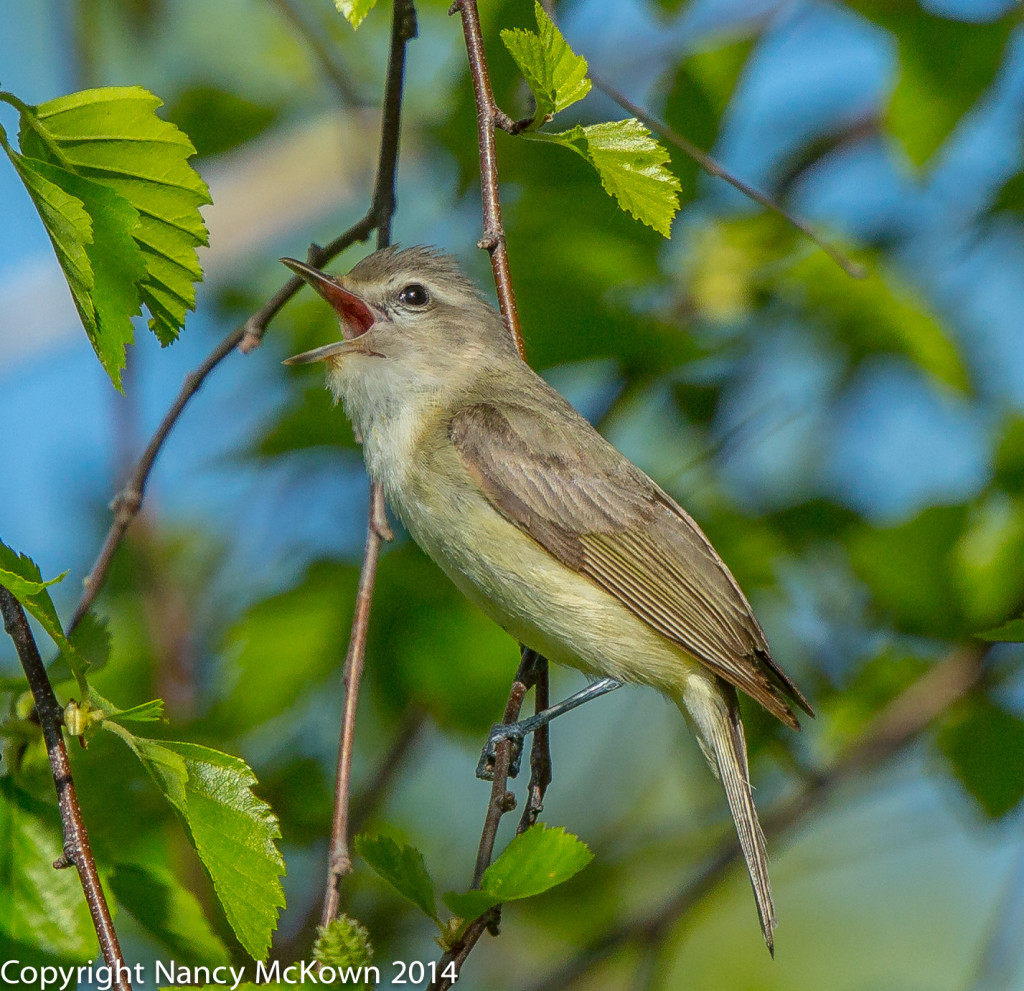 Note to self:  Always check with the bird ID experts before posting a bird photo.