DSLR Camera Basics in the Winter
Most cameras operate perfectly fine in frigid conditions, even the dangerously cold polar vortex conditions that Michigan and the midwest have been suffering through this winter. I think the hardest part is not worrying about the electronics of the the camera (although I like to think that is what's keeping me inside on some days), but motivating the bird photographer to get out there and photograph birds.
Birds are Highly Adapted to Surviving in the Cold
Once I am all bundled up and have taken the usual winter-guard precautions to take my equipment outside, I'm usually glad I ventured out. I stop thinking about me and focus on watching and photographing small birds in winter survival mode. Despite their small size and lack of fur, wild birds in Michigan are highly adapted (physically and behaviorally) to surviving and thriving in severely cold weather. Melissa Mayntz does an excellent job outlining these adaptations at this link.
An Unexpected Photographable Moment
Through my viewfinder, I panned the arctic tundra-like scene that is currently the Lake Michigan shoreline. It looked like a habitat suited to polar bears, so I was very surprised to find eastern bluebirds, fluffing their feathers and shivering to insulate themselves against the buffeting and brutally cold winds. No insects or fresh fruit to be had in the winter, so these bluebirds were picking the seeds and berries from the bright sumac bushes that grow on the dune.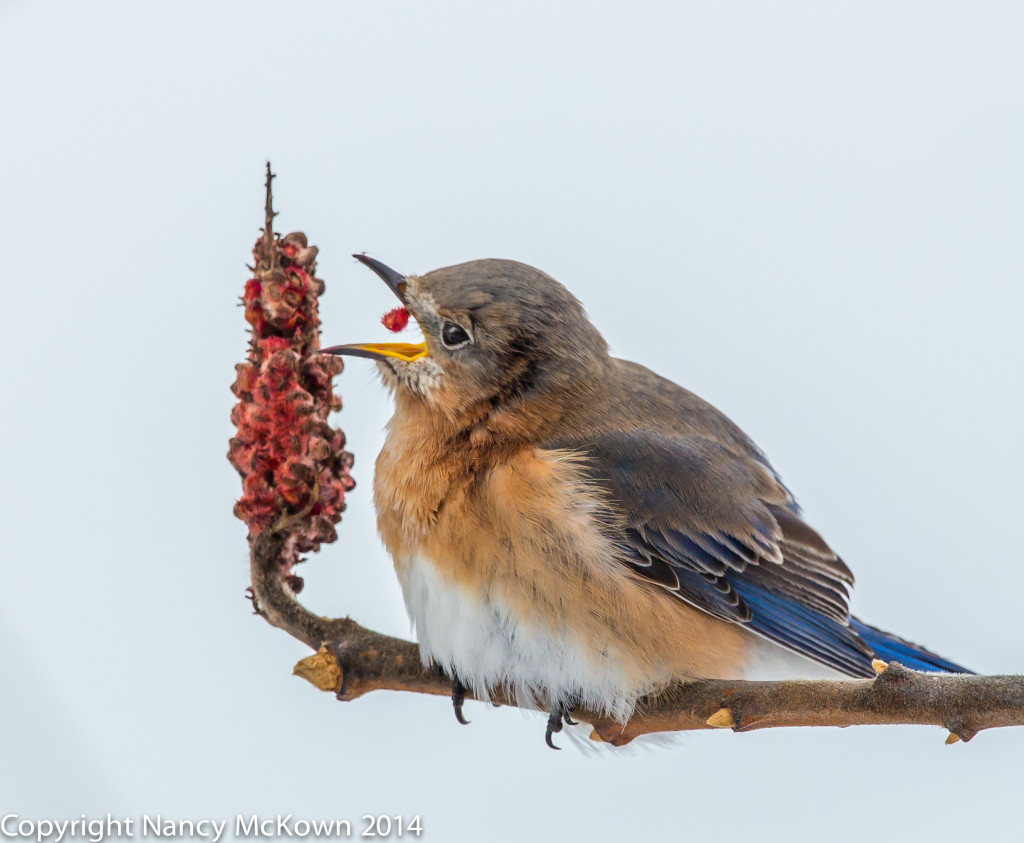 Winter Photography in Michigan
There are a few advantages that winter can bring to the art of photography, if you can convince yourself to bundle up and get out in the cold. Here are my most motivating reasons:
Winter brings crisp, clear air. There's very little pollen or other plant debris floating in the air in the winter – leading to outstanding image clarity.
Reflective snow adds a soft light – even on the dreariest days.
The sun is much lower on the horizon in the winter, helping to avoid the worst of the overhead harsh shadows so common in the summer season.
I can get up late in the morning and still have time to get outside and take advantage of complementary light.  😎
Photographing Migratory Birds That Do NOT Fly South
I wonder why I've never noticed eastern blue birds in the winter here in Michigan. Apparently, my assumption that these lovely, insect eating birds all migrated south in November and returned in the Spring trumped my observations skills, until now. Clearly there have always been a few fearless, non-migrating stragglers who linger, foraging fruit, nuts, berries and seeds. Makes me hopeful for more surprises. I just might be lucky enough to find other wild migratory birds this winter that did not fly south.