Photographing an Eastern Screech Owl
Photographing this little Eastern Screech Owl intrigues me. He is keenly adapted to flying and hunting under the cover of darkness. Light and opportunity rarely allow for night time bird photography, so I was very excited to be able to capture sharp images of him.
For the photos in this post, our resident owl did not fly off into the darkness like he usually does, but instead perched on a nearby unobstructed, camera level tree branch. It was very dark, but a low beam flashlight illuminating the branch on which he perched allowed enough light for the camera to calculate exposure (with E-TTL II Flash) and the lens to auto focus. His head and body were facing away from the camera, but when he turned to look back at me with those remarkable eyes, I was lucky enough to get two full body shots. He flew off to parts unknown seconds later.
NOTES: This owl's raised tufts of feathers where his ears should be look very distinctive, but do not function as ears or horns. The Horned Lark is another bird species with conspicuous ear tufts. The Snowy Owl that I photographed in the Allegan State Game Area did not have noticable ear tufts.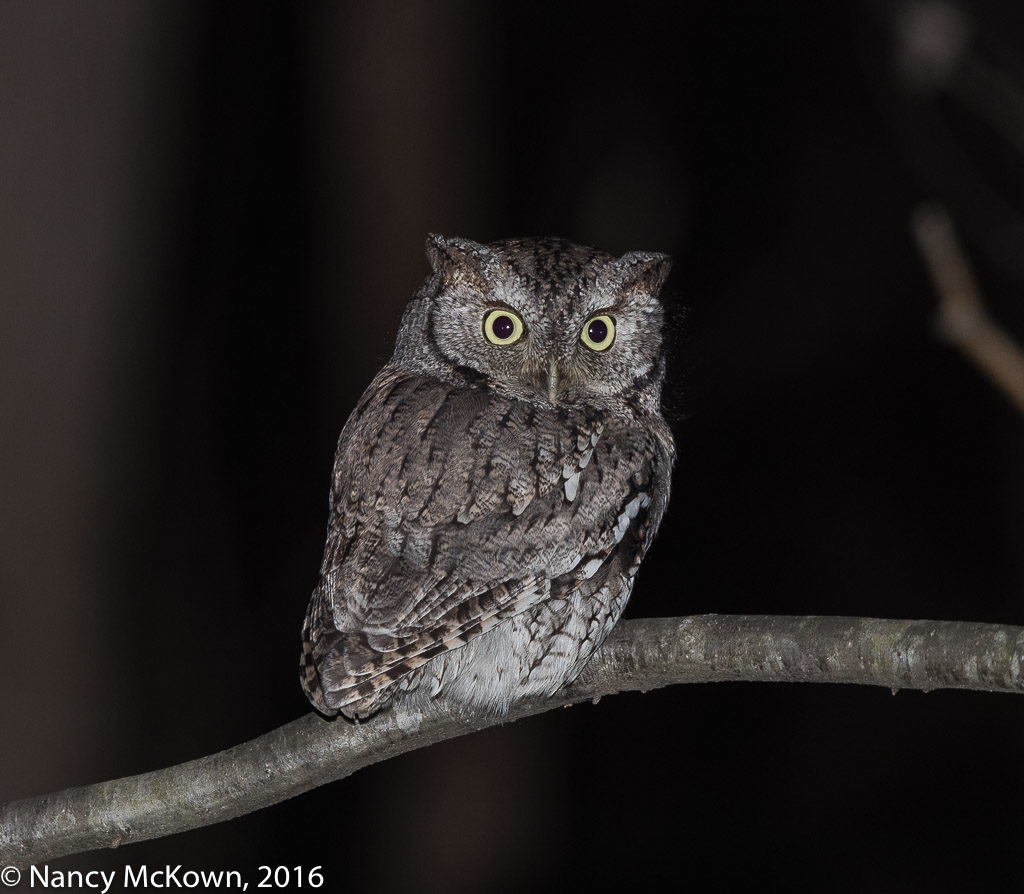 Night Time Photography Considerations:
Flash Failure!  My Canon 580 EX II, purchased in 2008, was no longer communicating efficiently with the camera. It operated erratically and seemed to burst without regard to the E-TTL II exposure calculations issued from the camera. (NOTE: This is probably the first time I have relied on this flash to provide more than fill to existing ambient light.) I can not be without an E-TTL II flash gun, especially when photographing nocturnal owls. I bought a new Canon 600 RT Flash Unit.
The camera was set to Manual Mode and the new flash to E-TTL II so that the camera would calculate the burst needed based on the exposure settings I chose. I toned down this burst by setting the flash exposure compensation (FEC) to -1. It turned out to be a good place to start.
The open window through which the camera points is not far from the furnace PVC exhaust vent pipe. On cold windy days, the discharge turns into a floating mist that obstructs my image making. Easy fix…bundle up and turn the furnace way down.
Fresnel flash extenders are intended to direct light more efficiently onto distant subjects. For this shoot, the tele flash extender was too close, causing the owl to be "spotlighted" or partially lit around the center of the frame, leaving extremities of his body and his nearby surroundings insufficiently illuminated. I removed the fresnel flash tele extender and set the flash to its 200mm max zoom. The flash beam was wider and more on target. The new extended zoom flash capability on the Canon 600 RT II doesn't eliminate the need for a fresnel flash extender for bird photography, but you can get by without it when the subjects are in fairly close proximity to the flash. (NOTE: On my old flash -580 EX II -the max zoom setting was 105mm.)
Next Challenge
As night approaches, the owl is clearly more visible and alert. He looks as though his feet are perched on the opening of his owl house giving his head maximum freedom to look around. I have been trying to capture a shot of him at take-off, right as he exits his box, but I have been unable to do so because he jets out of there in the blink of an eye. The minuscule lag time between when I see him exit the box and when I press the shutter is long enough to miss the shot, even when I pre-focus by pressing the shutter release half way.
I need strategies to get exit shots. NOTE: I've been considering setting up a few low lights, using my camera's video function and then processing that video in slow motion. It might work on those days that he exits at twilight when there is still a touch of ambient light. This of course assumes that this little Eastern Screech Owl decides to stick around.  More to come……