Finally….an Orchard Oriole
I've been looking for an Orchard Oriole to photograph for over 2 years. The beautiful Baltimore Orioles are quite a common sight in southwest Michigan. They are bold and gregarious, especially near a feeder filled with grape jelly. But the Orchard Orioles are less numerous, and more cautious.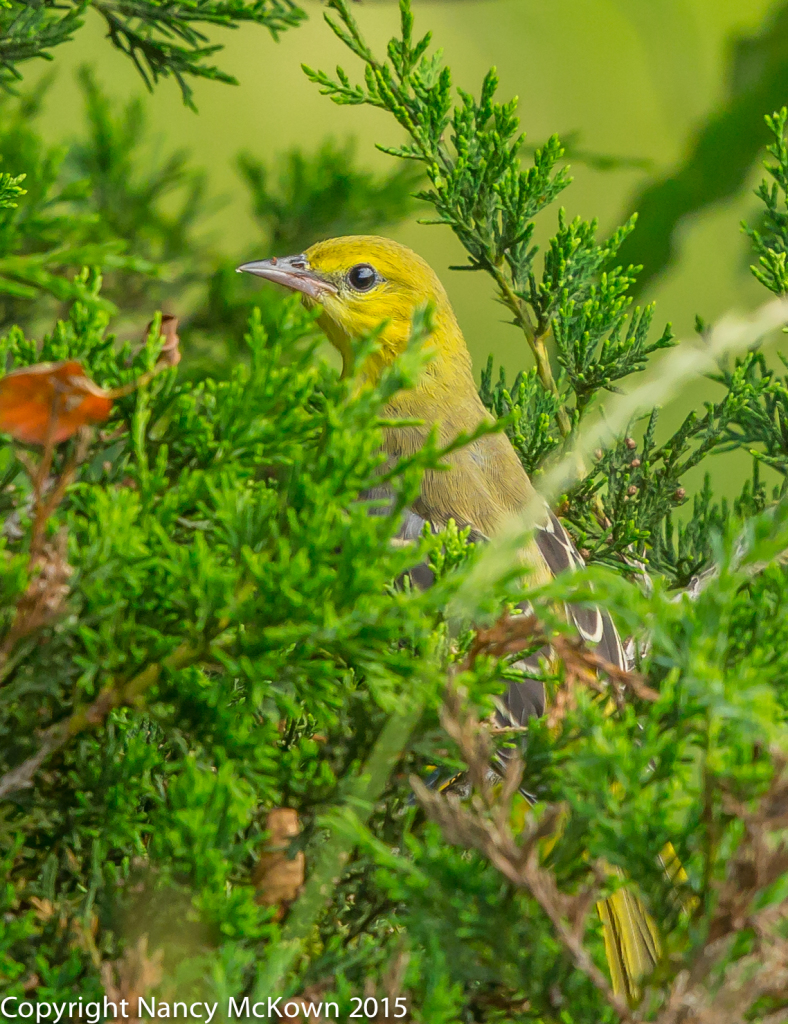 Auditory ID
Last Spring, one of my birding friends told me that he had heard the Orchard Oriole's song near an old apple orchard in a corner of the Allegan Forest. This man is a birdsong auditory bloodhound, so I made it a point to spend some time in this space. I saw and heard lots of other insectivorous bird species nesting there- Eastern Meadowlarks, White Crowned Sparrows, Barn Swallows, Eastern Bluebirds, Robins, Chickadees, Bobolinks, and many many more, but no Orchard Orioles.
Finally, this juvenile Orchard Oriole made an appearance, flying back and forth, low and wobbly between a couple of evergreens. Once perched, he tucked himself within the branches, looked around and called anxiously for the adults. I changed the focus setting on my camera to single point spot auto focus, pointed my lens toward the branch on which the bird perched and tried to maneuver that spot in the viewfinder (a tiny square box on Canon cameras) on the bird's head.
Advantages of Spot Focusing
When there is lots of foreground and/or background clutter, similar to the evergreen branches in the photo above, the telephoto lens will search forwards and back, trying to lock focus. Spot focusing is designed for those times when the camera's auto focus point needs to be tiny and precisely placed on the spot that you want focused correctly.
When you first engage spot focus, the "spot" is located in the very center of the viewfinder. The best part about spot focusing is the ability to continually move that focus point around in the frame. Most advanced cameras have a four-way selector dial (in the back of the camera) with which to move the spot autofocus point exactly where you want it.
Positioning this focus point does take time, so spot focus works best when the subject is not on the move.
To read more about the difference between spot focus and spot metering, visit this post. 
To read more about auditory bird ID, visit this post.