Looking for Late Avian Migrators
It's deer hunting season, so I'm searching for alternative birding locations where I won't hear (and worry about) the cracking sound of rifles firing in the morning. There are plenty of county parks to explore– some wild and unruly, some with groomed hiking trails, clean bright bathrooms and wi-fi enabled resting areas. And then there's the Lake MI shoreline. Birds can be found in abundance in all of these places.
Most of migrators have either passed through SW Michigan or have just started to arrive here for their winter stay. The list serves I subscribe to boast of sightings of unusual birds forced to seek shelter on the beaches during the recent 50 mph winds.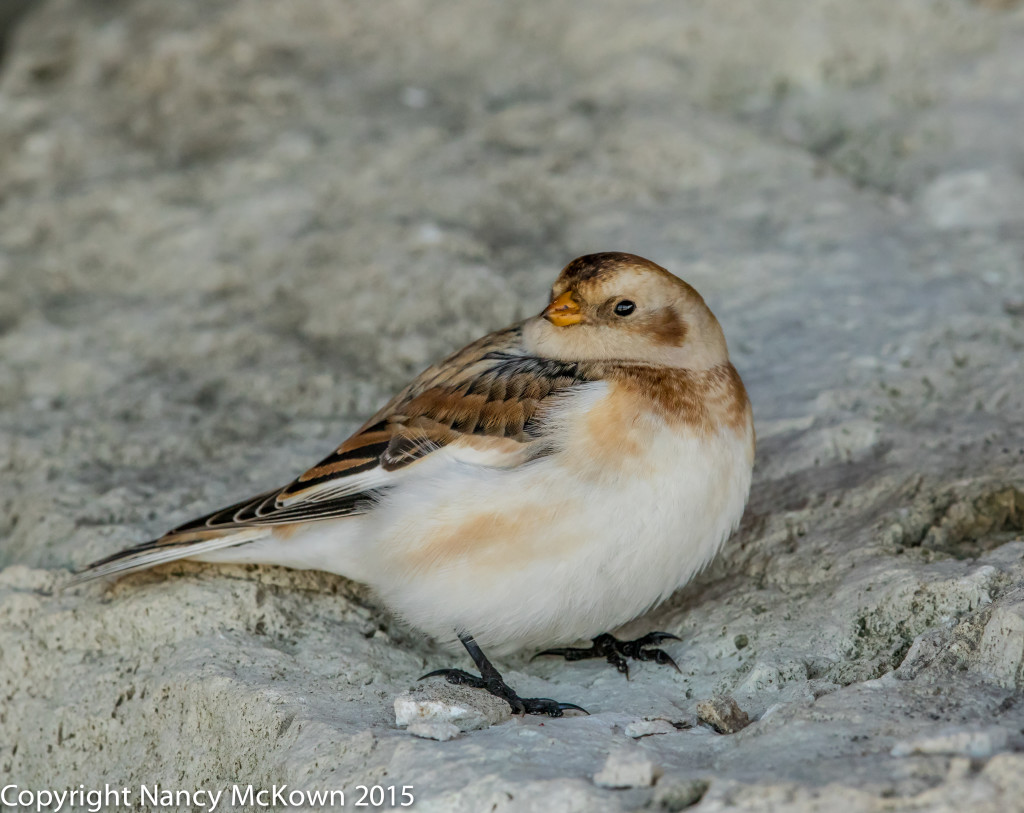 A Walk on the Beach Without My Camera
My husband and I decided to check out the beach after the recent wind storms. This was one of those few times where I talked myself out of bringing my camera, due to the brisk winds and blowing sands. (Upon reflection, it was an ill-considered decision, given all the reports about blown-in migrating birds.) About 15 minutes into our walk, we spotted a lone mystery bird, whose shape and flight behavior did not match the shorebirds we usually see on the beach. We followed it to where it settled on the rocks. Could it be a Bunting? Immediately knew I needed to go get my camera.
My husband stayed to keep an eye on the bird's location while I hastily plodded through the sand to the dune stairs – ran up 78 steps – jogged to the house – picked up the 300 mm 2.8 L II lens attached to my 7D Mark II DSLR camera already packed in a light case – ran around looking for my car keys – drove back to the dune stairs – dashed back down the stairs with the camera case on my back, and trudged back through the sand to where my husband and, thankfully, the Snow Bunting were waiting 20 minutes later.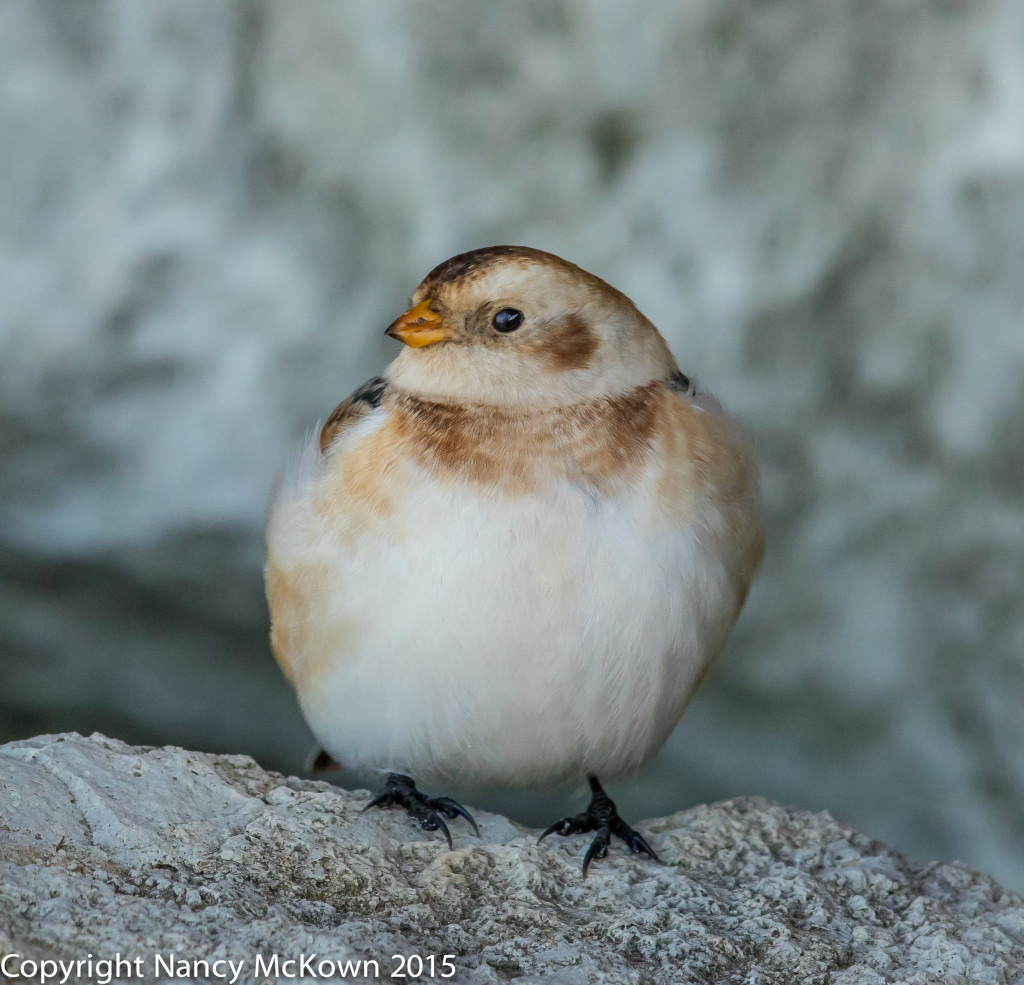 Stray Light Hitting the Sensor
This Snow Bunting sheltered himself from the blowing sand by perching on top of limestone rocks put in place to protect the dunes from erosion. He was decked out in his non breeding plumage and looked weary- but wary enough keep me at what he considered to be a secure distance.
Snow Buntings are arctic birds who make their nests in the cracks and crevices of the rocky tundra. According to web resources, it is not uncommon for these birds to winter in Michigan along the lakeshore, as well as in grassy fields.
The Snow Bunting let me photograph him for 10 minutes. The sun was high in the southeastern sky, and I was facing east toward the dunes. I could see that stray light was hitting the sensor and causing unwanted streaks of lens flare on my images. I draped a microfiber dust cloth over the camera's eyepiece and continued shooting.
I took small steps and eventually got on my knees in an attempt to change the angle of the lens and trajectory of the light on the images.  He was watchful and very patient, but eventually, I must have taken one step too close because he ducked inside the rock crevices and stayed there.
Take the Camera!
This adventure is another reminder that I need to take my camera along whenever I go for a beach walk, or any walk, especially when the light is favorable and conditions are optimal for spotting and photographing new birds. While it may be inconvenient and uncomfortable to lug that equipment whenever I go exploring, that's what it takes to expand my portfolio and grow as a photographer.
See this post to read about lens flare.
See this post to read more about Snow Buntings.