Photography On the Road
It was a dreary, cold morning and I was rather wishing that I would not have to open the car window to the -15 degree windchill outside. But then, I spotted an unfamiliar hawk perched on a utility cable, and that window went down in a flash.
I feel sensations of both anxiety and excitement when I have to transition from driver to photographer as quickly and safely as possible. The anxiety comes from worrying that the bird will fly away before I can be ready with the camera. The excitement comes from imagining the possibilities and enjoyment to be had from photographing an unknown bird.
I pulled off the busy highway and positioned the car as best I could for distance and safety. The heavy traffic kept barreling down the highway, creating buffeting winds that rocked the car and probably the hawk. The passing semi trucks regularly interrupted the scene in my view finder, throwing off the camera's automatic focus.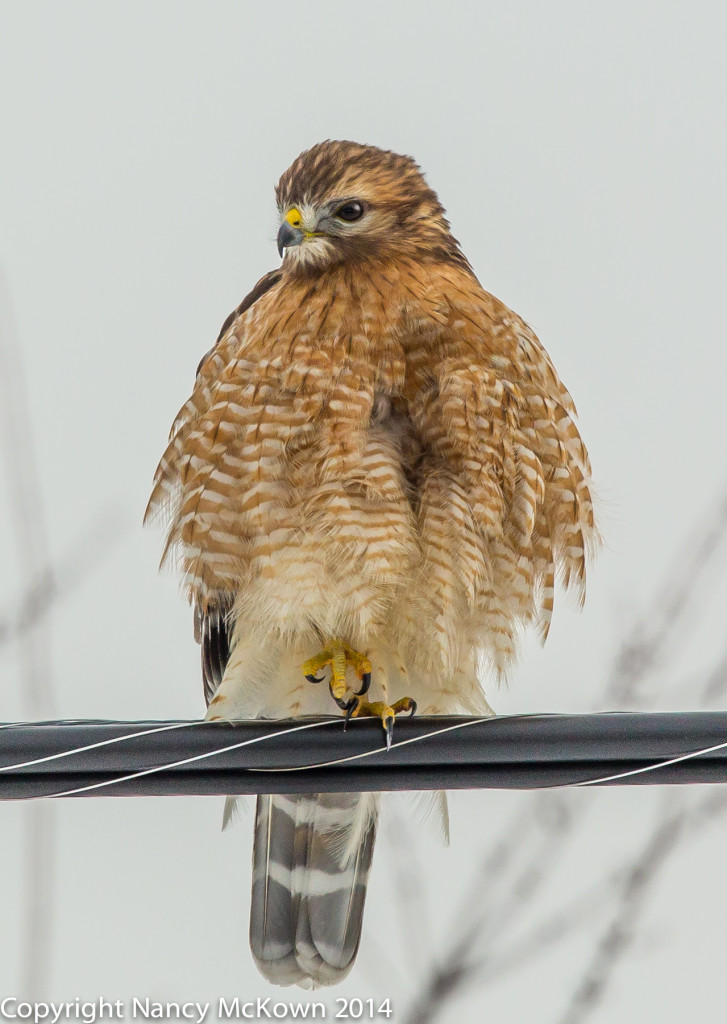 100+ Photographs in Minutes
I managed to take a 100+ shots (moving the camera as best as I could, mixing up the exposure settings for a little variety)  before the hawk flew off in the opposite direction. (Sadly, only tail feathers in the departure shots.) Since I was confined to my car on a busy highway and had very little flexibility to be creative, I knew that most of the photos would look very similar.
Still, a red shouldered hawk in winter is a rare sighting for me, a story to tell, so I was excited.
Choosing the Best Photographs to Share
When I got home, I began post processing these photos. Barely moving from one shot to the next, the hawk was captured fluffing his feathers out against the wind, blinking, shuffling his feet, watching for possible prey, and watching me. Given that there was not much variety and a very short story to be told here, I decided to choose the two most revealing captures.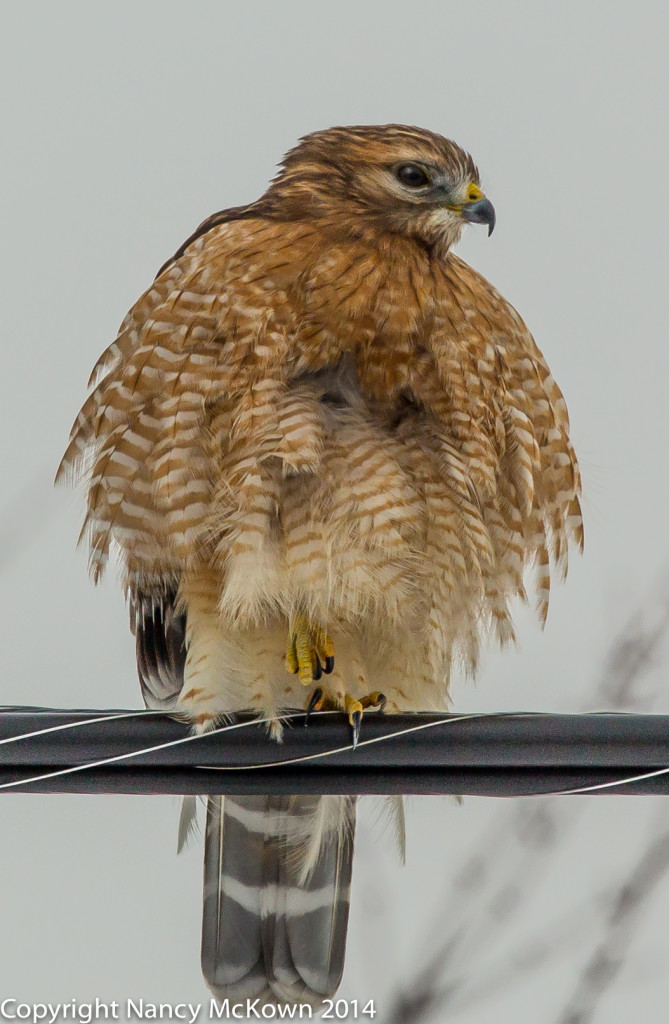 A Picture is Worth A Thousand Words
I have friends and relatives who will occassionally send me a web link that leads to hundreds of snapshots (of siblings, newborns, children, grandchildren, dogs, relatives, birds, sunsets, weddings, etc). Once I click the link, it is evident that no effort has been made to go through and eliminate the photos that fall into the blurry, poorly composed, eyes shut, irrelevant, unflattering, over exposed, under exposed, embarrassing, and stupid categories.
I will be the first to admit that, when it comes to photography, I can, at times, be too critical and hard to impress. My plan when I receive these links is to keep my thoughts to myself. However, when the sender asks what I think about her hoard of snapshots, I have to tell her that it is just too overwhelming and discouraging to plow through so many unorganized photos.
Manage Your Photos as You Would A Rough Draft
Photos, whether taken from a point and shoot camera or DSLR camera, tell a story. Retelling that story well (whether you are a professional photographer or just sharing photos out of the kindness of your heart) requires that the photographer look through her cache for the essence of the story, (and perhaps for buried treasure) and determine how that story will unfold. An excessive number of unorganized photos is like excessive narrative: redundant, boring, and soon forgotten.
Get Rid of Photographic Clutter
Help your audience and get rid of the photographic clutter before you share. If necessary, include captions or a short introduction to entice your viewers. Be intentional and choose the very few photos that best convey the mood, the idea, the beauty, the wonder, the emotion, and the relationships of the story you are sharing.
The best part is that people may actually look at your story…and you just may become a better story teller and photographer.