Photographing White Throated Sparrows
It is a somber morning. As I set up the camera, I'm grateful that the heavy clouds at least provide an evenly lit prospect. The long hanging stems and flowers of the Bleeding Hearts droop and sway with the wind. Small flocks of White Throated Sparrows forage on the ground in our yard….using their anisodactyl toes (3 facing forward and 1 pointing backward) to rake layers of wet leaves and snatch whatever treat surfaces.
Unless I want to get down on my belly with the camera and long lens, capturing ground foraging birds at eye level in their natural environment is not an appealing idea. So I wait for these birds to rise up onto a stump pedestal or into one of the understory trees.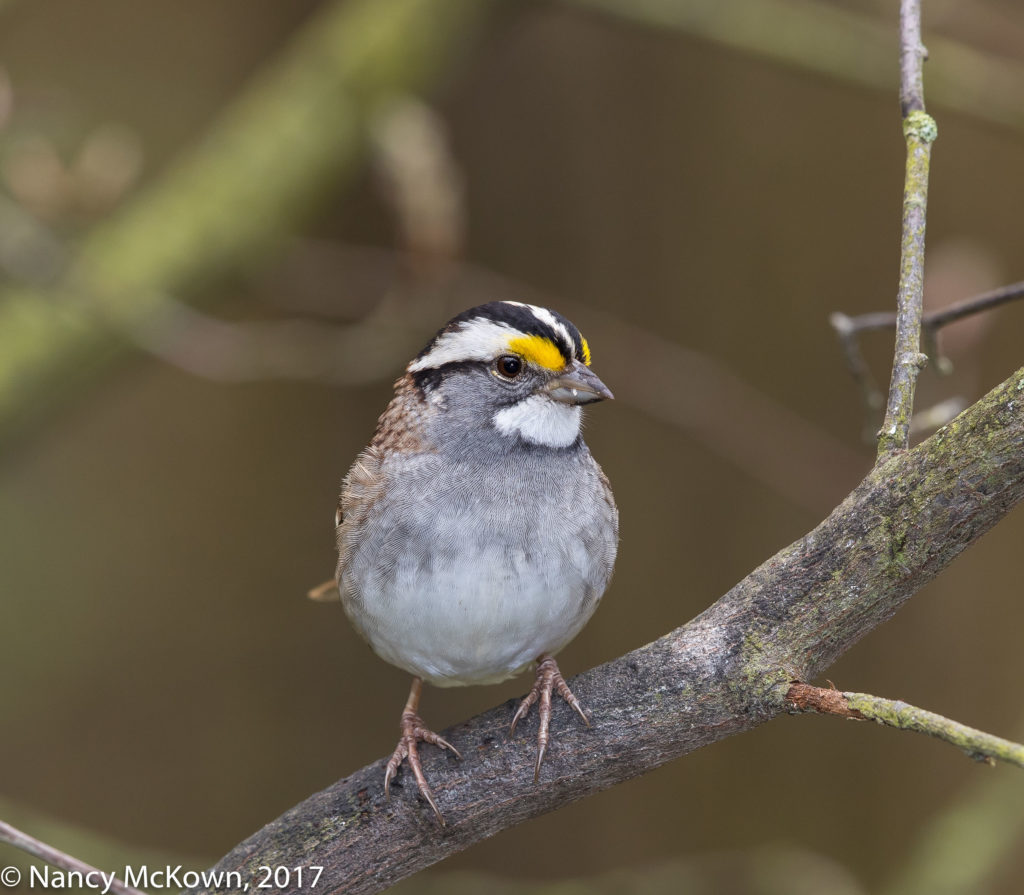 Distinct Color Variations
While tracking the ground foraging birds, I notice that some White-Throated Sparrows have distinctive bright white stripes on their faces and foreheads, while others sport more mellow, creamy versions of the same stripes. With birds, I always assume that the drabber version is a female or immature male. I tend to pick and choose from a group and track the more distinctively colored birds with my camera, especially in the Spring. Consequently I pay less attention and take fewer photos of the birds with lackluster colors.
This time I paid more attention. I noticed that the less distinctive birds are not just drab….but atypical in their coloration. With the help of detailed photos, the two distinct color variations are pronounced enough to make me think that I am photographing two different species. A quick check on line quickly solves the puzzle.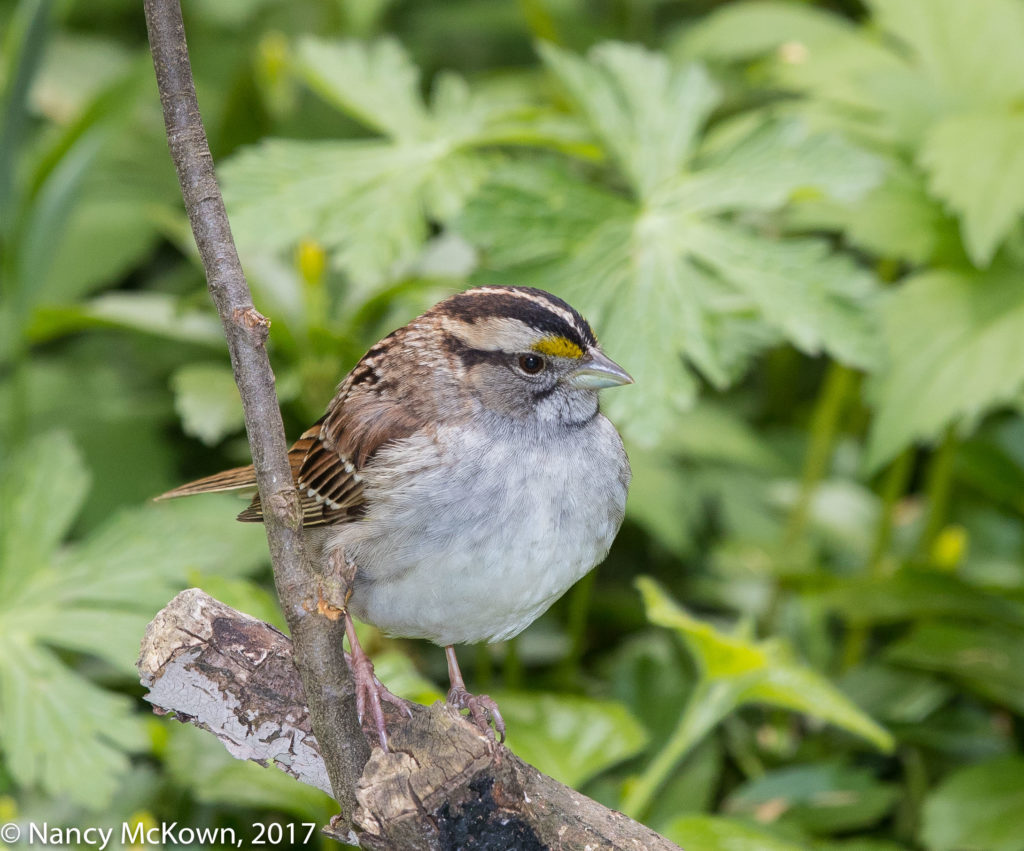 Subspecies v Color Morphs
Subspecies are defined as "distinct populations within a species" that overlap and interbreed in those geographic locations where the two subspecies populations meet. Color Morphs are defined as "distinctly different plumages within a species".
White Throated Sparrows come in two different color forms. The not so subtle differences in the genetically determined plumage color within this species include:
"…….Clean black-and-white head stripes (vs. dark brown/black and pale tan)
 unstreaked gray breast (vs. drab gray-brown, streaked and mottled darker)
 clean gray cheeks (vs. mottled and washed with brown)
 sharply-contrasting clean white throat with clean border (vs. drab white with mottled border and divided by dark lateral throat stripe
 brighter and cleaner yellow loral spot (vs drabber)…….."
What is really interesting is that the tan morphed White Throated Sparrows almost always prefer to mate with the white striped individuals and vice versa. Different behavior and breeding habits between the two color morphs have also been documented.
NOTE: Two excellent articles about  White Throated Sparrows are: "A Closer Look At An Ordinary Species" by Smithsonian Migratory Bird Center scientist Brent Horton; and "The Fascinating and Complicated Sex Lives of White throated Sparrows" by Audubon field editor, bird expert, environmentalist, and artist, Kenn Kaufman.