Formidable to Photograph
It's official. The male Scarlet Tanager is my "nemesis" bird. That's bird photography jargon for the inability (over and over again) to connect with a readily identifiable but highly illusive bird.
Once you claim a nemesis bird, it becomes personal. More than just chance, luck or opportunity is at work. Nature is simply not cooperating- and if you give up, you have failed. It's all the more irritating when the bird is not a rarity, but a nesting resident right in your home town.
"My Destiny Calls and I Go"
Despite years of searching, this secretive though not uncommon bird intentionally thwarts and eludes me. I have spent countless hours in the woods with my camera, following up on leads, plotting, hoping, yearning. During my many travails, I have had a thrilling sense that a male Scarlet Tanager finds me….watches me.  I see quick red flashes high in the trees that vanish into nowhere. I'm at a point now where I will settle for any shot, but hope for the time and light to do it right.
NOTE: To add insult to injury, my husband once boasted that a tropical looking male Scarlet Tanager was shamelessly showing off his Spring plumage right in our back yard, no doubt with a ginormous colorful insect in his beak.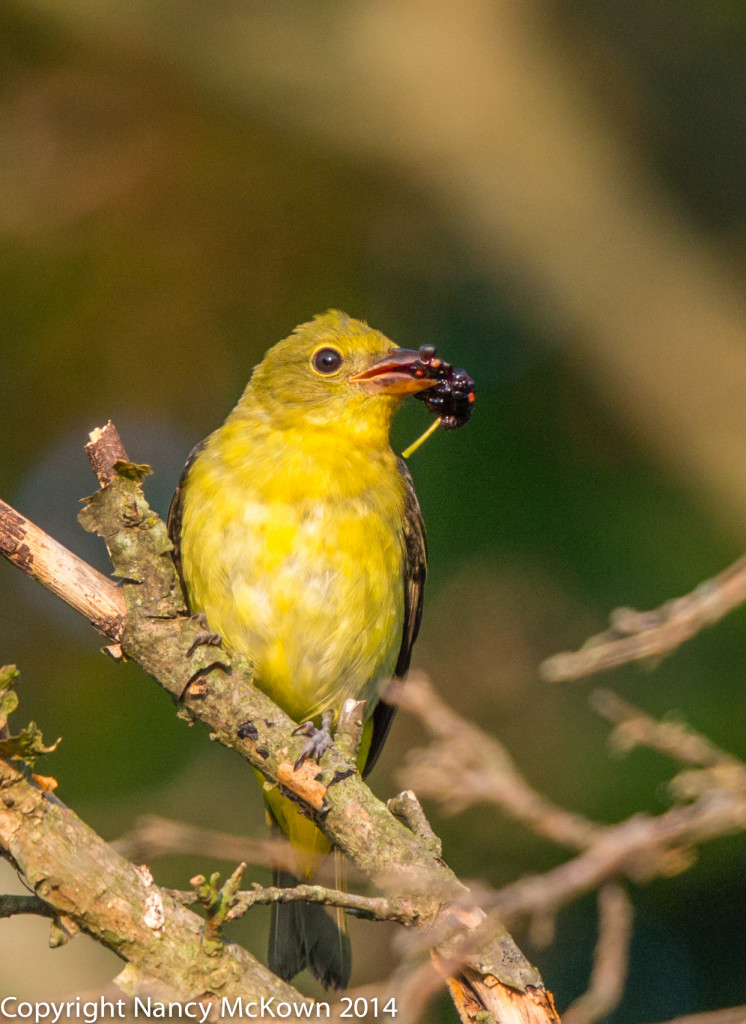 Photographing the Female Scarlet Tanager
One lucky day in late summer, 2014, I saw two of the less intangible female Scarlet Tanagers high in the forest tree top canopy. The female's plumage is muted; olive above, yellow below, far less exotic looking than the male. She sports thin yellowish eye rings and (like the male) a thick round beak, accented with a little notch. These photos were taken as they feasted on the fruit high in a Mulberry tree.
Tripod Shooting Angle
Photographing the underside of a bird produces mostly unflattering images. The shooting angles for the images below were still within the range of the tripod head – even for the highest bird. NOTE: Shooting angle on most tripod heads is restricted. However, I find it almost impossible to handhold and then prop upward a camera with a 500mm telephoto lens. Even with image stabilization engaged, there's too much shaking! I was happy that the shooting angle was such that I was able to keep the heavy camera on the tripod head.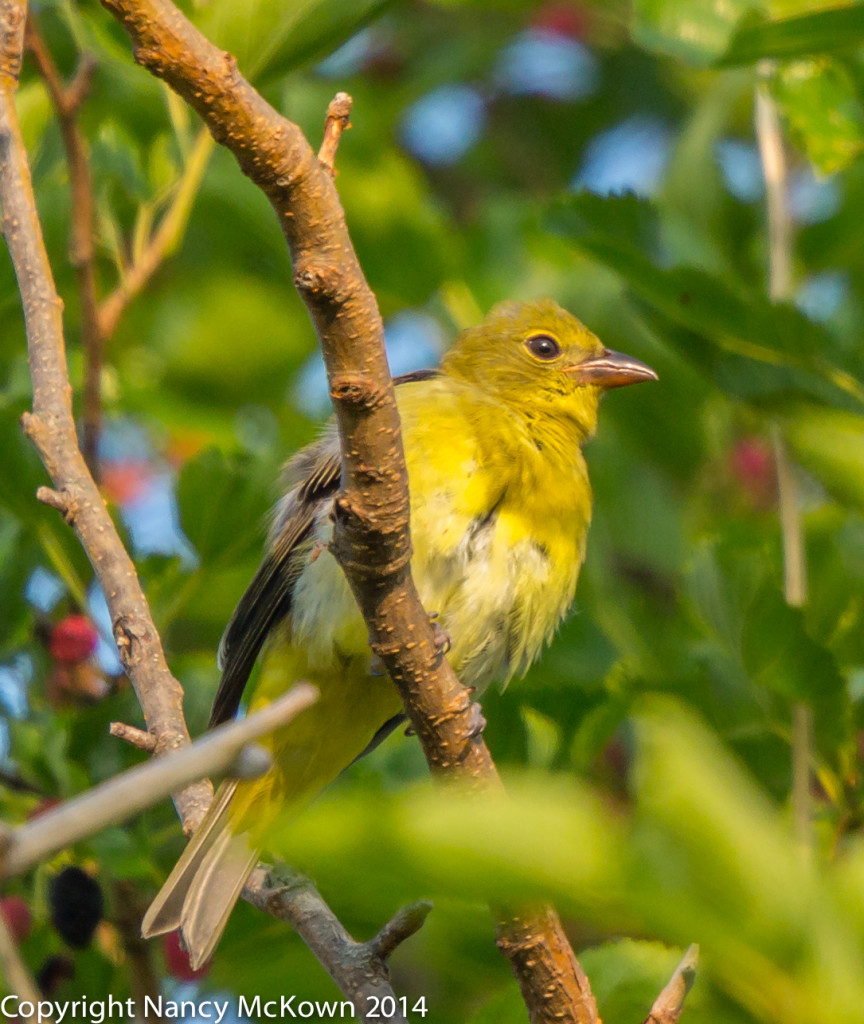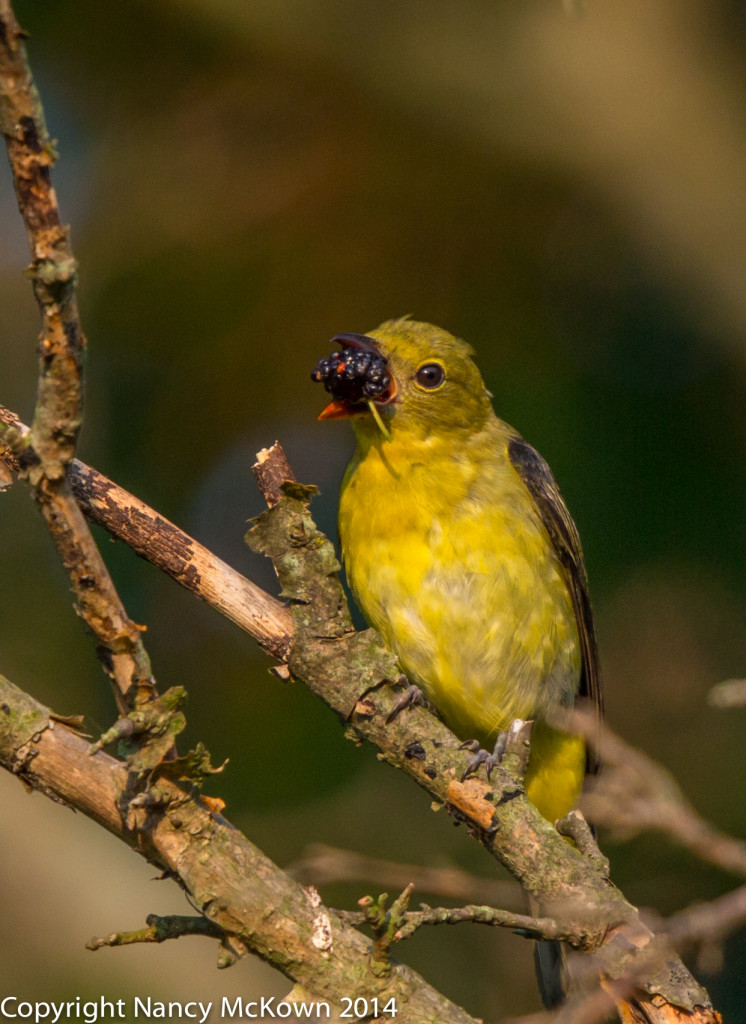 It's Personal, Not Business
The pursuit of bird photography is personal for me. Absorbed in the challenges of this pursuit, enjoyment mounts and hours fly by. Searching for and then capturing an image of these avian wonders in their natural habitats cultivate within me a deep interconnection with nature. It's a passion into which I can pour my heart and soul.
I'm resigned to waiting until next spring when the Scarlet Tanagers return from Northern South America and the Caribbean. After all, what other choice is there?  
Patience! Perserverence!
"And the wild winds of fortune will carry me onward
Oh, whither soever they blow."
Man of La Mancha