Photographing the Sedge Wrens
We first saw these Sedge Wrens foraging in a grassy field on one of those secluded service roads where parking is not permitted by the DNR. All visitors must park in a designated and wildly overgrown lot that is neither convenient nor close. This is because some of the public land in the Allegan State Game Area is leased out and cultivated by farmers who do not want to be bothered by photographers in the road while driving their wide monster combines. Once the planting is done, you don't see the farmers again until harvest time, but you do see the DNR officers making their rounds and enforcing the parking rules.
Despite the "no stopping to photograph birds from the car" rule, I could not help but be mutinous. I saw a curious Sedge Wren tucked in the tall grasses very close to the road and lifted my camera.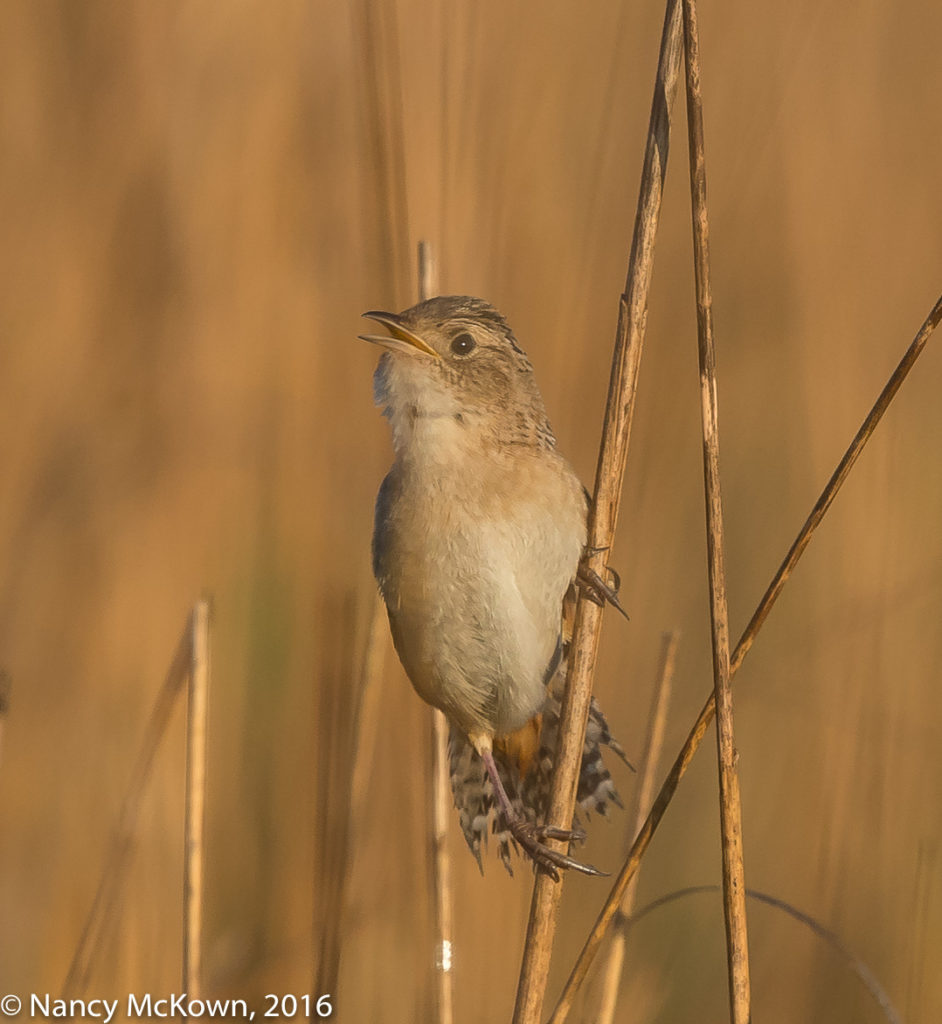 The first two photos included in this post came from the initial car window shoot. The Sedge Wren came in so close to the edge of the grasses that the 500mm lens was able to isolate his little body from his surroundings and lock focus almost immediately.
Camera Setup in the Sedges
We returned to this location three more times to try to photograph these little birds. Dutifully parking in the lot each time, we hauled the equipment down the road and forged a path through the grasses as close to the road as possible. The gear was stabilized on a matted-down oval shaped impression – most likely deer bedding.
These photo shoots turned out to be unproductive and exasperating. Instead of landing on the taller stalks like they did when we were photographing from the car, the wrens stayed camouflaged within the grasses. Once in a while, they peeked their little heads up or flew to a new location, but for the most part they would not rise above the dense low growth of the sedges. With any camera movement, they dove deeper into their lush domain. We could hear them calling and see the wispy grass bend as they maneuvered around us, but they rarely rose into the golden light.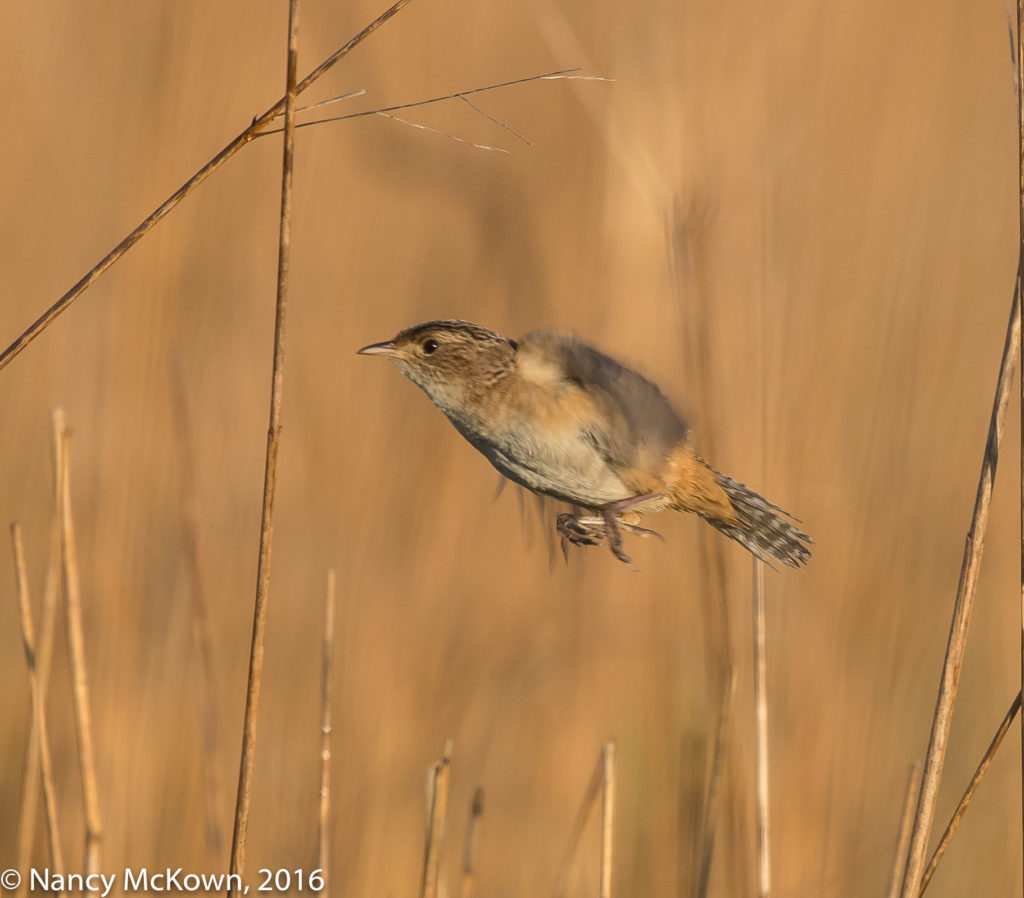 Trouble Locking Focus
My 500mm lens motor and stabilizer patiently whined softly back and forth…desperately trying to lock focus on a bird tucked in dense grass. The only clear photo I have from the later shoots (showing the Sedge Wren adeptly couched into his element) is posted below.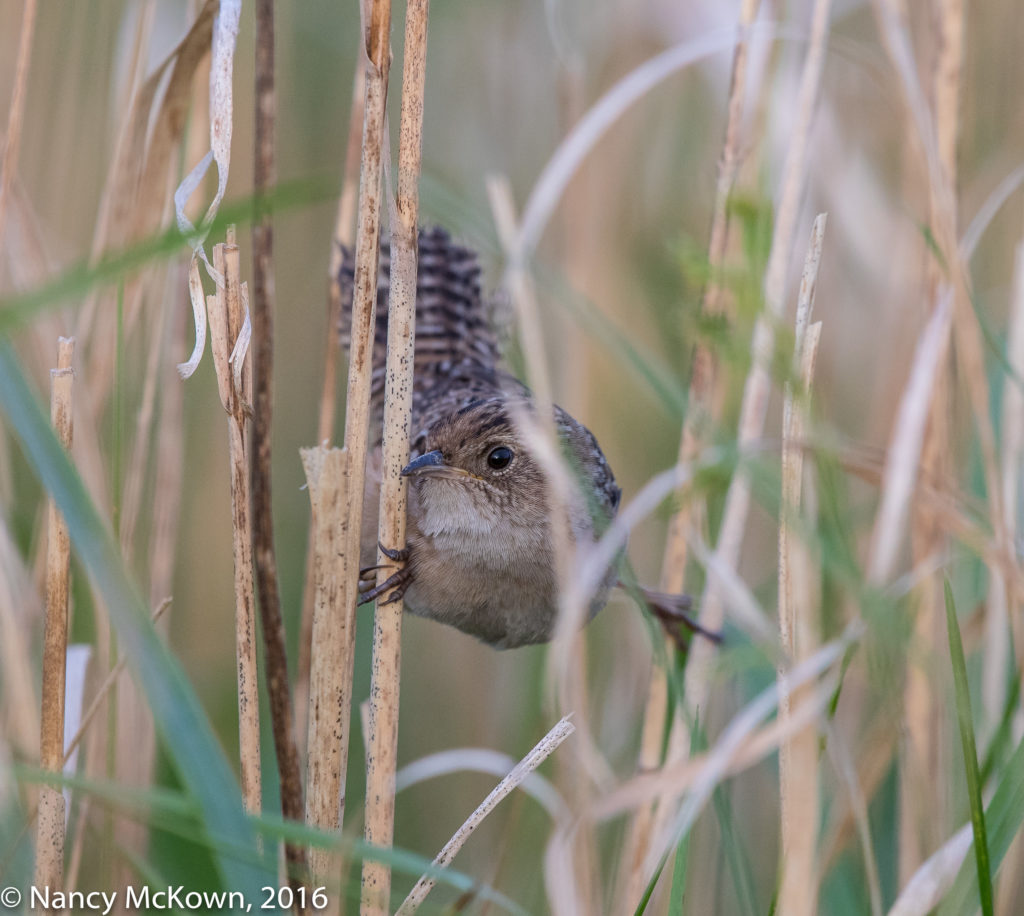 Nomadic yet Territorial
Sedge Wrens are pugnacious little birds that are known to puncture the eggs of other bird species' who venture into their territories. Considered to have erratic and transitory breeding behaviors, it is not always predictable as to where they will nest from one year to the next. This nomadic (yet territorial) behavior makes them hard to find.
I plan to go back…. and try my luck again photographing them from the car.