Bird Photography on the Road
Bird Photograpy on the road can stretch out to long, tedious hours. It's hot. Impatient drivers behind you are leaning on their horns. The sun is rising in the sky fast, casting harsh shadows that you have to work around. Some days, all you see through your lens are the back feathers of robins and doves as they fly away from you.
Remember. You are on a photographic birding adventure! You've got to put time in the field to get the good shots. Persistence pays off.
Also remember that you are learning, and an essential part of learning is having FUN.
Planning Ahead Before You Go Out on the Road With Your Camera
When you are out with your camera, it's a good idea to have a plan to keep yourself motivated and productive. The field guide that helps me determine my route for the day is A Birder's Guide to Michigan by A.Chartier and J.Ziarno.
Most of my photography is done right from the car because, for the most part, birds are acclimated to vehicles. I park as close as possible to where I will be pointing my lens and then set myself a time limit. If the birds I came to photograph don't show after an hour, I move to the next site on my schedule.
Stop and Take a Break
I take breaks. If I'm too far away from home, I stop for coffee and something to eat; and just to get out of the car. Today I stopped at Kismet Bakery, a great place for scones, bread (so-o-o-o  good!), and friendly faces.
Reinvigorated and all sugared up, I got back on the road. I retraced my morning route, just to check if the birds that weren't there two hours ago had magically appeared.
And that's when I saw them.
Sandhill Cranes Dancing in the Field
There, out in the open in a freshly cut farm field, stood five sandhill cranes feeding fairly close to the road. I pulled off to the shoulder of the road, shut down the car and got my camera into position. The cranes noticed me and slowly turned to move away. I thought it was going to be another bird back-end photo session. But then something wonderful happened. They started to dance.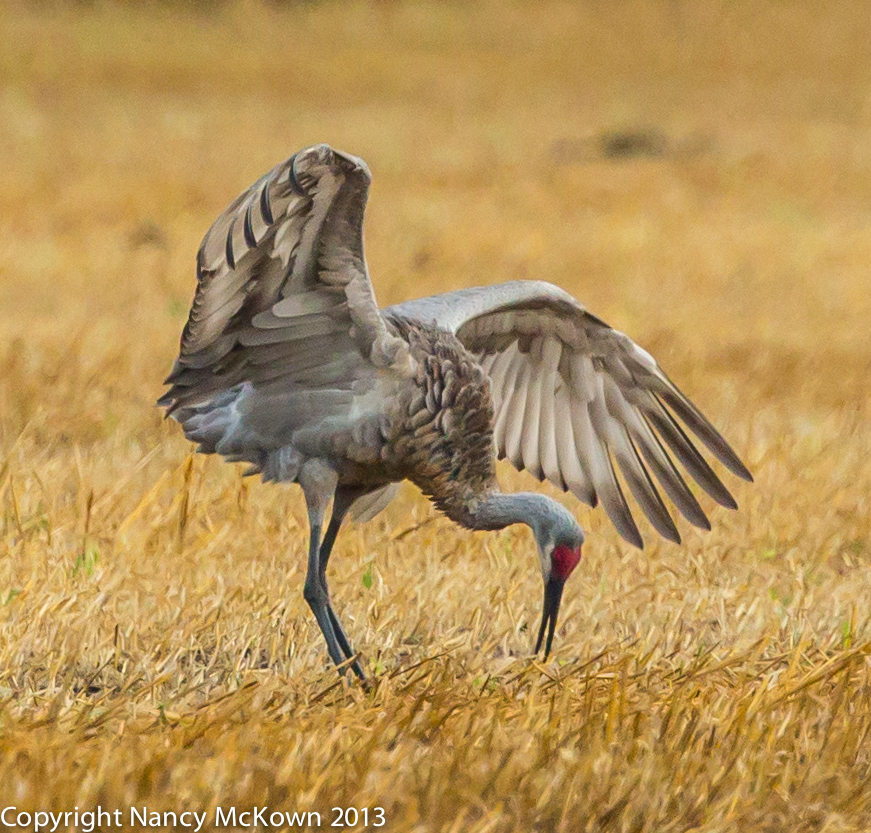 In my August 9 post about Sandhill Cranes, I wrote that the most fascinating part of watching sandhill cranes is when they dance. Well, right before my eyes, the cranes were bowing and leaping into the air, throwing branches and sticks with their beaks. Quite an amazing spectacle to behold. And I had my camera!
I was so excited, I wasn't thinking about exposure or focus or shutter speed. Heck, I could hardly hold my camera straight. But somehow I got these shots.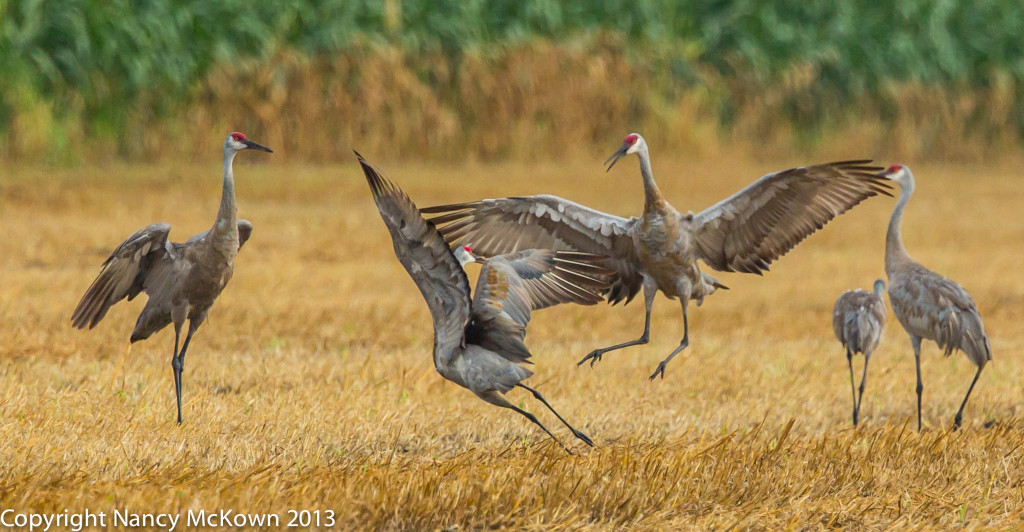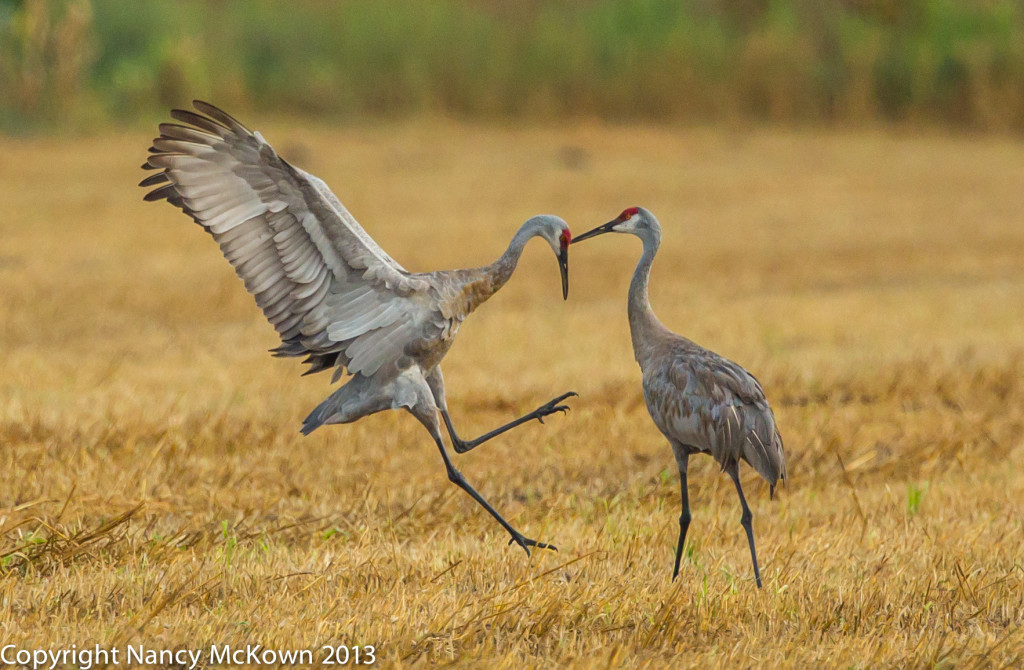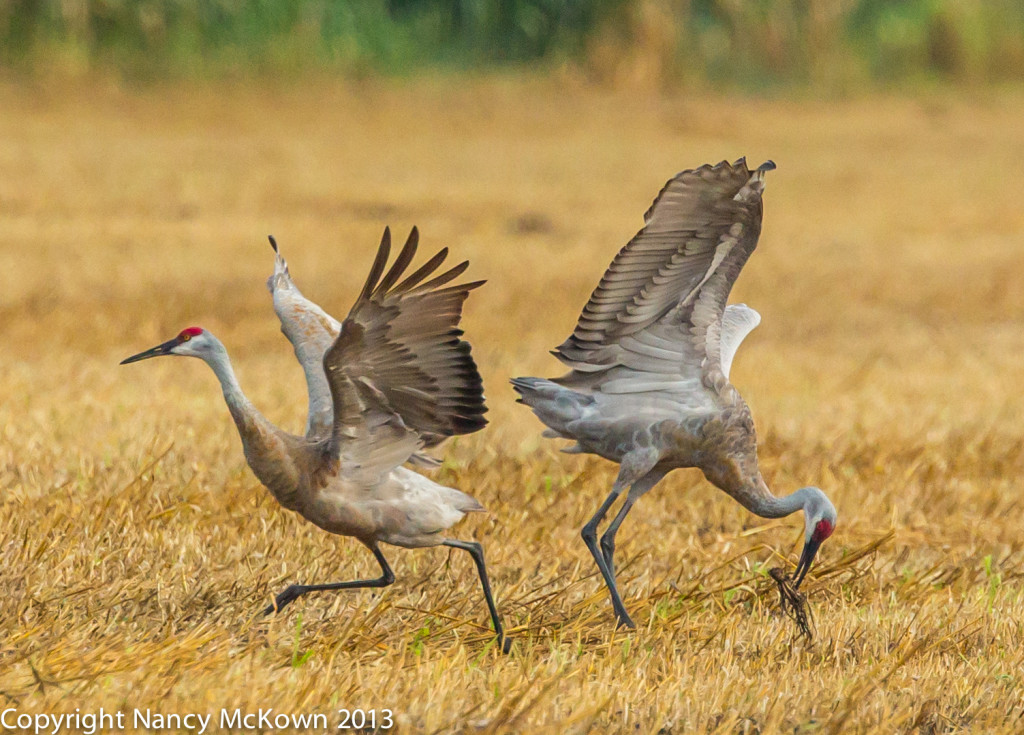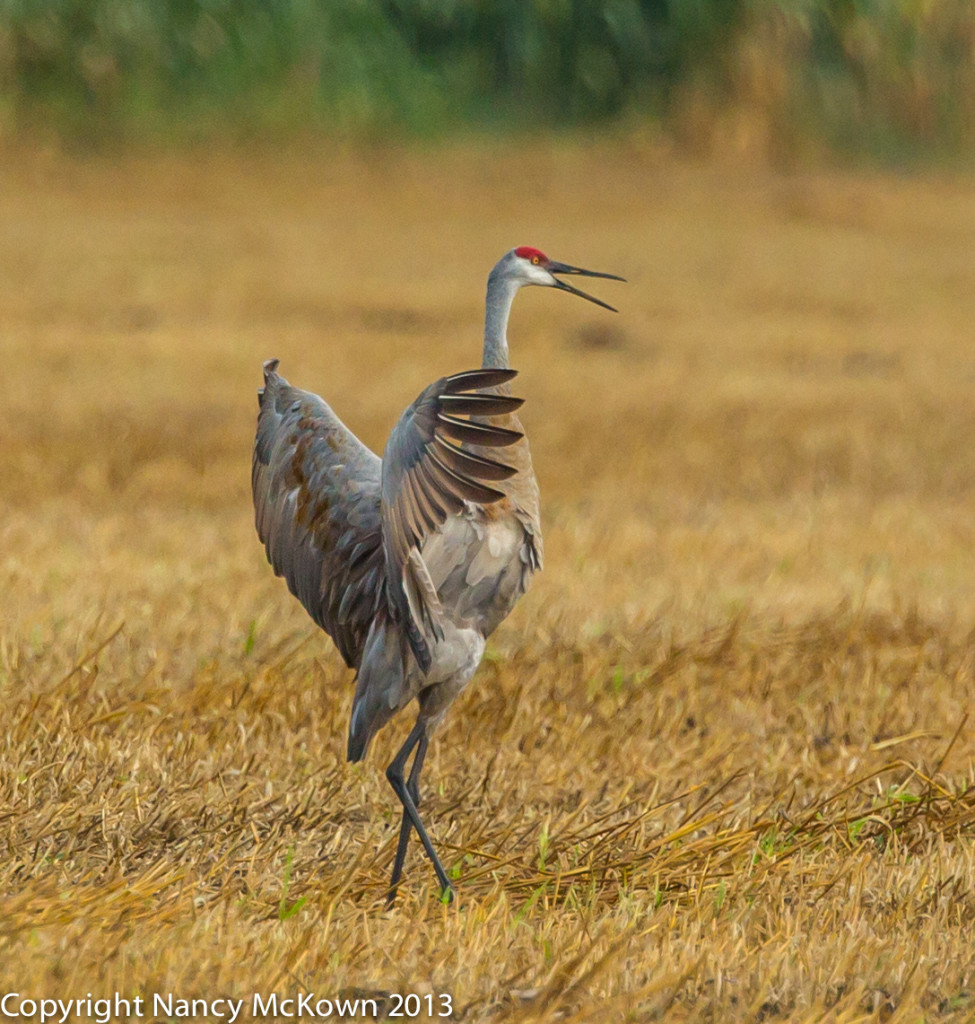 You never know what's going to transpire to make it a good day to be a photographer.
And the Next Week……
And, the following week, on two different occasions, I was lucky enough to photograph more dancing sandhill cranes. Please notice the difference in the lighting. The golden glow comes from the morning sun. The others are taken under cloudy skies.