Photographing a Bald Eagle Harassed By Crows
When I see bald eagles, they are usually soaring high on the thermals or perching stoically on a branch. I have never seen these birds animated or agitated. Until now.
Crows are like sentries, constantly on guard protecting their territory. If I see them in the sky circling and cawing loudly, I know that there's an eagle or other raptor nearby. This young eagle was reacting to seven or eight crows that were "mobbing" him in an effort to chase him out of their territory. Pretty fierce looking!
The crows appeared to be working in teams, one group of crows squawking and harassing from a close (but safe?) distance, the other group of crows dive bombing the eagle from the opposite side.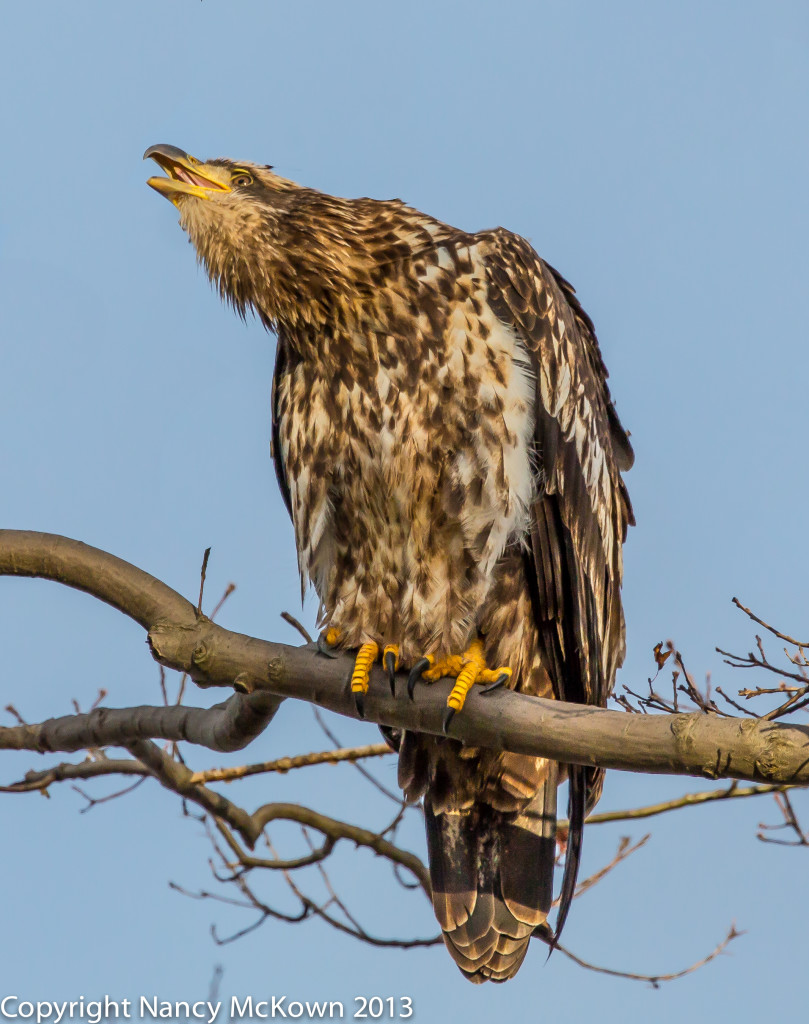 Two problems surfaced during this shoot, both unavoidable. It's been my experience that both problems are not uncommon for bird photographers.
Problem #1
Is There Time to Change the Lens?
I always like to get as close as I can to the bird I'm photographing because the farther the distance, the more sharpness suffers. Most of the time, my problem is that the bird is too far away. When I came across this juvenile bald eagle, he was perched above my head, but within good reach of the 2x extender attached to my 300mm lens.
In fact, he was a little too close. The image filled more than 50% of my viewfinder, impossible for me to get  the eagle and the crows in the same shot. Shooting from my car window, with my lens pointing up, I had very little flexibility to frame the shots.
If the viewfinder is too full – too stuffed – the resulting photo will look like it. If you're in a car and can't risk moving back, should you take the time to change the lens configuration, or just go on shooting?
Quick Decisions Necessary When Photographing Birds
I use the following guidelines to determine if there is time to swap out (or swap in) a different lens or extender:
Does the bird appear to be unperturbed with your presence?
Are there any other people around who may raise the bird's level of anxiety?
Are there any harassing or predatory birds around that may cause your subject to fly off?
Is the photographer parked in a safe spot on the road?
Poof!  He's Gone
There were 3 or 4 people walking on the road watching the scene. Loud, harassing crows were everywhere. Consequently, I felt compelled to use the lens and extender at hand and take advantage of the short window of time that the bird would remain photographable. I reasoned that it was better NOT to risk missing the shots. It turned out that there was no time. The bird was gone in less than 3 minutes.

Two Available Cameras Would Be Nice
The best (and most expensive) solution to solving the bird to camera distance problem is to have a second camera and lens available. That's right, bring along 2 heavy, full frame, professional cameras equipped with different lenses on every shoot. Then, when you see a bird you want to photograph, you eyeball the distance and quickly grab the camera/lens that would work the best. You have to decide whether the two camera solution is a necessity, a convenience, or just overkill.  (BTW, I would love to have 2 cameras available to me.)
Problem #2
Unsightly Background Debris in Photographs
During this shoot, the eagle's behavior was compelling, but he was surrounded with branches that seem to grow out of his head and shoulders. Given that my lens was pointing up, I'm not sure I could have eliminated much of this background debris by moving to a different spot. Plus, I would be risking a disturbance. Not much to be done, except pass up the shot. Rarely am I willing to do that.
As you can see, I was able to do some post processing repair to eliminate the unsightly branches on all but the last photo.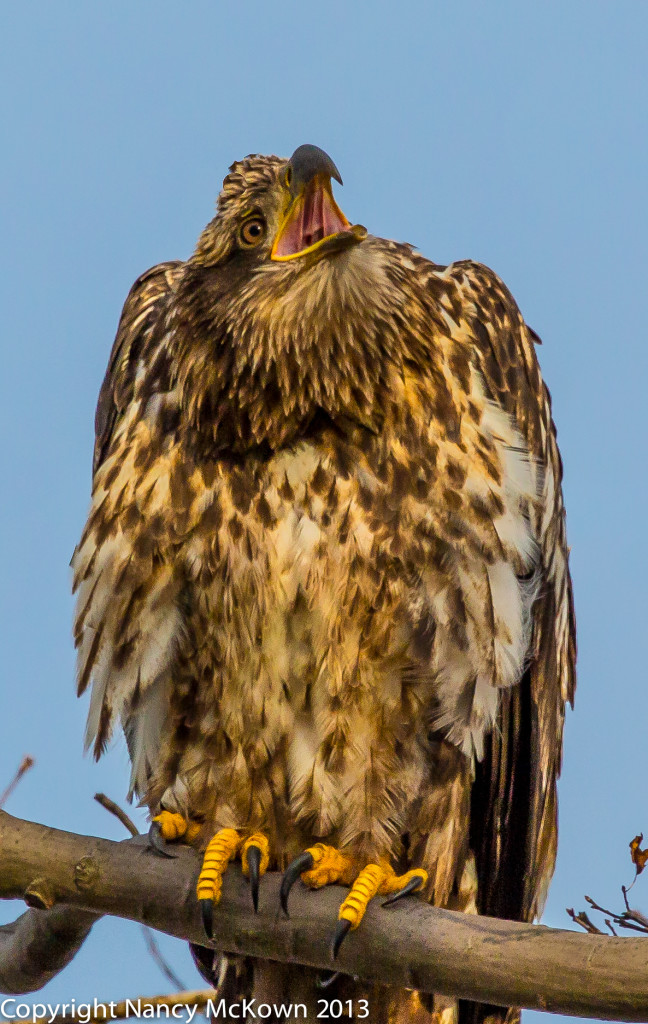 Adult bald eagles have bright yellow eyes; the younger the eagle, the more brown the eyes. Judging by the deep brown color of this eagle's eyes, he is probably quite young.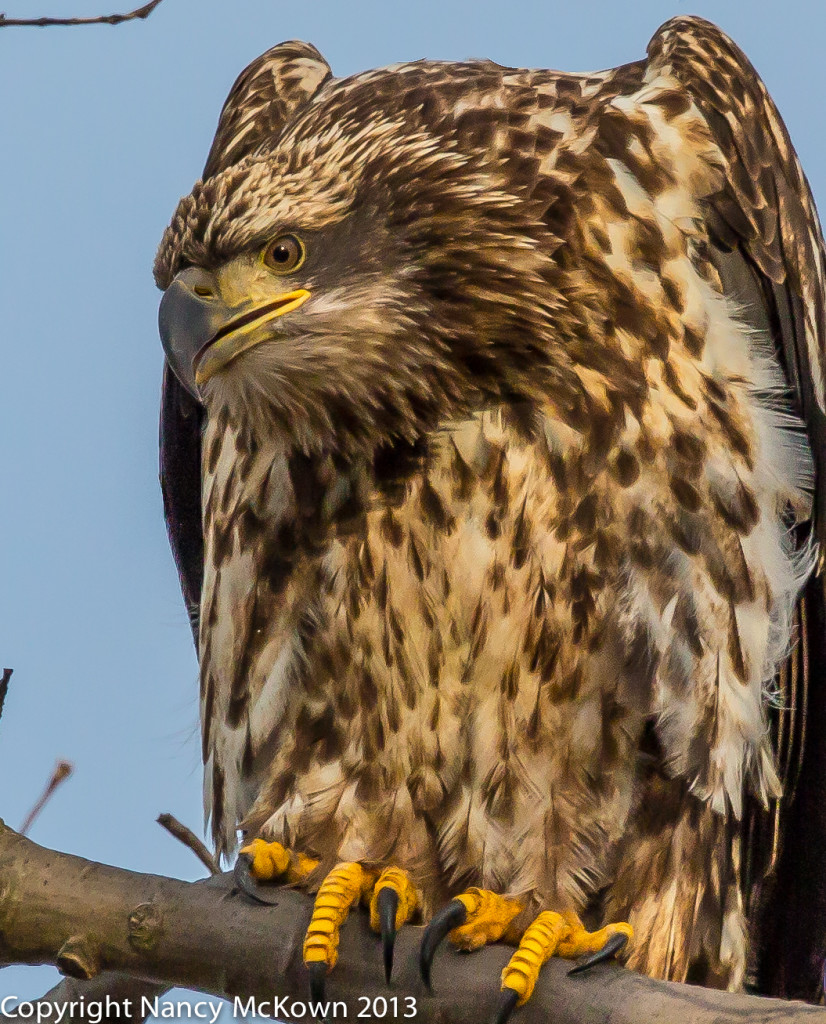 The job of post processing debris removal in photography is not one that I'm good at. Lightroom 5 has some advanced tools to help with this chore.  I plan to spend a lot of time this winter getting more proficient at this task.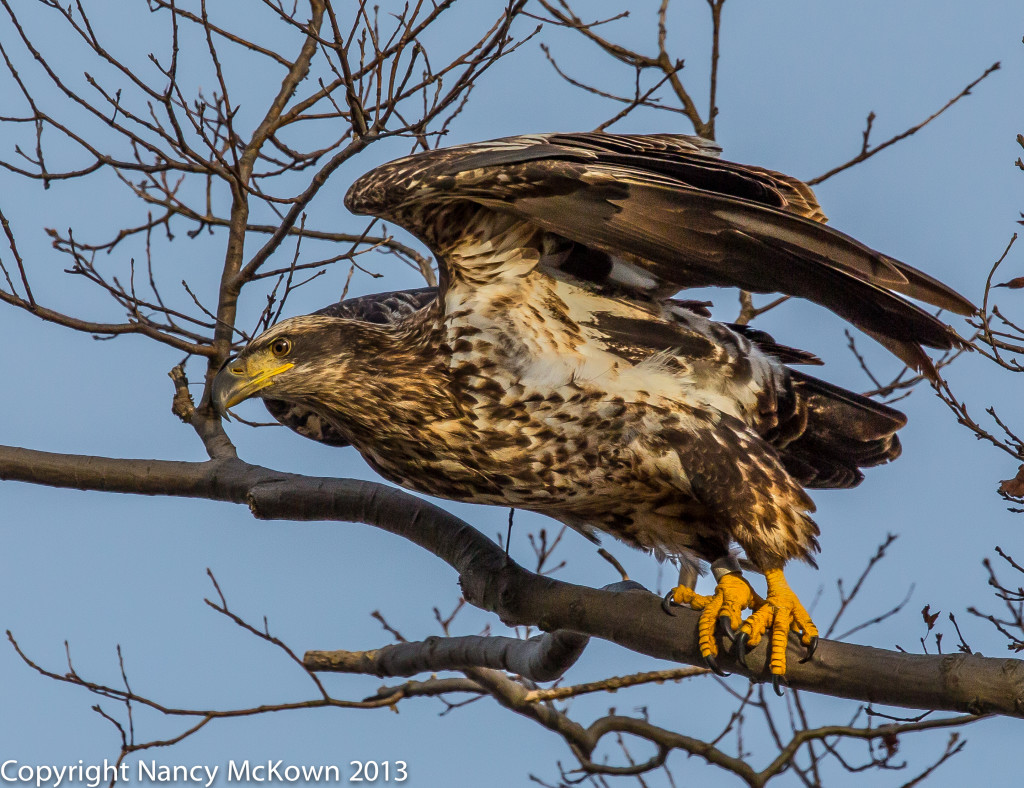 Banded Immature Eagle
The photo directly above and the close-up photo below show that this young bird was banded. Bird banding is a way to study the movement and survival of birds. Federal agencies in US and Canada coordinate these activities. NOTE:  The close-up below reminds me of Rhodan's claw in an old monster movie.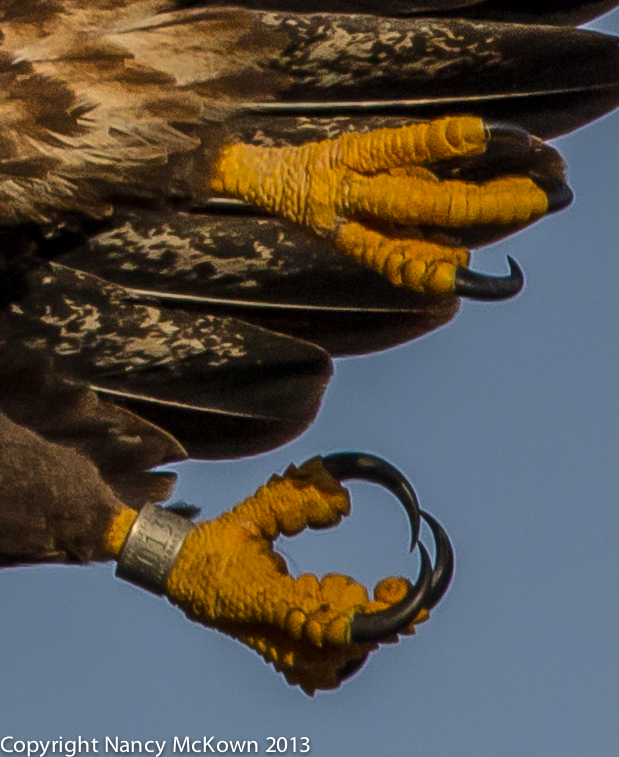 One Crow Too Many
One day, one harassing crow too many will cause an eagle to snap, and that eagle will go after the crows with a vengeance. I hope I'm there with my camera to capture the action.