Photographing Black Throated Blue Warblers
A pair of Black Throated Blue Warblers arrived together at the fountain this Fall just before we shut it down for the winter. The male hopped around on the stones near the base of the streaming water, making for a colorful image. The female alighted on the nearby perches near the fountain. I was at the right place at the right time with the right equipment. Minutes later, this pair disappeared.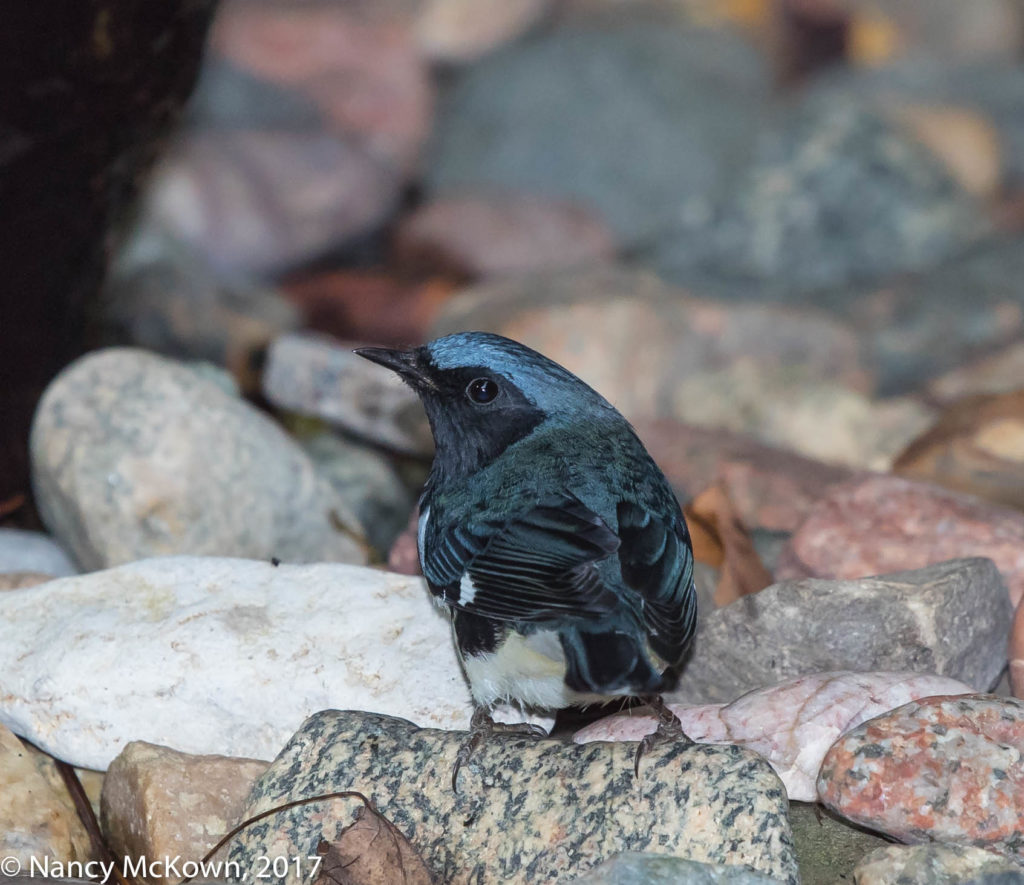 Sexual Dimorphism
The male and female Black Throated Blue Warblers have very different coloration- so much so that they do not appear to be the same species. The male sports lustrous blue plumage atop his head and on his back and tail feathers. A black face mask extends down his throat to meet a bright white underbelly. He keeps this striking plumage year round. The female has none of the prominent black or blue colors of her mate. Her plumage is a soft olive brown contrasting with wisps of yellow on the breast. If you look closely at the contour of the pale stripes above the female's eyes, you can see an outline of the male's facial pattern. Both the male and female have small white spots on the edge of their folded wings.
NOTE: Any time you see blue feathers on a bird, it's a trick of light. If you are interested in reading more about blue colors in nature, I recommend this article: Why Most Animals are Not True Blue by conservation biologist, Steven D. Faccio. It can be found at this LINK.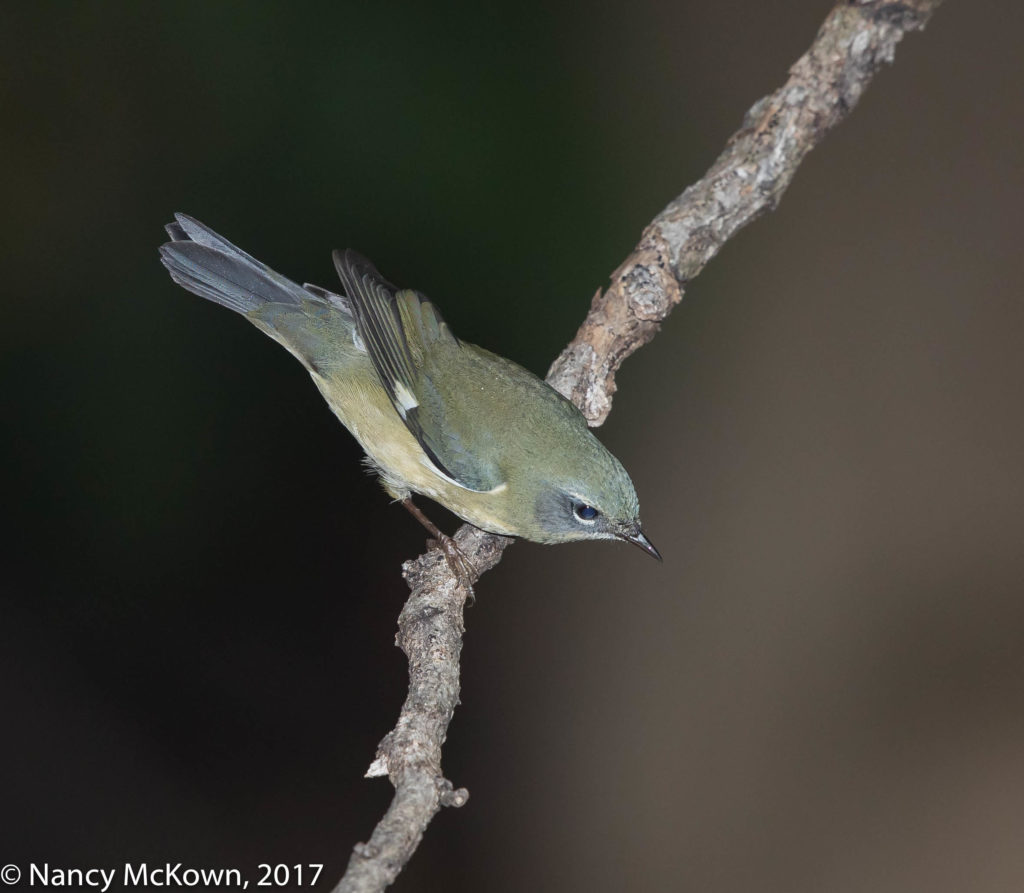 Lenses v Digiscopes
The birding list-serve that I subscribe to recently reported a Barrow's Golden Eye Duck associating with the more frequently seen Common Goldeneye flocks out on Lake Michigan. This news brought out a half dozen birders –all peering through their long spotting scopes, eagerly searching for this unusual bird.
Most of the birders I saw had digiscopes…a manually focused digital spotting scope paired with a dSLR camera and secured on the scope by a mounting bracket near the scope's eye piece. (Some high quality digiscope-cameras have auto exposure and autofocus capabilities.) Along with their scopes, these birders packed sturdy tripods and tripod heads for optimal image steadiness and smooth maneuverability. They also had high powered long range binoculars hanging at the ready around their necks. I could see no one in this party using a dSLR camera and long lens.
(NOTE: Some of these scopes reach the equivalent of a 1250-4000mm lens…a size that's only a dream in the world of weighty, magnification challenged, and very expensive dSLR telephoto lenses.)
Different Priorities
Even though birders and bird photographers both tend to love birds, be abundantly patient and haul around similar equipment, they have different priorities when out in the field.  Birders with digiscopes are more interested in using their scopes to record distant images of birds and to use that image to document a sighting. Like bird photographers, they devote time, serious study and money to their endeavors in an effort to capture high quality images or videos of distant birds.
In terms of image quality, a good lens will outshine a digiscope any day- the closer the proximity, the better.  In terms of capturing birds at a distance, especially a distance not possible with a camera lens, a digiscope is the tool of choice.