Finding Unusual Birds to Photograph
Whether you're a birding expert with an extensive life list under your belt or a bird photographer out to capture the beauty of birds and write about her birding experiences, finding uncommon birds is exciting. This is true whether the bird is not common in a geographic location or it is a common but difficult to find bird that is mostly heard but rarely seen by birdwatchers.
Bird ID and Stringers
The birding culture puts lots of importance (and accolades) on those birders who find and document rarely seen birds. Skill, conviction, trustworthiness, and ID skills in a master birder are pretty important. If a birder reports unlikely and unsubstantiated sightings, her integrity may be tarnished with the worst label of all in the birding world: A stringer.
Stringers are birders who are overly zealous with their IDs, perhaps intent on glory, and string people along about their sightings. They intentionally mislead others about seeing a rare bird- and do it often enough (without evidence) that their credibility and good name are jeopardized. Suspect IDs are labeled "stringy".
Shoot Fast, Check Later
Bird sightings happen so quickly while out in the field. The bird is often gone long before I am able to ID it. Trying to remember what it looked like is also a challenge. It's better for me to quickly photograph any suspect sighting, no matter the conditions. My camera lens can get a much closer, clearer look than my eyes ever could. Afterwards, the photos give me a moment to reflect on my ID skills and then, if necessary, post the photo for a definitive ID.
Northern Shrike and Black Billed Cuckoo
I've had 2 sightings (with photographs) about which the on-line birders and birding associates were excited and asked for more location information. The first one was a northern shrike – verified with a far off, blurry photo that had enough substance to get an ID. The second sighting was the secretive Black billed Cuckoo, shown below. The Cuckoo was photographed in the Wau-Ke-Na Preserve near Glenn in Southwest Michigan. Both of these birds fall into the not often seen in SW Michigan category. A lot of birders have yet to add them to their life lists.
The black billed cuckoo is a forest dweller, often hiding in the thickets and undergrowths. His main diet consists of spiny caterpillars. He has a very distinctive song, and is more likely to be heard rather than seen.
This black billed cuckoo perched on a tree branch for less than a minute. He did not make a sound. When I saw him land, I didn't take time to think about what he was.  I just pointed, focused and held down the shutter button until he was gone. The photo below was the most useful of the short burst of shots taken.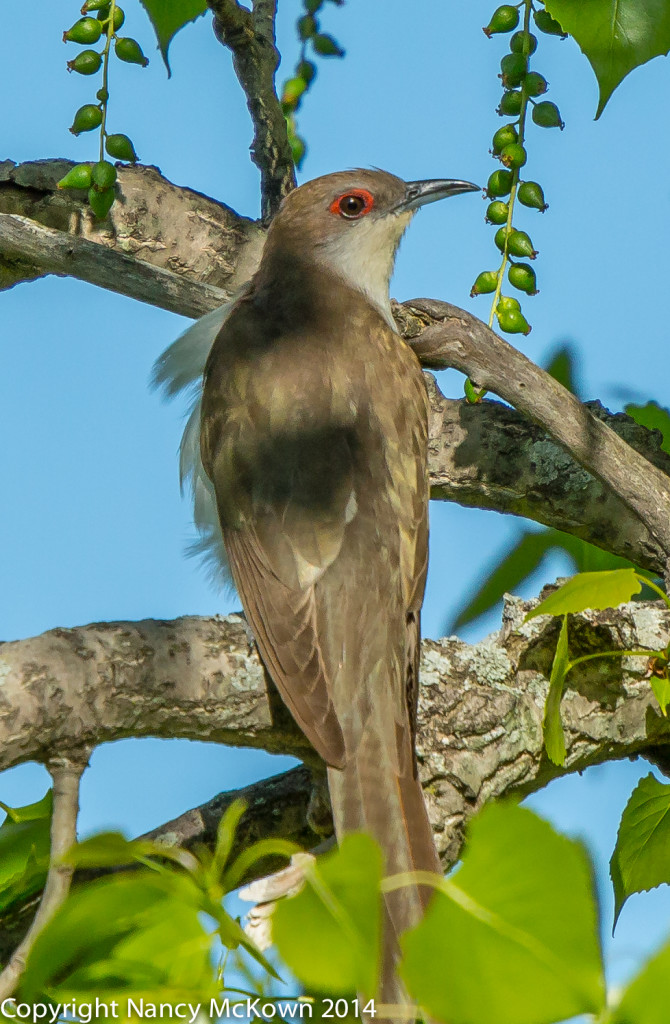 Photography Has A Lot To Do With Luck
It's hard to overestimate the impact of luck when you are out birding with your camera. I plan on listening more for the black billed cuckoo's song. Hopefully, I'll be lucky enough to get more photographs of this secretive bird.
More Information on Stringing
A most excellent article on this topic (On Stringing… by George Armistead) can be found at this link.