Photographing a White Tailed Kite
I spend a lot of my time planning and positioning myself and the camera to get close to birds….close enough for the camera to reveal every detail. Most often however, the birds are not close. I shoot anyway, zoom-in as much as possible in post processing, and hope the atmospheric conditions are ripe for clarity.
I had my Canon 5D Mark IV, with a 300 2.8 L Lens and 1.4 extender when I took this photo of the White Tailed Kite. He was quite a distance from the camera, hovering….stationary in mid air….searching for rodents over the lowland scrub. I think the overall framing of this image is appealing. Distance and atmospheric conditions took their toll on image sharpness.
The 5D Mark IV has a fairly high pixel count (30.4 MP) and a full frame sensor. That means that given the right conditions, there are many more pixels to spread about. Zooming in on distant subjects should deliver better results than the 20+some MP dSLR cameras. However, extra megapixels do not help with clarity when there's a haze in the air caused by ash, soot, and other debris. This is especially true if your subject is not close to the camera.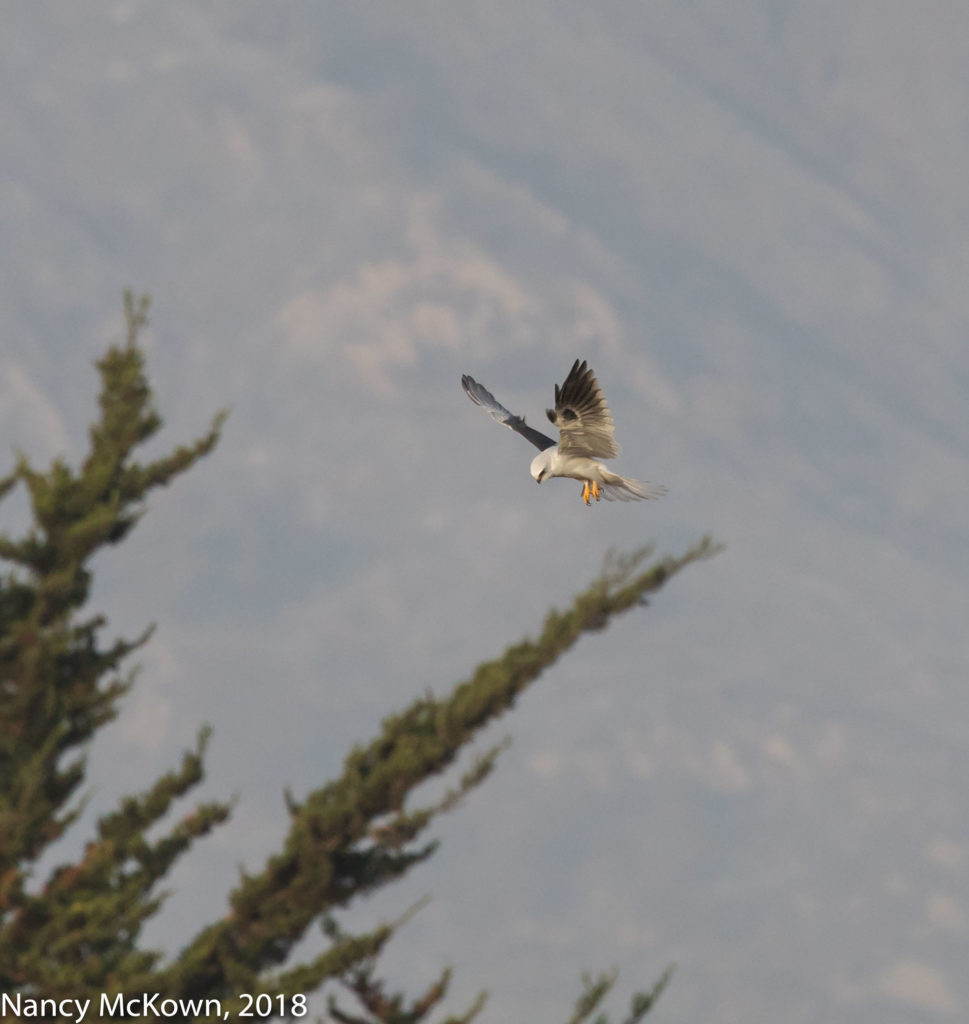 A Haze in the Air
We arrived in Carpinteria, CA shortly after the most destructive wildfire season to ever hit California (9,000 relentless wildfires, burning 1.2 million acres of land, destroying more than 10,800 structures and killing at least 46 people). We arrived one week before the flash floods and devastating mudslides that flowed down the Santa Ynez Mountains toward the Pacific and left massive misery and destruction in the Montecito area of Santa Barbara County.
The emotional and financial toll on the residents has been incalculable. As I write, a massive clean up effort to restore the area to some semblance of normalcy is ongoing. A thousand or more workers use dump trucks to remove thousands of cubic yards of mud, 10 yards at a time, from homes, businesses, and highways and then transport that slurry for dumping to various locations, including the ocean.
It's been a long while since the air has been fresh and clear. Minute particles of soot, mud and other contaminants infiltrate our breathing tubes and coat every surface, inside and out. With these conditions, the air will remain gritty for some time.
Bird Photography On Hold
I don't take the camera outside anymore. Inside our condo, I wipe down the surface of the camera and lens with a damp cloth. Even though the sensor and other electronics inside the camera and lens are somewhat protected, dust can still settle within. If I try to use it, the debris that has infiltrated everything around me will almost certainly impact camera operation and degrade image quality.
We head back to SW Michigan in a couple of days. When I get home, I will ship the camera and lens to the nearest Canon Factory Service Technician to restore the image sensor, mirror, focusing screen and other electronic components back to optimal operating condition. I miss using my camera, but it's a very small sacrifice compared with the ongoing suffering all around us.