Spring Bird Vigil
It's Spring migration time again. My eyes are continually scanning the outdoors for birds newly arriving or just passing through. I know that I must be missing most of them. If they do venture down to rest and replenish, the vast majority are hidden in the foliage or high in the trees or off in somebody else's yard. The number of transients that come within my purview–at a time when my camera and I are ready –seems minuscule compared to the billions of birds on the move.
My mind was elsewhere as I swapped out the spent batteries in my Canon 1 DX Mark II camera and set up the camera near the deck. I had spent much of the day behind the viewfinder photographing the familiar birds when a stunning male Magnolia Warbler appeared right in front of my lens. I got off one shot, then nothing. The camera went dead.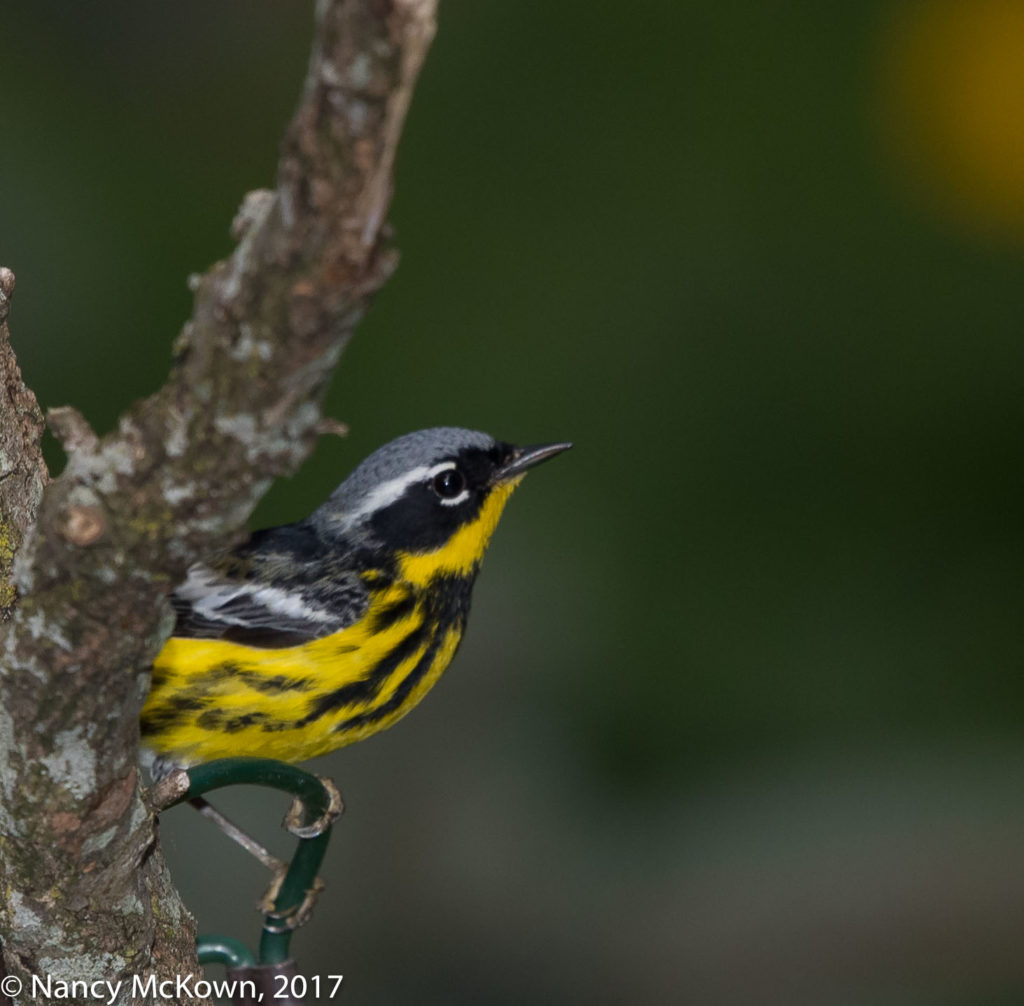 No Power
Ack!!!  No power!  And no swappable moment…. the warbler was gone.  I had just changed the battery pack in the morning and couldn't have taken more than 100 shots during the day. Why did it fail?  It is true that Canon new flagship…the 1 DX Mark II is power hungry, but the newly designed battery pack is supposed to be up to the task. The specs boast that battery pack (less than a year old) will provide up to 1210 shots per charge, optimally. (Battery life for Video = approx 1-1/2 hrs). I do have power hungry functions engaged (flash, focus points, IS, Al Servo auto focus, etc.), but nothing unusual for bird photography.
Frustrated, I swapped out the dead battery with another recharged battery pack and scrolled down to battery info in the menu system. In big red letters at the bottom of the screen it read: Calibration is recommended when charging battery next time.
Battery Calibration
Batteries don't stay young. Battery calibration is the process of maximizing electrical storage capacity and insuring that batteries hold their charge. It also resets the gauge of the battery freshness indicator to better match the actual power remaining in the battery.
The solution to fast draining batteries is to attach the exhausted battery to the charger and press the calibration/performance button. The charger will go through a calibration procedure which fully discharges any power left in the battery. It then fully recharges it. If you try to calibrate a charged battery, the depleting process takes much longer.
Over the next two days, I re-calibrated both lithium ion batteries. The recharge performance indicator in the camera menu now shows that they both can adequately retain a charge.
It costs $169.00 for a new battery for my camera. From now on, I will pay more attention to battery maintenance.