A Bird Action Fantasy
During one of my early morning walk/stair climbing regimens, I saw and heard a little bird I could not ID. I hurried home to pack up the camera rig and transport it down the dune stairs. It took only a minute to set it up on one of the lower decks near the water.
This was an impromptu effort where stealth was sacrificed for speed. It was probably too much to hope that when I returned with my gear, the mystery bird would still be there. Down there on the dune, I was alone. Not even the common birds made an appearance, . So as not to completely waste the time, I played with the camera's light meter settings, focusing on dead sumac leaves and experimenting with the graduated neutral density filter to counter the overflow of harsh background light coming off the sky and Lake Michigan.
Still no birds. I imagined what I would do if a bird suddenly appeared and I had to capture well balanced images at midday with the lens facing the water. A dry practice run, if you will… setting up possible failure scenarios and intentionally mitigating the impact of harsh mid day light and fast moving birds. In my mind, I created a high tech, interactive bird action fantasy that ended with a detailed mental image of a highly desirable photo shoot outcome. A valuable work out…..the time just flew by.
After a couple hours, I dragged all my gear back up the steps and set up at home in the library. Two little Yellow Rumped Warblers were bouncing about, unafraid and not so far from the camera. I decided continue my experiments with light in a much different setting.  I took off the flash extender on my  Canon 600 EX-RT flash.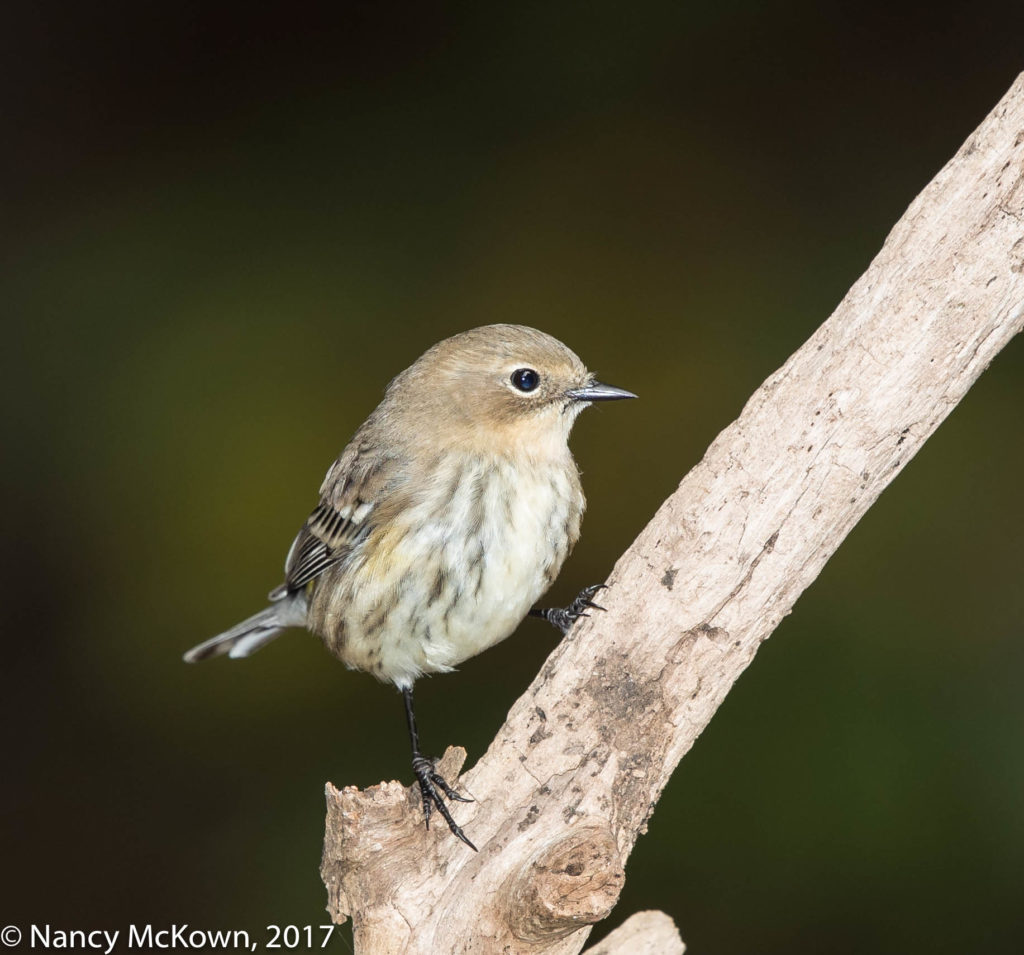 Canon 600 EX RT Flash without Extender
Flash Extenders are intended to redirect the trajectory of the light output (more narrow and consequently brighter) to better match the angle of view of long lenses. In many cases, it provides the light to expose detail to shadow areas and catchlights to dark eyes. If I get it right, the color quality is enhanced, especially in a natural forest environment so common to a lot of birds in my area.
The Canon 600 EX RT flash has better than average light focusing capability and does a fine job calculating lens-to-subject distance. When the flash senses a long lens on the camera, it focuses its beam of light so a higher percentage of that light covers the len's angle of view–up to 200mm. (NOTE: Without a flash extender, the 200mm flash beam can not match the reach and angle of view of the 500mm with 1.4 extender (700mm lens equivalency)).
If the subject is close, the flash output with extender attached can look like a spotlight with a circle of darkness at the perimeters. Take the fresnel lens off  (MagMod or Better Beamer Flash Modifier System) and the flash will no longer direct the blast in a lighthouse beam sort of way.
Know How to Use Light In Bird Photography
These small warblers were in close proximity-(within 13′-15′) to the camera. I did not need the tight, concentrated beam that a fresnel extender would provide. Proximity of flash to subject matters. So does giving some thought to ISO levels,  E-TTL II evaluative metering and flash compensation (FEC). Luckily, the two warblers stuck around and let me experiment.