Photographing An Osprey in Flight
My camera was set up on a second story balcony overlooking a relatively calm bay side view of the ocean in Southern California. Yes indeed! We left cold and cloudy SW Michigan for a short vacation in San Diego.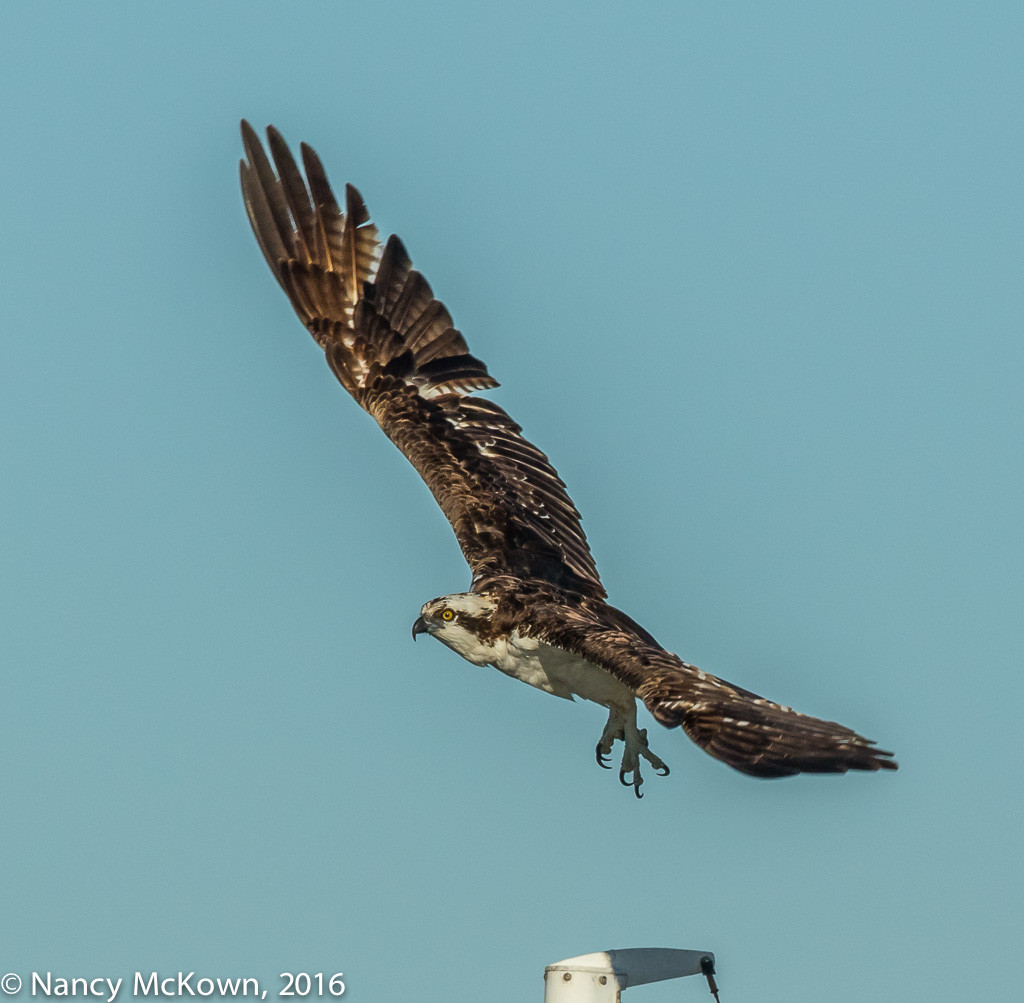 In front of the camera, Ospreys, Pelicans, Herons and Seagulls spent their time combing the shores for sustenance. These are opportunistic sea birds and it's comical to watch them brazenly pilfer the catch of more successful avian predators.
On this day, things were relatively quiet. Two Ospreys were chasing each other, playfully somersaulting every which way until the larger one perched on the topmast of a nearby moored catamaran. No room for the smaller Osprey, so he flew on.
No Time to Swap Out Telephoto Extenders
On the tripod, I had my 300mm f/2.8L IS II lens with Canon 1.4 III telephoto extender attached to my Canon 7D Mark II 1.6 cropped sensor DSLR camera. The perching piscivore was just a little too far away…. even if he spread his wings taking flight. (NOTE: An adult Osprey's wingspan is 5′-6′). I had a moment to think about swapping out the 1.4 for the 2.0 telephoto extender. No time. The Osprey spotted a meal, leaped into the air (See photo above.) and circled around to a spot closer to the shore. He momentarily hovered directly above his quarry–and then plunged, maneuvering into a feet first position just before hitting the water.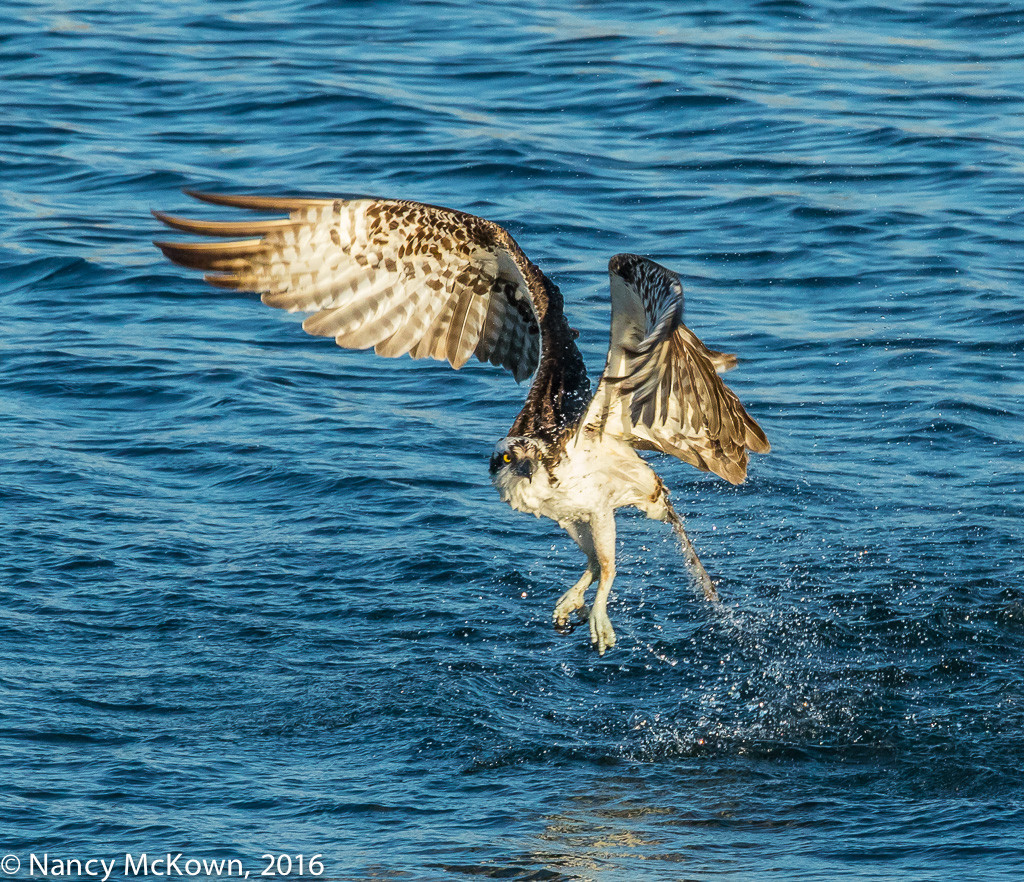 This fish hawk plummeted so fast that by the time I dropped my lens into position, he was completely submerged. I did however capture him as he heavily lifted himself out of the water, without a fish.
Tracking A Bird in Flight
Modern cameras make tracking and locking focus on a bird in flight relatively easy, assuming the following:
You are able to hold steady the lens while tracking.
The light and contrast are good enough to achieve focus
You are tracking a bird that is within range of your lens's magnification
The bird's flight path is in a relatively open area.
My Canon 7D Mark II has 65 all cross type AF points. After setting the camera to Al Servo continuous autofocus and selecting your auto focus points, the camera will (within a fraction of a second) track movement and predict where that fast moving and erratic bird will go, all the while adjusting focus accordingly. Assuming your lens is up to the task, the technology is blazing fast.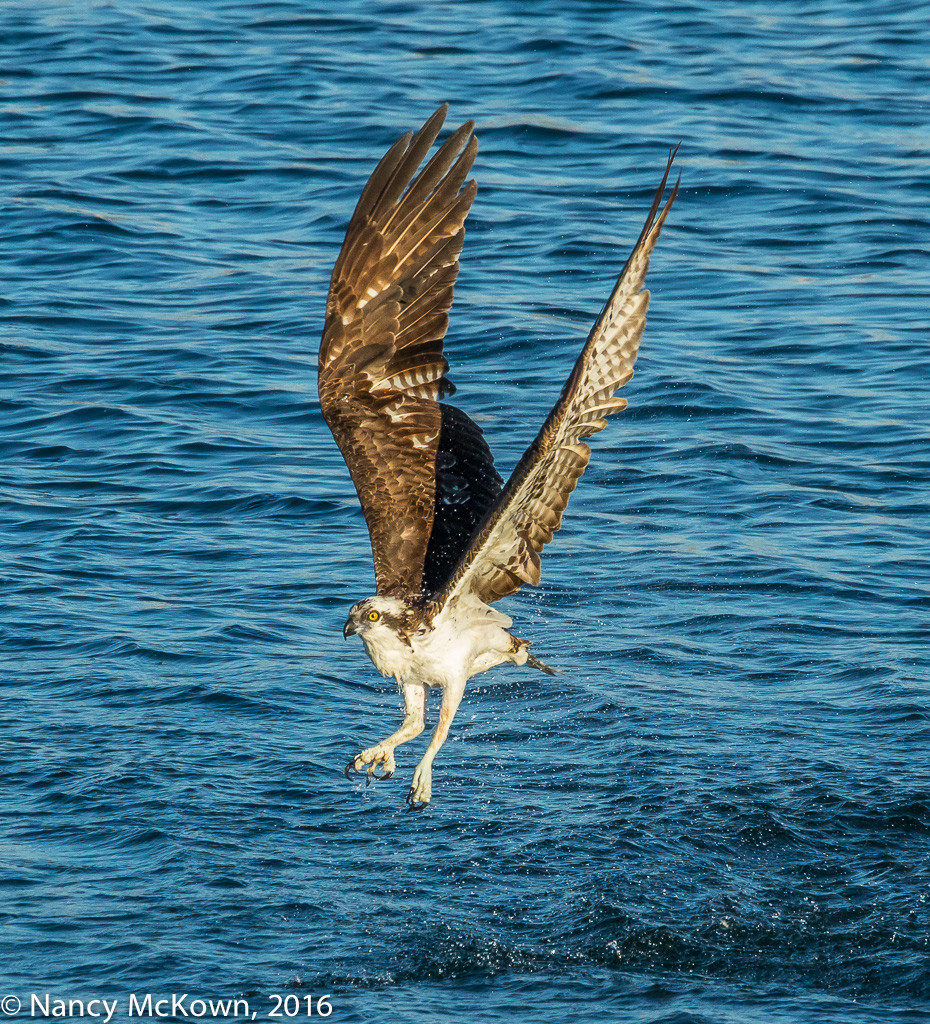 Auto Focus Point Coverage
Efficiently tracking a flying bird takes all of your concentration. When you look through the viewfinder at a fast moving bird, those densely packed auto focus points are not spread out across the entire frame. Instead, they are mostly clustered in the center area. You must continuously and skillfully manuever the lens so that your subject is at least partially within the center area covered by AF tracking points. If you let your subject wing its way outside the focusing area, the camera lens will try to re-focus on anything it can within the auto focus point coverage area.
Quality auto focus performance is about so much more than the number and spread of the AF points. Still, the newest and most advanced Canon and Nikon DSLR cameras (Nikon D500 and Canon 1D X Mark II to be release in the Spring, 2016) are both proudly touting expanded auto focus point coverage, despite the very real inherent limits of widening the autofocus coverage area.  
Makes me excited just thinking about getting my little hands on a prototype. 
Press this link to read more about opportunistic shorebirds fighting over a fish.