Heading for the Sun
We spent some time in sunny Arizona recently. (NOTE: This excursion took place before it became so unseasonably sunny and warm in SW Michigan.) I don't mind the cold Michigan winters so much, but this year's dreary cloud packed skies were just too much. Just had to get away, so we packed our bags and camera equipment (Traveling light with the 300mm lens and 1.4 extender. No flash unit) and took off.
We rented a condo for a week in Scottsdale, AZ with the 71 acre Vista Del Camino Park as our back yard. The park includes 3 small lakes and attracts a wide variety of waterbirds.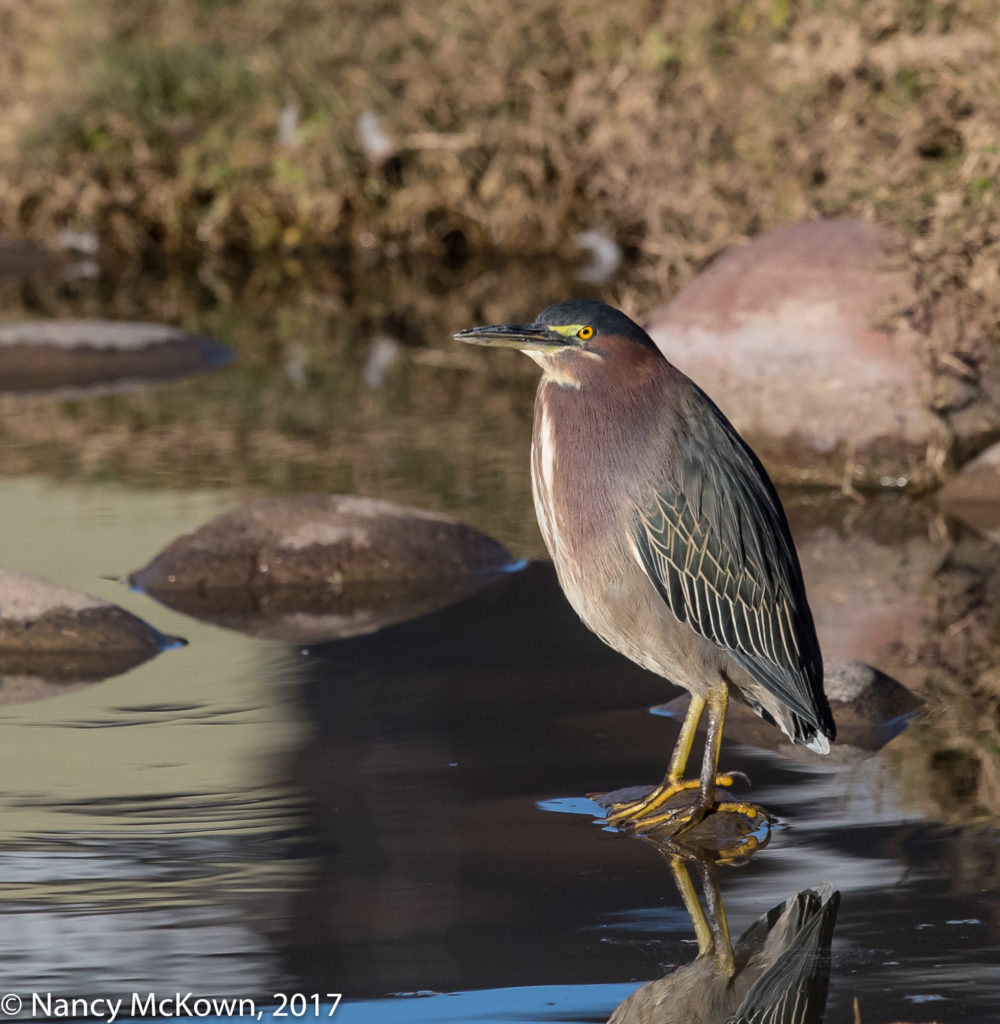 Photographing A Rather Sedate Green Heron
Green Herons are usually solitary and secretive birds. This stocky specimen, obviously acclimated to humans, let us get closer with the camera than I expected he would. He stood motionless, alert and hunched, not bothering to watch me. As I slowly moved the camera closer, he descended the steep bank and eventually rested on a partially submerged rocky perch. I moved my rig down the bank as well, trying to get the camera closer and at eye level.
It was early morning and the bird's glossy plumage blended appealingly with his dappled surroundings. His back shimmered with rich multi-layered contoured feathers in tones of green, teal, gray, black, and olive. Yellow streaks above his beak pointed to his striking gold eyes and black crest. The large rock in the back ground had burnt umber earth pigment tones, (possibly iron and magenese contained within the rock), with some light colored organic deposit on the sides closest to the water. Illuminated by soft, warm, dimensional light, the umber tones perfectly matched the feathers on the heron's face, neck and breast.  (NOTE: I was hoping he would extend his bushy crest, but no luck.)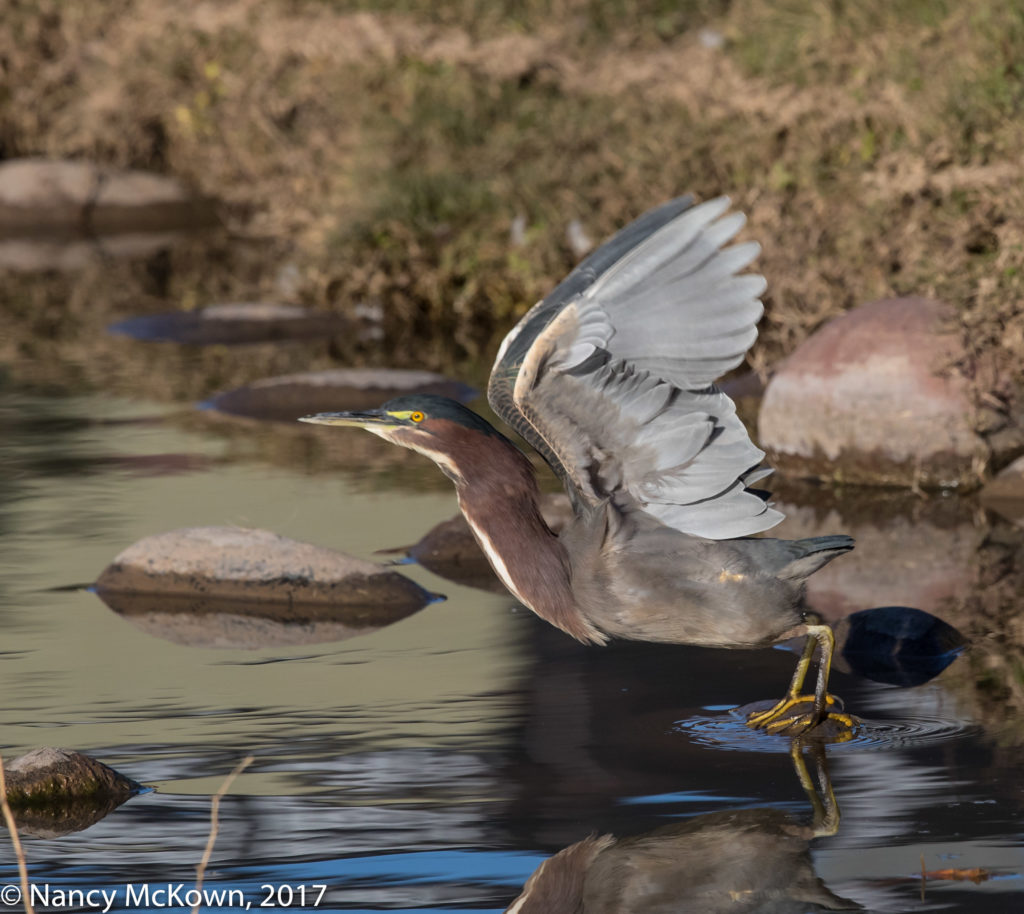 I had to reposition the rig multiple times, trying to level the tripod on the steep incline of the bank. Eventually one leg of the tripod dropped into the goopy mud- so there I stood, sinking with my tripod and taking lopsided photos of this beautiful bird. (NOTE: The lopsided images were easily remedied in post processing by using the Crop and Straighten image rotation tool in Lightroom.)
Clever Water Birds
A quick read of the literature about Green Herons reveals that these are very clever tool wielding birds. Multiple videos on the web show that these herons will drop a bait-like object onto the water's surface and wait for an unsuspecting creature to nibble at it. The heron will continually reposition his lure to keep it within his grabbing reach. He is quick to snatch anything that takes the bait. This heron did not exhibit this behavior, but it was exciting none-the-less to observe and photograph such an engaging bird.