Photographing An American Kestrel
Some days, all I can manage on my photography adventures are shots of tail feathers and bellies.
We saw very few American Kestrels last year, though we visited all their usual open territory hangouts. Kestrels in the northern most range (like MI) migrate, so it's always a joy to see them in the Spring. They usually perch on poles and utility lines near country roadways that give them a clear view of movement within the low lying vegetation. If I'm lucky and they are unconcerned with the camera, it's a good opportunity to practice my birds-in-flight photography skills as they swoop down to pounce on insects and small rodents, then fly upward to their perch to feast.
NOTE: These little falcons are close to the size of Mourning Doves, a species that also likes to perch on utility lines. (I often have to look twice to ID them correctly.)
NOTE:  The nest box that we bought for Easter Screech Owls is also designated for cavity dwelling Kestrels. We knew when we erected the box that our wooded backyard would not be suitable for Falcons.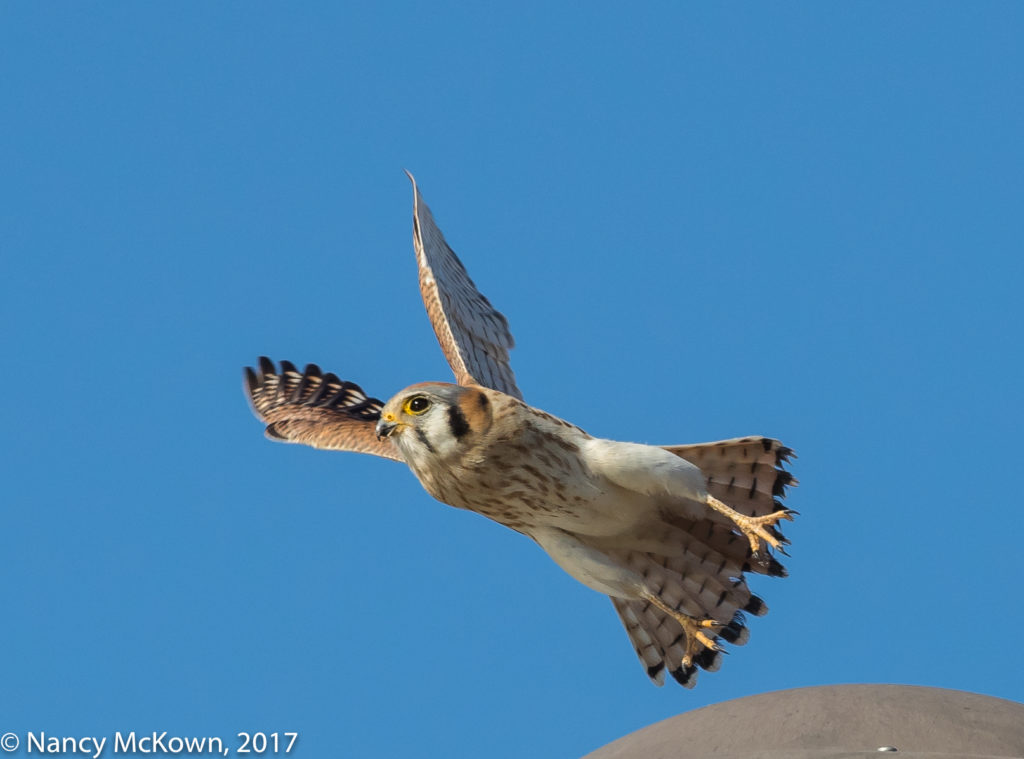 Depending on Readiness and Luck
Being lucky is oh-so-important in bird photography, but it's not enough. You've got to be prepared. I was ready to photograph this falcon during her hunting ritual. (Low sun at my back, background not cluttered, fast bursting shutter, al servo focus, plenty of focus point sensors engaged, Gimbal tripod head set to efficiently track). The Kestrel's perch was high- so much so that I had to dramatically tilt the lens upward and dip my knees in order to keep my eye on her in the viewfinder. I hoped that I could track her as she swooped down to pounce on a ground spider and then flew up again to her perch. Not surprisingly she was too suspicious of my behavior to indulge me.
Best capture I could manage was a clean belly shot showing off her lean and muscular underparts. I caught her right when she leaped from the light post. Her angle allowed the camera to catch a good view of her face, her fanned tail feathers and her splayed toes. She then banked her strong, lithe body and flew away in the opposite direction. (NOTE: Rufous streaking upon white on her underside indicates that this is a female Kestrel – males are white with black spotting.)
My neck ached from looking up so much. Feeling that my luck for the day was spent, I packed my gear and went home.